Welcome to the very first installment of Frugal Fridays, where I (and hopefully other bloggers) aim to prove that you can eat very well and still manage to keep a few dollars in your pocket book for good measure. The Challenge of Frugal Fridays is to create a meal that will feed a family of four for $10.00 or less. While I'm not expecting gourmet fare for this amount, I know that if anyone can whip up a meal on a budget that still tastes phenomenal, it's a bunch of food bloggers.
This dish was a flash of inspiration from a conversation I had with my wife a few days ago. She mentioned that her favorite seafood was crab and I had an immediate burst of inspiration on what to make. The dish itself is simple, promised great flavor and was planned to make my wife smile. What I didn't know was if I could do it for under $10.00. It sounded like the perfect Frugal Friday challenge.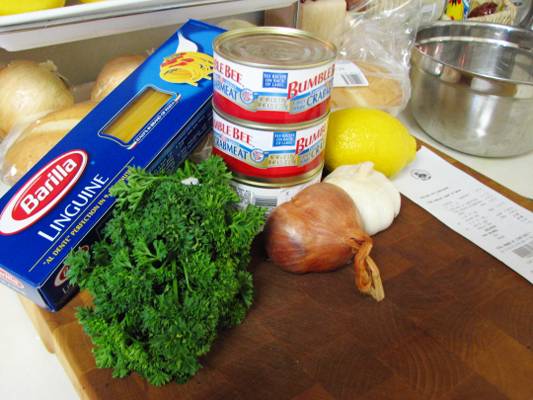 My first thought was to use lump crab meat. Unfortunately, in this part of Texas a pound of decent looking lump crab would have used up my entire $10.00 budget. I was stuck with using the best canned crab I could find. Don't get me wrong, I would have preferred the lump crab meat, but we're going for a filling meal here, and I didn't think 2 oz. of crab would do it.
The rest of the ingredients were straightforward and very inexpensive, including the shallot which I admit took me by surprise. As I've said, for a $10.00 the assumption has to be made that there are some basic cooking ingredients available, such as oil, butter, salt, spices, etc. so that's the premise I ran on. In the end I came in well under budget and made a remarkably tasty dish that would easily feed 4 to 6 people to the point of comfortably full.
Just to prove that this came in under budget, here's the complete list of what was purchased:
Linguine – $1.09
Crab Meat: – $4.17
Mini French Loaf – $0.75
Lemon – $0.59
Shallot – $0.51
Garlic – $0.30
Parsley – $0.49
————————
Store Surcharge – $0.40
————————
Grand Total – $8.30
Not too bad for a seafood dinner for four with bread, eh? I could have sprung for a salad, but I just wasn't in the mood for it.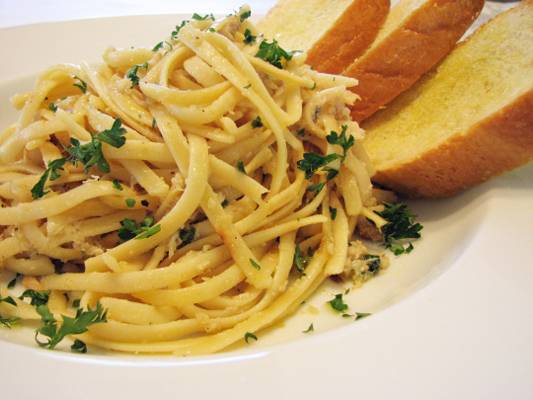 Yield: 6 serings
Linguine with Crab Sauce Recipe - Frugal Fridays #1
Prep Time: 5 minutes

Cook Time: 20 minutes

Total Time: 25 minutes
Ingredients
1 lb. linguine
3 6 oz. cans fancy white crab meat (what's fancy about it? I don't really know.)
1 medium shallot, diced
4 cloves garlic, minced
The juice of 1 lemon
1 good handful parsley, chopped and divided in half
Extra virgin olive oil for cooking bread, shallots and as part of the sauce, about 1/4 cup total
4 tbsp butter or margarine, for sauce.
Salt and pepper to taste
1 loaf French bread, baguette or whatever turns you on as a crostini
3 cloves garlic, for flavoring bread
Instructions
Preheat oven to 350°F and put salted water for pasta on to boil.
While water comes to a boil and oven is heating, cut bread into 1/2 inch slices. Place on a sheet pan and brush with olive oil, set aside. Place crab meat in a strainer over a large bowl and allow to drain, reserving liquid.
When oven and pasta water are ready, drop 1 lb pasta into water, stir once. Place bread on center rack of oven.
Heat a large skillet and 2 tbsp. olive oil over medium heat. Add shallots and a pinch of salt, cook, stirring frequently for approximately 3 minutes. Add garlic and cook an additional 2 minutes. Add butter or margarine and stir until combined. Add crab meat, 1/2 of the parsley and lemon juice, stirring rapidly until heated through.
Check the bread at this point, it should be just about done. If so, remove from oven and rub with garlic cloves.
(TIP: if you have the garlic to spare, just cut the top off of a clove of garlic and rub the whole thing over the bread, it's a lot faster.)
Drain pasta well and add to crab mixture with crab juice. Toss together, adding olive oil as necessary to get the consistency you desire. If sauce looks thin, add a bit of the pasta water. Taste for seasoning, adding salt and pepper as desired.
Plate, sprinkle with remaining parsley.
Share and Enjoy!
Nutrition Information:
Yield:
6
Serving Size:
1
Amount Per Serving: Calories: 571Total Fat: 15gSaturated Fat: 6gTrans Fat: 0gUnsaturated Fat: 7gCholesterol: 104mgSodium: 1180mgCarbohydrates: 78gFiber: 5gSugar: 9gProtein: 31g


What I would have done differently had I thought of it at the time:
If I'm not going for budget fare, I'll spring for lump crab meat, or perhaps add in some shrimp, just to get a bit more texture. Some red pepper flakes might be a nice addition as well, but I'll have to get back to you on that one.
A note to everyone. I haven't gotten the Frugal Fridays site up and running as I'd hoped this week due to life getting in the way. If you decided to participate, please leave a comment here for the moment.
Thanks! I look forward to seeing what other bloggers can come up with.