Our family loves roll-ups. We take them on trips, we take them on walks, and yes, we make them for quick grab-and-go breakfasts. Just like the French toast roll-ups we're making today.
Roll-ups are a fun way to change up a thing you love, and they're about as versatile as it gets. Imagine your favorite French toast topping and then wrap the bread around it before cooking. That's it. You're done. Quick, simple, and easy.
Also, kids love 'em, which is always a plus in our book.
Let's make some French Toast Roll-Ups!
First, gather up the basics for any French toast. You'll need bread, eggs, milk, sugar, vanilla, and cinnamon if you like those in your French toast custard batter. (Note: Vanilla and cinnamon are completely optional, but we love them.)
And of course, you'll need to pick the filling for your French toast roll-ups. We used cream cheese, jam, and honey. But you can easily add whatever makes you happy. (Think Nutella, bananas, fruit, chocolate chips… Whatever makes you happy.)
Cut the crust off the bread. This makes it easier to roll and keeps things pretty. (Freeze those crusts for use later, like in stuffing!)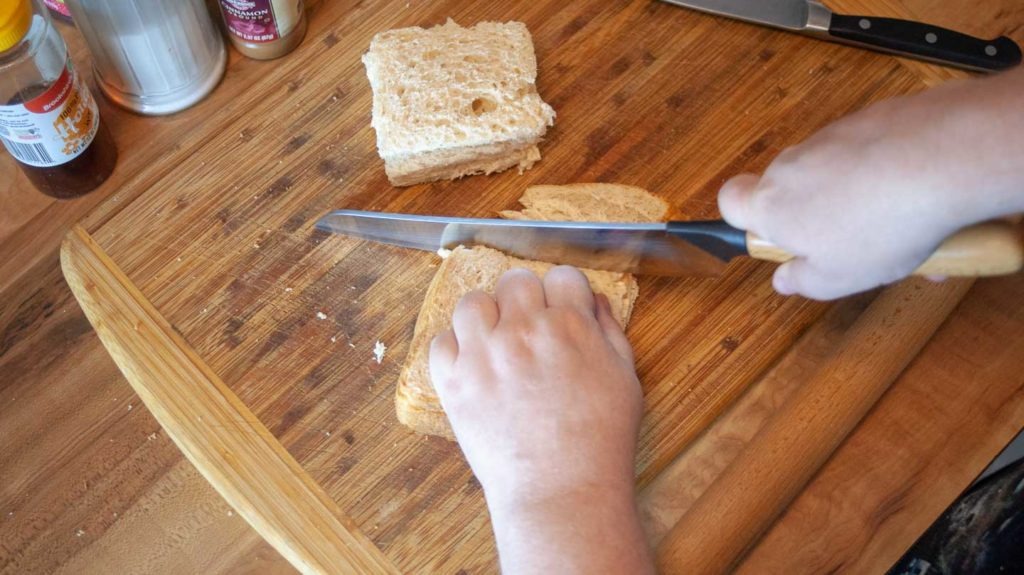 Roll that bread good and flat.
Then add in your preferred filling. (Again, anything goes here. Be creative!)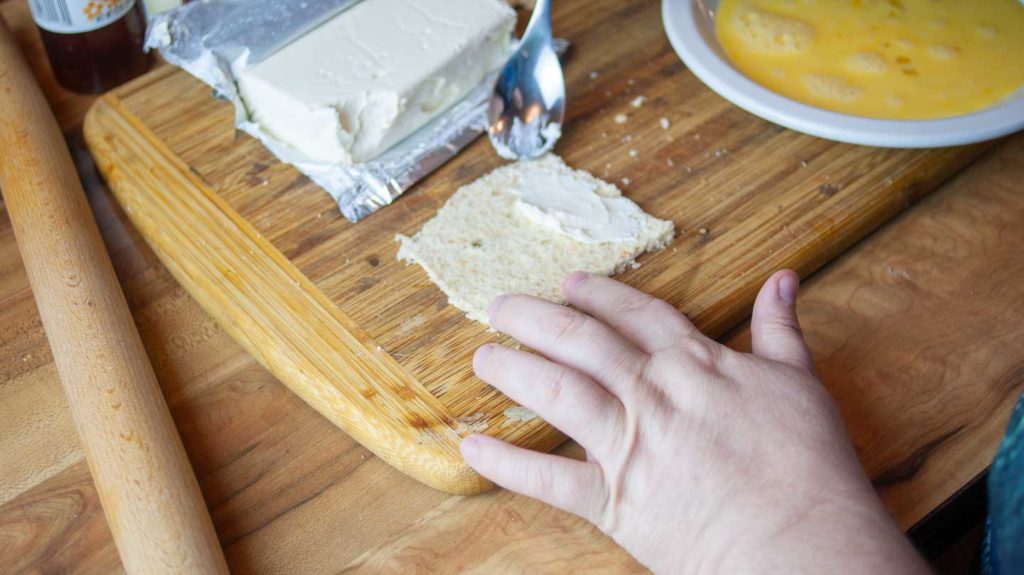 This one has cream cheese and jam.
And this one has cream cheese and honey.
Roll tightly, or the filling may leak out the sides.
Dip in your custard mixture.
Then dredge in cinnamon sugar.
When you've finished giving all your little roll-ups a good bath i the custard, drop 'em in a hot skillet with some butter and brown them up.
And there you have it! Lovely little French Toast Roll-ups, all ready for dipping in syrup, or anything else you'd like to dip them in. (They're also amazing on their own!)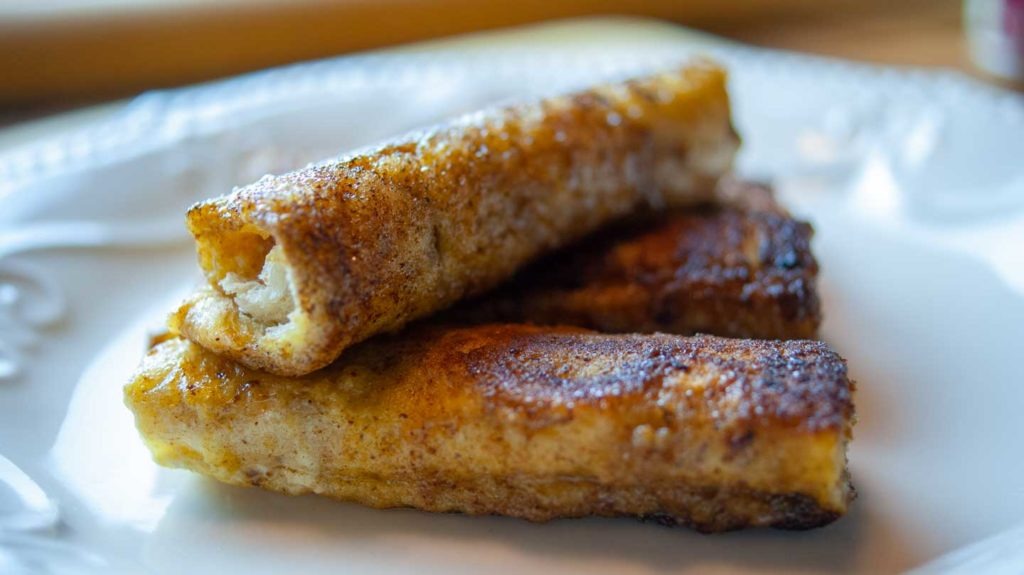 If you look really closely, you can just see the cream cheese peeking around the edges. Yum!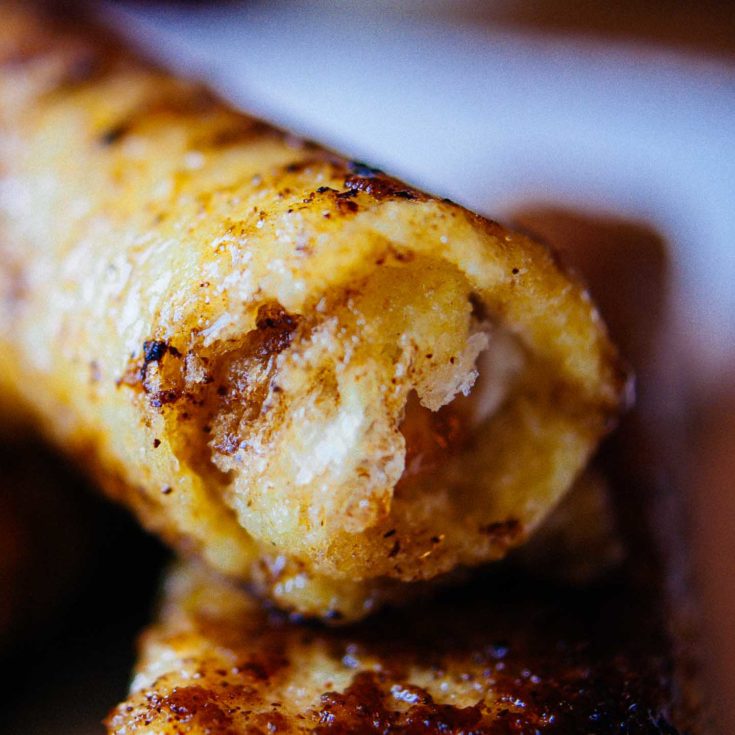 Yield:

2 people
French Toast Rollups
Ingredients
8 slices Whole wheat bread
4 Tablespoons Cream cheese
2 Tablespoons Honey
1 Tablespoon Strawberry jam
2 large Eggs
1/8 cup Milk
1/8 teaspoon Pure vanilla extract
2 Tablespoons Granulated sugar
Instructions
Cut crusts off of bread slices. Roll each slice thinly.
Spread 1/2 of each slice of bread with cream cheese and top with honey or jam. (Or use the filling of your choice. Roll tightly, starting at the filled edge.
Beat together eggs, milk, and vanilla (If desired.) in a medium bowl.
Combine cinnamon and sugar on a small plate or in a pie tin.
Coat each roll-up completely in egg mixture, then roll in cinnamon/sugar mixture.
Cook in a large skillet or griddle pan coated with butter over medium heat, flipping as necessary, until all sides are golden.
Nutrition Information:
Yield:
2
Serving Size:
2 people
Amount Per Serving:
Calories:

636
Total Fat:

19g
Saturated Fat:

8g
Trans Fat:

0g
Unsaturated Fat:

8g
Cholesterol:

214mg
Sodium:

749mg
Carbohydrates:

94g
Fiber:

8g
Sugar:

41g
Protein:

24g
What I would have done differently:
The thing with this recipe is… I honestly don't think you can really screw it up. Anything that goes well with French toast is an obvious choice for the filling in a French toast Roll-up.
Next time I might try a little maple bacon, or maybe Canadian bacon. Or just bacon in general. (Because I'm craving bacon, apparently.)
Then again, I'm sort of a French toast purist, so I might just opt for filling them with a little whipped cream and sprinkling them with powdered sugar. Because these little guys are just screaming for some powdered sugar.
But what do you think?
What do you think about these little French toast roll-ups? Will you make them? Would your kids love them? What would you fill them with, or would you stuff them at all?
We'd love to know your thoughts on this, so please feel free to leave a comment below, or get in touch on social media. (Just look for UncleJerrysKitchen, you'll find us!) And be sure to follow Uncle Jerry's Kitchen on Instagram for pictures you won't see anywhere else, behind the scenes stuff, and the occasional puppy photo!
And that's it for me guys.
Until Next time,
Food is love. Share and Enjoy!