If you're looking for a hearty, stick-to-your-ribs comforting, absolutely decadent meal on a busy weeknight, then you're going to love our cheesy hamburger mac. This is mac and cheese on steroids, my friends, and a dinner that our kiddo goes crazy for every time. The best part? It's ready and on the table in less than 30 minutes. You just can't go wrong with this one, guys.
The thing that makes this hamburger mac different from your run of the mill cheeseburger macaroni is the cheese itself. Here we'll be using either cream cheese or Neufchatel cheese instead of a more traditional cheddar. We prefer this with full-blown cream cheese, but if you want a little bit lighter dish, then, by all means, go with the Neufchatel (Or reduced fat cream cheese.)
(Of course, mac and cheese doesn't have to be made with cheddar. I've even made it with Avacado before.)
The cheese is also the reason this dish cooks so quickly. Cream cheese melts very quickly, and you won't require flour to keep it creamy. The cheese won't separate like a harder cheese would, so no fuss, no muss, no worries.
In short, if you're looking for a mac and cheese recipe that doesn't come in a blue box, has no artificial ingredients, but still goes from stove to table quick enough to get back out the door and do things, this might just be the perfect recipe for your family. So let's jump into it, shall we?
Let's make some Cheesy Hamburger Mac!
Grab your biggest skillet and toss it over medium-high heat. Add two Tablespoons of oil and get it hot. Then add a pound of ground chuck. (The leaner the better here, folks!)
Break your ground beef up a little and then add a chopped onion, some seasoned salt, a bit of pepper, and a good splash of Worcestershire sauce. We're seasoning the heck out of the beef and onions here, so be generous.
Brown that up, drain it, and get it back in the skillet. You still want the burner on medium-high.
Next, toss in a pound of bowtie pasta. (Or whatever small pasta turns you on. Elbow macaroni works, as do shells, spirals… Whatever!)
Pour in 32 ounces of chicken, beef, or vegetable broth. In my opinion chicken and beef work best here, but use what you have on hand. It's still going to taste great.
Cook the pasta uncovered for 8 minutes, stirring every once-in-a-while to make sure it's all had a chance to be in the pool.
Next, add in your cream cheese.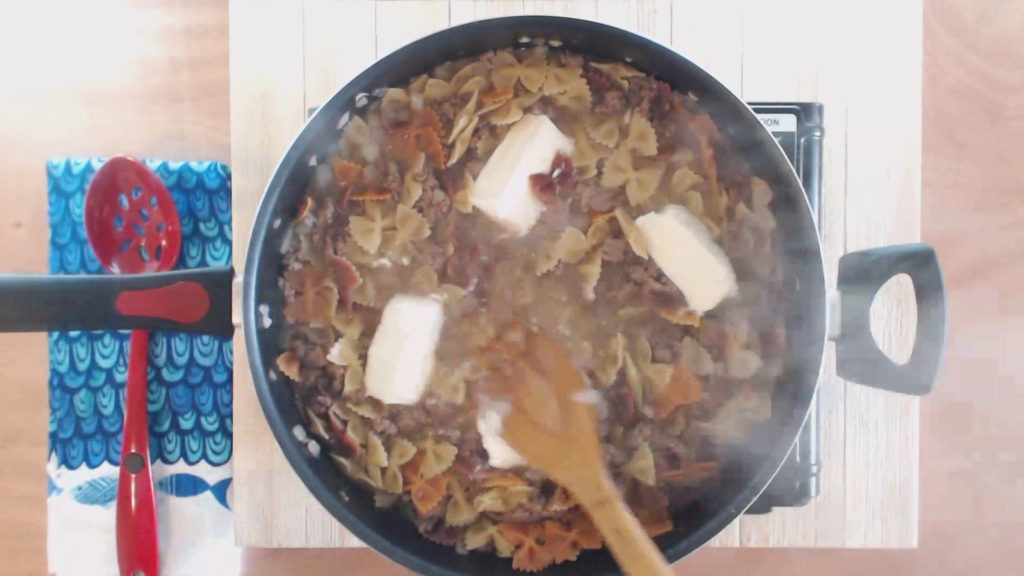 Now it's time to keep busy. Stir the cheese constantly until it's completely melted and everything is coated well. Once that's done, just remove from heat and allow the whole thing to rest for a minute.
Now check for seasoning and add a bit of salt and pepper if you want to. And we're done, Y'all!
Gorgeous, rich, silky and decadent. That's just perfect for a Tuesday night, isn't it?
If you prefer the quick overview, I've got the video instructions for you right here:

And here's the printable Cheesy Hamburger Mac recipe!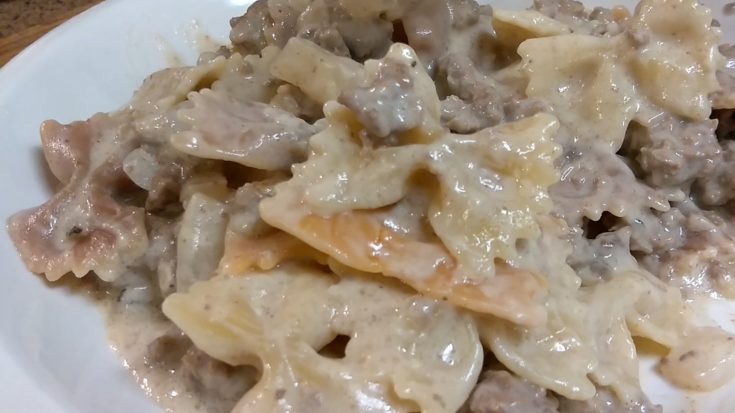 Yield:

4 servings
Cheesy Hamburger Mac
All the richness of homemade mac and cheese, but ready in under 30 minutes. Cheesy hamburger mac is the perfect busy back to school meal, and it's picky eater approved!
Ingredients
2 Tablespoons vegetable oil
1 pound ground chuck, lean
1 large onion, chopped
1 Tablespoon seasoned salt
1 teaspoon black pepper, freshly ground
1 Tablespoon Worcestershire sauce
1 pound bow tie pasta
32 ounces chicken stock or beef stock, low sodium
8 ounces cream cheese or Neufchatel cheese, at room temperature
Salt and pepper, to taste
Instructions
Heat oil in a large skillet over medium-high heat. Add ground beef and break apart with a spoon or spatula. Add onion, seasoned salt, black pepper and Worcestershire sauce. Cook, stirring often until beef is browned and onions are translucent. (About 5 minutes). Drain and return to skillet.
Add pasta and chicken stock. Cook, stirring occasionally until just cooked. (About 8 minutes.)
*There will still be a lot of liquid in the pan. This is normal!
Add cream cheese or Neufchatel in chunks and stir until completely melted and incorporated.
Remove from heat. Let stand 5 minutes and add salt and pepper as needed.
Nutrition Information:
Yield:
4
Serving Size:
4 servings
Amount Per Serving:
Calories:

879
Total Fat:

52g
Saturated Fat:

21g
Trans Fat:

1g
Unsaturated Fat:

24g
Cholesterol:

171mg
Sodium:

2025mg
Carbohydrates:

52g
Fiber:

3g
Sugar:

9g
Protein:

49g
What I would have done differently:
Oh, what can't you do with this one?!? This is an extremely versatile recipe, guys. You can add mushrooms and a bit of sour cream for a more stroganoff type dish. Change up the onions with red and yellow for a different flavor and texture. Add bell peppers for a nice crunch and pops of flavor. You can add a bit of nutmeg or mustard powder for a deeper flavor. And of course, you can always add garlic or chili peppers if you want it to be a bit more aggressive.
It's all up to what you have on hand and what you prefer. Have fun with it!
What would you do?
Can you think of any changes you'd make? Is this something your family would enjoy? Let me know in the comments or on social media. You can find me on Facebook at @uncleJerrysKitchen, On Instagram at unclejerryskitchen, and on twitter at @UncleJsKitchen. Of course, you can always drop a comment below as well. I respond to every single comment as soon as I can, and I'd love to hear from you!
And hey, if you make this recipe, snap a photo and share it on social media, too. Just make sure to tag your good ol' Uncle Jerry so I can leave a comment!
That's it for today, guys. I'm off to the store to grab a few things and get started on the next installment.
As always, until next time,
Food is love. Share and enjoy!