Is there really anything more satisfying than a rich, thick and hearty soup on a blustery fall or winter evening? I for one think that a great soup can make for a great day, and this Cheesy Enchilada Soup can definitely lift your spirits, as well as leave you satisfyingly full.
This soup recipe is inspired by Chili's Chicken Enchilada Soup. It just lacks the chicken, so feel free to add some if you're going for a restaurant remake in your own kitchen. Though to be honest, it doesn't really need the chicken. It's full of flavor by itself.
To be honest, of all my favorite soups in the world, this one comes in third. Only beaten out by the classic 15 bean soup and my recipe for thick and creamy potato bacon soup. (Which should come with health warnings, but it's soooo good!) But in the end, any of the three would bring a smile to my face, and I'm sure they would bring one to your family's as well.
The wonderful thing about this, as with many soups, is that it's staggeringly easy to make. Yes, it takes a little time, but it's not difficult, so if you're just starting out in the kitchen, this is one of those dishes you're going to want to add to your go-to recipe stacks.
For an added bonus, this recipe makes a LOT of soup. And I mean a lot. So if you don't have a massive Dutch oven or sauce pot, you may need to divide this into a few of your largest pots to finish it off. but it's worth it. believe me.
Now let's make some cheesy enchilada soup!
First off (and this is optional) cut a few corn tortillas into strips. I used red corn tortillas because they make the soup look more lively and festive, but you can use any color you'd like. Just get them cut up and set 'em aside.
Next, mix a quart of chicken stock with some masa harina.
Wait… What's masa harina?
Basically, it's corn flour. It's used a lot as thickening. In fact, I use it in my Chili all the time. It adds a lovely texture and backnote of corn flavor. You can find masa in almost every Big Scary Magamart in the ethnic foods or Tex-Mex aisles. If you can't, you can get it on Amazon. Just search for Masa Harina.
Anyway, just stir the chicken stock (Or vegetable stock, if you want to go completely meatless here.) and masa together until they're completely incorporated (Also known as a slurry) and set aside. You want to give them a few minutes to get to know each other.
Next, heat up some oil and fry up those tortilla strips until just crispy. (Do this in batches. Don't crowd the pan!) Set 'em aside for later.
Now then… All the prep's done, so let's make the soup!
Add a few tablespoons of oil to a hot stockpot or dutch oven and toss in your onions. Let those cook until they're just turning clear-ish, then add the garlic and let that go for a minute.
Then toss in your spices. Yep, all of them, and all-at-once. This isn't a picky recipe.
Give all of that a mix and let it cook until it smells amazing… That'll take about two minutes.
OK, your spices are all fragrant, and by now I'm sure you're getting hungry. But there's still a bit left to do. Pour all your stock into the pot and give it a good mix. As I said before, this makes a LOT of soup, so if you find your pot is getting a bit full, just split this up between the two biggest pots you have and keep going.
Bring all that up to a boil, then add in that masa slurry we made earlier. Give that a good whisk together, bring it up to a boil for about 30 seconds, then reduce the heat, but keep stirring for about another minute.
Once everybody has gotten happy and your enchilada soup base has thickened a little, it's time to add the all-important American cheese. While we could go with Velveeta here, I'd strongly suggest against it. American is what all the recipes I've seen call for, and to be honest, adding Velveeta makes this taste more like a really thin queso than a soup… Not so appetizing.
So drop in your cheese and just keep stirring until it's all melted away.
And with that, it's time to serve this up!
Just ladle your soup into bowls or cups, top with a few of those gorgeous tortilla crisps you made earlier, and let your guests think you spent hours and hours in the kitchen cooking this up. Which you didn't. Because you're smart. And because this recipe is pretty easy. But mostly because you are a genius in the kitchen. ;)
Looks good, doesn't it?
And just in case you want to see how it's made, we've included a quick video.
And now for the printable recipe for Cheesy Enchilada Soup!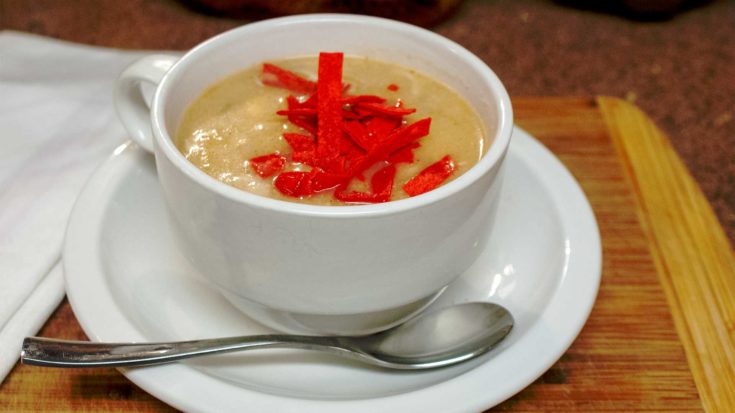 Yield:

8 Servings
Cheesy Enchilada Soup
If you're looking for something to warm your heart and fortify you for the cooler months of the year, look no further than this cheesy enchilada soup recipe. It'll make you smile.
Ingredients
4 corn tortillas, (Any color)
2 cups masa harina
32 ounces low sodium chicken stock or vegetable stock
vegetable oil, for frying
2 onions, chopped
4 cloves garlic, minced
2 teaspoons ground cumin
2 teaspoons chili powder
2 teaspoons granulated garlic
4 quarts low sodium chicken stock or vegetable stock
1/2 pound American processed cheese, cubed or shredded
salt and pepper, to taste
Instructions
Cut corn tortillas into thin strips. set Aside. Mix 32 ounces of chicken or vegetable broth with masa harina and mix well. Set aside.
Heat approximately 1/2 cup vegetable oil in a skillet until it is shimmering (or a piece of tortilla sizzles when dropped in.) Cook tortilla strips in batches until crisp. Drain on paper towels. Set aside.
Heat 2 Tablespoons vegetable oil in a large pot on medium heat. Add onions and cook until just turning translucent. (About 4 minutes.) Add garlic, cumin, chili powder, and granulated garlic. Stir until fragrant. (About 1 minute.)
Add remaining stock and stir well to combine. Increase heat to high and bring to a boil, stirring occasionally. Add masa mixture and stir well to combine.
Allow soup to return to a boil, reduce heat to medium-low, and add cheese. Stir constantly until cheese is completely melted and combined. Test for seasoning and add salt and pepper to taste. Remove from heat.
Ladle into bowls and top with a sprinkling of crispy tortilla strips.
Notes
As this is simply a meatless take on Chili's Chicken Enchilada Soup, feel free to add a pound of cubed or shredded pre-cooked chicken before adding the cheese. It's still amazing, and if you've got some leftover chicken, it's a great way to make this soup more hearty.
PRO TIP: This works great with leftover holiday turkey as well!
Want to go vegetarian with this, or use it as a #meatlessMonday meal, use vegetable stock instead of chicken stock. It's still just as good!
Nutrition Information:
Yield:
8
Serving Size:
8 Servings
Amount Per Serving:
Calories:

297
Total Fat:

10g
Saturated Fat:

4g
Trans Fat:

0g
Unsaturated Fat:

5g
Cholesterol:

22mg
Sodium:

1974mg
Carbohydrates:

37g
Fiber:

3g
Sugar:

5g
Protein:

17g
What I would have done differently:
This was originally supposed to be my take on a copycat Chili's Chicken Enchilada Soup. But as I said, this recipe makes a LOT of soup, and while I was filming the video for this recipe, I ran out of room in a 6-quart dutch oven. So rather than try to fit changing pots around and doing other things in a one-minute video, I just left the chicken out.
We weren't disappointed! While you can (and perhaps should) add a pound of cooked chicken or leftover turkey to this soup, it's absolutely not necessary to make it wonderful. It stands on its own without proteins.
But hey, I'll leave that decision to you. If you want chicken in this soup, go ahead and add it. If you're looking for a meatless meal, just substitute vegetable stock for the chicken stock, and you're all set.
Now on to you!
What's your take here? Is this something you'd crave on a chilly evening? Would you go vegetarian with this, or go full-on with chicken stock and added proteins? we'd love to know, so drop a comment below and let us know!
And if you make this recipe. Snap a pic and share it on social media with the hashtag #unclejerryskitchen. We'd love to see what you come up with!
Peace guys, I'm out 'till next time.
As always:
Food is love. Share and Enjoy!