As much as I appreciate Texas Red Chili, it's not what I crave when I'm in the mood for a bowl of chili. The chili I crave is a variation of the chili my father used to make when I was young and even though it's never won a competition, I've never had a single ladle-full come back from one, either. (The winner's can't usually say that, but I think around here the chili is simply graded on how quickly it destroys your taste buds.)
This chili recipe pays homage to my Native American ancestors, who grew beans, corn and squash when they were transplanted to the arid lands of Oklahoma. They learned quickly from the already native peoples that these three crops grow well together, and are even considered to be the mothers of life by some tribes. I've seen many variations of this particular recipe, but this is mine, with twists from my father's original recipe throw in. If you feel the need, you can call this a recipe for "chili beans". It really depends on where you're from, I think.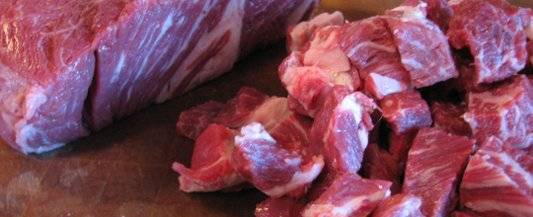 The first step for creating a perfect chili is choosing the right meat. I've used London Broil and Tri-Tip with success, but by far my favorite meat for this dish is a well marbled chuck roast, cut into 1/2 inch cubes. Chuck will not only withstand the long cooking times involved, but also ads quite a lot of flavor to the dish, something a leaner cut of beef has a difficult time accomplishing. (For those who are about to scream in horror over the fact that the roast was cut on a wooden board, take heart. three minutes after I was done cutting the board had been washed, sterilized with a bleach/water solution and resealed with mineral oil, good to go for chopping veggies.)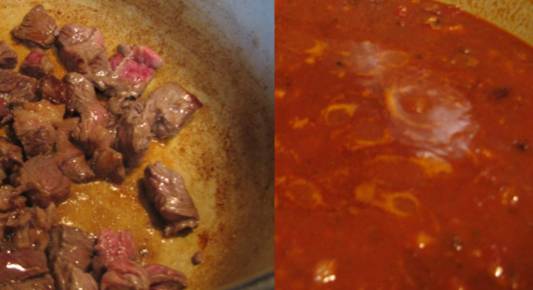 Just as important as the selection of meats is the searing of the chuck itself and the vessel that is used to cook the chili. You absolutely must use a very heavy cast iron casserole or dutch oven, both because of the heat retention properties of the dutch oven itself and because the sear should leave bits on the bottom of the pot. A nonstick pan does not collect these bits and flavor is lost. Definitely not an ideal situation. The heavy lid of a dutch oven helps as well, since it helps to hold in moisture when simmering for extremely long periods over very low heat.
This is not a terribly spicy chili. It's geared for flavor, not heat, which is what I prefer, and it means my wife can eat more of it as well, since she has a reaction to too much spice in her food.
The amounts given below are fairly loose. If you'd like it hotter, add more chipotle or add some cayenne pepper. Like it thicker? Add a bit more Masa. Like it thinner? Leave out the Masa altogether. In any case, give it a try, tweak to your liking and lemme know what you think. I've been perfecting this recipe for the last 20 years, so for me it's simply the best bowl of chili I've ever had, hands down. I've also never heard anyone say they didn't like it. (But I'm sure there are some out there who wouldn't)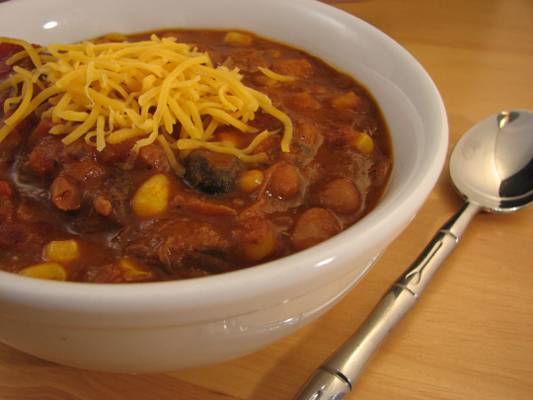 Yield: 10 servings
Beef and Butternut Squash Chili with Beans Recipe (a.k.a Jerry's Texoma Chili Recipe)
Prep Time: 10 minutes

Cook Time: 3 hours

Total Time: 3 hours 10 minutes
Ingredients
2.5 – 3 lbs. chuck roast, cut in 1/2? cubes
4 cups cooked pinto beans (or about 3 cans, if you don't want to cook them.)
1 medium butternut squash, peeled, seeded and cut in 1/2 cubes.
1 14.5 oz. can fire roasted diced tomatoes
1 14.5 oz. can diced tomatoes
1 8oz. can roasted g arlic tomato sauce
2 tbsp. tomato paste
1 chipotle pepper (from a can of chipotle in adobo), chopped fine. (Add more if you like it hotter.)
1 Dried ancho chili pod, chopped fine or ground.
10 oz. whole kernel corn (or the corn from 2 cobs)
1 15.5 oz. can dark red kidney beans
1 2.25 oz. can sliced back olives
12 oz of your favorite dark beer, I recommend Shiner Bock or Ziegen Bock (Any good German beer will do)
4-6 oz. chicken stock or water.
1/4 cup red chili powder
2 tbsp garlic powder
1 onion, chopped fine
1 1/2 tsp dried Mexican oregano
1/2 tsp. paprika
1 1/2 tsp cumin, ground
2 tbsp corn masa flour (Masa Ferina)
Salt and pepper to taste.
2 tbsp vegetable oil or bacon grease.
Beef stock if needed to thin chili during cooking.
Instructions
Heat oil or bacon grease in a large pot or dutch oven over medium heat. add cubed beef in batches, browning well on all sides. Remove browned pieces and place in a large bowl until all beef is browned well.
Return browned beef to pot with whatever juices collected in bowl. Add onion and cook for about 2 minutes, stirring often. Add tomato paste and continue stirring until paste no longer smells raw (Your nose will know, the paste will start to smell a bit sweet and the aroma will deepen.)
Add tomatoes, tomato sauce, chipotle, ancho chili, chili powder, cumin, paprika, garlic powder and beer. simmer for 30 minutes and taste for seasoning. (it will still taste bland at this point, just make sure the amounts are close.)
Add butternut squash and simmer 45 minutes to 1 hour, or until squash is just about fork tender, stirring often.
Add remaining ingredients and simmer uncovered for 1 hour, stirring often to prevent burning. Add beef stock or water as needed to achieve desired consistency.Taste for seasoning and adjust if necessary.
Simmer uncovered for an additional hour, adding liquid if necessary. Allow to rest 15 minutes before serving
Serve with cheddar or jack cheese, sour cream and a slice of good cornbread .
Nutrition Information:
Yield:
10
Serving Size:
1
Amount Per Serving: Calories: 1233Total Fat: 62gSaturated Fat: 24gTrans Fat: 3gUnsaturated Fat: 33gCholesterol: 295mgSodium: 861mgCarbohydrates: 63gFiber: 15gSugar: 8gProtein: 104g



What I would have done differently had I thought of it at the time:
Not one thing. This batch was the best I've made yet. I still have some in the freezer, but that wil probably be sacrificed to the lunch Gods today or tomorrow.
Links to other recipes like this:
This time last year we were: