A lot of people shy away from making lamb. It's fairly expensive in most of America for one thing, but there's also some strange stigma attached to it. some don't like the aroma of cooking lamb, but the reason I hear from most people for avoiding this delectable food is that "it's too difficult to cook correctly," or they are afraid they'll mess it up.
In my book this is a crying shame. Nothing could be simpler than cooking a delicious leg of lamb. As long as you apply a few simple methods and the proper tools it's an almost foolproof meal that will not only make for a great family meal, but one that will get you all kinds of cooking cred from those other folks who think that cooking a great lamb dish requires some kind of mystical powers.
So come along with me on a journey that may just make lamb one of your favorite dishes. The only special tool you'll need is a good probe thermometer. No magic wands or other strange arcane devices of the art of cookery will be necessary. Once you're done being surprised at how simple this is to prepare, perhaps you'll be willing to dive in and try a few that are a bit more adventurous… But for now, just the basics!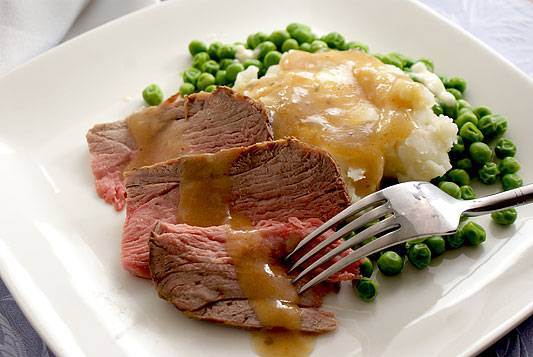 Yield: 6 servings
Roast Leg of Lamb with Pan Gravy
Prep Time: 10 minutes

Cook Time: 35 minutes

Total Time: 45 minutes

Succulent roast leg of lamb paired with pan gravy made from the juices. Simple and perfect for any time of the year.
Ingredients
1-3 to 4 pound leg of lamb. (Mine was semi-boneless, which is why there is no gorgeous shot of a full joint in a dish..)
Kosher Salt
Freshly ground black pepper
Dried thyme
Dried parsley
3 Tbsp. olive oil
3 Tbsp flour
2 Tbsp butter
1 cup to 1-3/4 cup chicken stock
Instructions
Preheat oven to 350 degrees.
For the Lamb:
Mix Salt, pepper, parsley and thyme leaves together in equal amounts in a medium bowl. (a palmful each was what I used, sorry, not scientific, I told you this was basic!)
Remove lamb from wrapper and pat dry with paper towels if necessary. (Mine was shipped in plastic, so was pretty wet.) If the lamb came with a "convenient pop up doneness indicator", pry that sucker out and toss it, it's useless.
Sprinkle spice mixture over entire leg, including the ends and rub lightly to set the spices into the meat.
Heat a large oven proof skillet over medium heat with 2 Tbsp. of olive oil. Brown all sides of the lamb in the skillet. this will take approximately 3 minutes per side. don't forget the ends. color equals flavor!
Remove skillet from heat, turn the lamb fat-side up (important!) and insert the probe on your thermometer into the thickest part of the lamb, but at least 1/2-inch from the bone (if applicable).
Place the skillet into your oven and cook, completely uninterrupted, until the thermometer reaches 8 degrees (for Fahrenheit) below your desired level of doneness. (See below.) Remove lamb from skillet and cover loosely with foil for at least 15 minutes, both to allow the lamb to rest and to continue coming up to temperature.
For the Gravy:
Place the skillet over medium heat (be careful, the handle will be very hot!) Add flour and stir constantly until it is a light golden color and smells slightly nutty. (If the mixture looks extremely dry, add a drizzle of olive oil.) Season with salt and pepper, then whisk in the stock by 1/2 cups until the gravy is just about the thickness you prefer.
Remove from heat and stir in the butter. Taste for seasoning.
Serve lamb with mashed potatoes and peas or the greens of your choice. Drizzle with pan gravy.
Nutrition Information:
Yield:
6
Serving Size:
1
Amount Per Serving: Calories: 1063Total Fat: 66gSaturated Fat: 26gTrans Fat: 0gUnsaturated Fat: 35gCholesterol: 306mgSodium: 1014mgCarbohydrates: 20gFiber: 0gSugar: 8gProtein: 90g


And for the temperatures you're looking for in your lamb:
Lamb
Rare
Medium-rare
Medium
Well done
135°F (53C)
140° – 150° (63C)
160° (72C)
165° and above (74C or higher)
What I would have done differently had I thought of it at the time:
There are a ton of recipes out there for leg of lamb. Some are far more complex than this one, but this is a good place to start, especially if it's your first try.
Links to other recipes like this: