I'm a day late to my own party! This recipe was created for the Frugal Fridays Blog Event, hosted and created by yours truly and was supposed to be posted last night, but several things conspired against me.
First there was sleep deprivation. Our son has hit one of those stages where sleep doesn't seem to be something he requires much of.
Since Mrs. Uncle Jerry holds down a job outside the house, I'm the one who stays up with the little hellion sweet child until I can get him to nod off. Three days of that was enough to have me nodding on the couch by 7:00 pm.
Top that off with the fact that my probe thermometer is either damaged or was inserted into the wrong portion of chicken and I can add "Kitchen Disaster" to the list of things that held me up.
For once it looked like everything was going to be ready at the same time. That's actually a rarity, especially when you're making things up as you go along. Last night it all looked perfect. Right up until the time I cut the bird…
Now I love to see a big bunch of deep red juices come pouring out of a steak or a roast, but when it happens to be coming from a chicken… Let's just say it doesn't thrill me. Especially when I've already poured some of the pan juices into my side dish as well!
This little revelation set me back a full 30 minutes, since everything had to be heated past 200 degrees and held there for at least five minutes… Fun!
In the end it all turned out well, just a little dryer than I would have liked. It's still a dish that I would recommend to anyone.
(Just make sure your chicken is fully cooked…)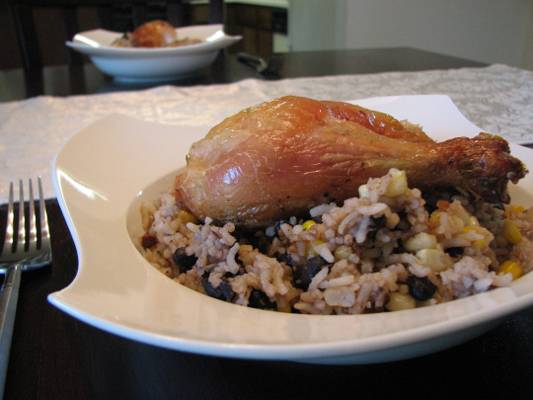 But how much did all of this set me back? let's see.
Chicken: $3.42
Herbs – Free, I grow them myself
Rice – approximately $0.25
Black Beans: $0.85 per can
Corn: less than 1/3 of a bag of frozen corn, so $1.09 / 3 = $0.36
Chorizo: 1/2 of a $2.99 package, so roughly $1.50
Chicken stock: 16 oz. out of a 32 oz. container @ 2.09 = 1.08
Everything else was pantry staples and the garlic was leftover from my last FF, so
Grand Total: $7.46 for a meal that would easily serve four. In fact there is still a ton of rice left over!
Not too shabby if I do say so myself.
Now let's get Cooking!

Yield: 6 Servings
Basil and Oregano Roast Chicken with Southwestern Rice Recipe
Prep Time: 10 minutes

Cook Time: 50 minutes

Total Time: 1 hour

Basil and Oregano Roast Chicken with Southwestern Rice is a delicious choice for a fall weekend meal.
Ingredients
1 – 3 to 5 lb chicken, rinsed and patted dry
1 bunch basil leaves (or about 2 tbsp dried basil)
4 sprigs of oregano leaves
2 tbsp. dried oregano
2 cups uncooked rice
2 cups chicken or vegetable stock
2 cups (plus just a splash) cold water
1 – 14.5 oz can black beans, rinsed and drained
1/3 package frozen sweet corn, thawed
1 chroizo link, cut in small cubes
2 tbsp. dehydrated onion flakes
1 tbsp garlic powder
1 tbsp dried cilantro leaves
2 tbsp Adobo powder (I use Goya)
1/2 onion, diced
3 cloves garlic, minced
approximately 4 tablespoons cooking oil (I was out of olive oil!)
Salt and pepper to taste
Instructions
Preheat oven to 350°F. Place fresh basil and oregano into body cavity of chicken. Salt chicken liberally, drizzle with oil and sprinkle with dried oregano. Cook on a roasting rack on the center rack of oven for approximately 50 minutes, or until internal temperature reaches 175°F. Remove from oven, cover loosely with foil and allow to rest at least 20 minutes.
While chicken is cooking, combine stock, water, rice, chorizo, cilantro flakes, onion flakes, garlic powder and adobo powder in a rice cooker or a medium saucepan over low heat.
If using a rice cooker – Cover and switch to "cook"
If cooking on the stove top – Bring all ingredients to a boil. Stir once. Cover, reduce heat to low and simmer for approximately 20 minutes.
When rice is done and while chicken is resting: Heat 2 tbsp oil in a large stock pot over medium heat. Add onion and cook until just translucent. (approximately 8 minutes). Add garlic and cook, stirring constantly for approximately 3 minutes, or until the whole kitchen smells like garlic.
Add beans and corn. Season aggressively with salt and pepper. Taste for seasoning.
Add rice to beans and corn, stir until just mixed and remove from heat.
Serve sliced or quartered chicken pieces over rice. If desired, add a bit of the pan juices over the whole thing, just to make it that much more sumptuous.
Serve and Enjoy!
Nutrition Information:
Yield:
6
Serving Size:
1
Amount Per Serving: Calories: 3013Total Fat: 164gSaturated Fat: 44gTrans Fat: 0gUnsaturated Fat: 104gCholesterol: 1108mgSodium: 1285mgCarbohydrates: 72gFiber: 7gSugar: 2gProtein: 293g


What I would have done differently had I thought of it at the time:
I think the chicken could have used a bit of basil-infused olive oil, but as i said, I was out, so that experiment will have to wait.
Links to other recipes like Basil & Oregano Roast Chicken: