When the weather is cold the oven goes on low and slow and roasts and stews are the order of the day. From now until the weather starts to warm our home will most likely be full of the aromas of simmering liquids and hearty winter herbs like sage and rosemary. Stone fruits and jams replace fresh herbs as flavorings and the calorie counts rise to cope with the need to stay warm. It's my favorite time of the year, and roast chicken is one of my favorite dishes to make.
The smells of slow roasting poultry immediately get me thinking of the Holidays. Thoughts of family gatherings past and things that were said around hot meals on blustery evenings with much laughter and joking, holiday specials on television for us kids and veiled references to what was bought for whom. The good times in our family were always most pronounced when the weather got cool, and for me this type of food epitomies family, friends and love.
This chicken recipe is one of my mother's go-to's. I share it with all of you in the spirit of the Holidays and I hope that you enjoy it with family and friends. With laughter and joy and perhaps a holiday movie on for the kiddos so that they too have memories like mine when they get to be our ages.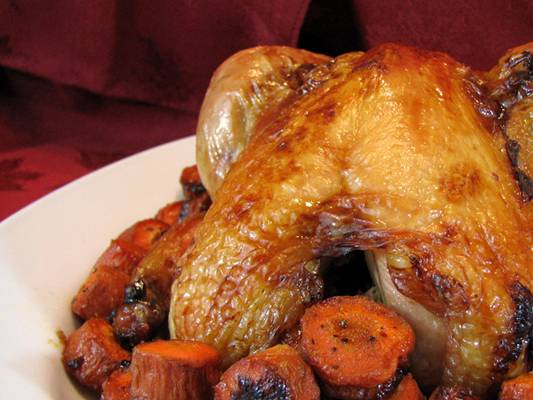 Yield: 8 servings
Roast Chicken with Honey-Apricot Glaze Recipe
Prep Time: 10 minutes

Cook Time: 1 hour

Resting Time: 15 minutes

Total Time: 1 hour 25 minutes
Ingredients
1 whole frying chicken (approximately 3.5 lbs).
3/4 cup honey.
1 tbsp. butter.
1/4 cup apricot nectar.
1 80z. mandarin orange segments with juice. (I got these from a lunch container, but cans are available.)
Extra virgin olive oil for drizzling over chicken.
Salt and pepper to taste.
Instructions
Preheat oven to 350 degrees.
Thoroughly rinse chicken and pat dry with paper towels. Season inside and out with salt and pepper. Place orange segments and juice from container in body cavity and truss legs. (I prefer to truss by simply cutting a slit in the skin at the rear of the cavity on either side and then sticking the opposite drumstick end through the slit. Works a charm!) Place chicken in a shallow roasting pan, drizzle with olive oil and bake for approximately 30 – 45 minutes.
Meanwhile, combine honey, butter and apricot nectar in a small saucepan. Place over extremely low heat, stirring constantly until all ingredients are combined. Bring to a bare simmer and remove from heat. Set aside.
Check chicken at the 30 minute mark. Basting should not begin until the chicken is nearly done. Test for doneness either by piercing the flesh and ensuring that all juices run clear, or by using an instant read thermometer in the thickest portion of the thigh. Chicken should register at no less than 155 degrees before basting.
Baste chicken with a basting brush in several stages, at intervals of five minutes. Continue until all glaze has been used.
Remove from heat and allow to rest, loosely tented with foil, for 15 minutes before carving.
Serve and enjoy!
Nutrition Information:
Yield:
8
Serving Size:
1
Amount Per Serving: Calories: 204Total Fat: 6gSaturated Fat: 2gTrans Fat: 0gUnsaturated Fat: 4gCholesterol: 24mgSodium: 84mgCarbohydrates: 35gFiber: 1gSugar: 33gProtein: 5g


What I would have done differently had I thought of it at the time:
Nothing, it's Mom's recipe. I don't muck with those.

Links to other recipes like this: