Welcome to another installment of #SundaySupper, hosted this week by the always lovely Isabel at Family Foodie. For this week's Sunday Supper we were asked to make a recipe from the Mom 100 Cookbook by Katie Workman. This might have posed a challenge, as I don't happen to own to this particular cookbook (What with not actually being a mom and all), but when the rules were changed to include remaking one of the posts from the previous installment, I knew immediately what I was going to make. Arroz con Pollo.
My wife is out of town with her mother. I miss her terribly when she's gone but we have a history of staying connected through food, and Arroz con Pollo is one of her favorite dishes. (She makes a mean version herself, I might add.) So I set about reinventing the original recipe a bit, as we are prone to do around here.
The first thing I noted was that the original recipe called for short grain rice. since the only short grain rice I have on hand is sushi rice and sticky rice, that was out. In with the long grain! Second, the original called for kielbasa. while I have nothing against kielbasa, it didn't seem to fit, so I added Spanish chorizo instead. (A good call, I might add.)
Next, the original called for seasoning the chicken in salt and pepper. Since I wanted to put a more Puerto Rican spin on it, I used Goya Adobo seasoning instead, because it's what my wife uses. (We were our of recaito and sazon, so I omitted them here.) Also, the recipe called for the addition of paprika, which I simply ignored.
The last bit was that the recipe called for saffron. Yeah.
Saffron isn't a pantry staple in our home. It's expensive. It's delicate. It's not something I'm going to use in a meal for my kids, unless there are copious amounts of other very expensive foods on the table. (Like seafood or capon.) Luckily, Turmeric, also known as poor man's saffron, is a more than worthy substitute and one we have on hand at all times.
The result? Well, I thought it was great. My kids absolutely would not eat it. (Not surprising for the 5 year-old, startling for the 11 year-old.) It isn't my wife's Arroz con Pollo, but then, nobody's can be. The first few bites through me off, but once I got past the differences, I ate quite a lot. Also, since the dish makes a LOT of food, I've been happily eating it for the past several days.
The recipe is a keeper, but don't do what I did. Don't forget to add a handful of green olives at the end.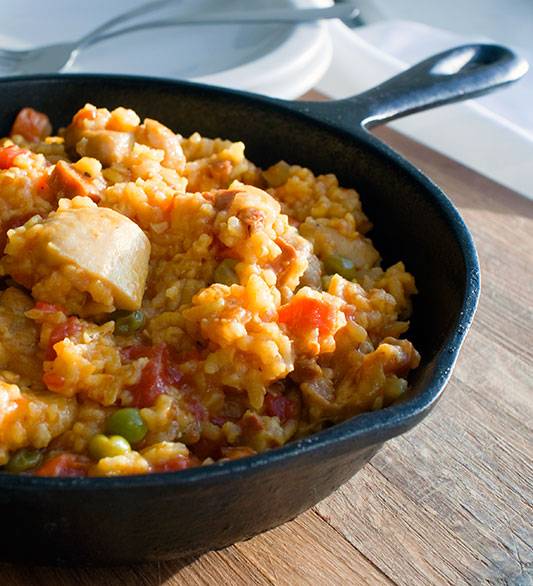 Yield: 6 to 8 servings
Arroz con Pollo, Puerto Rican Style
Prep Time: 5 minutes

Cook Time: 25 minutes

Total Time: 30 minutes
Ingredients
2 pounds boneless, skinless chicken thighs
2 Tablespoons Adobo Seasoning
3 Tablespoons bacon grease or olive oil
1 onion, chopped
2 large carrots, chopped
1 red bell pepper, chopped
1 green bell pepper, chopped
3 cloves garlic, minced
1 1/2 cup long grain rice
7 ounces Spanish chorizo, cut in cubes
2 14.5 ounce cans diced tomatoes, with juices
4 cups reduced sodium chicken broth
3 bay leaves
1 Tablespoon turmeric
1 cup frozen peas
1 cup pitted green olives or 1/2 cup capers (or both!)
Instructions
Cut the chicken into approximately 2 inch pieces. Season well with Adobo.
Heat a very large skillet or dutch oven with lid and 1 Tbsp. of the bacon grease or olive oil over medium high heat. Add as much chicken to the pan as possible without crowding and brown well on both sides. (2-3 minutes per side in my kitchen.) Remove chicken to a large plate and repeat as necessary until all the chicken is browned, adding more oil as necessary. (Chicken will still be pink in the middle. This is OK!)
Add the carrot to the pan and cook for about 3 minutes or until the carrot begins to soften slightly, stirring often. Add the onion and cook for another 3 minutes. Add garlic and cook for an additional minute.
Add the rice and chorizo and cook, stirring frequently, until the rice is slightly translucent and is well mixed with the other ingredients, about 3 minutes. Add the tomatoes with their juices, the chicken stock, bay leaves, turmeric. Stir well, cover the pan and allow to come to a simmer.
Reduce heat to low and continue to simmer until the rice has absorbed most of the liquid; about 8 minutes.
Arrange chicken on top of the rice and pour collected juices over the top. Cover the pan again and allow to simmer gently until the chicken is cook through, about 15 minutes.
Remove the lid, sprinkle the peas and olives on top, cover and simmer for another 3 minutes.
Stir well. Share and enjoy!
Nutrition Information:
Yield:
8
Serving Size:
1
Amount Per Serving: Calories: 513Total Fat: 30gSaturated Fat: 9gTrans Fat: 0gUnsaturated Fat: 19gCholesterol: 165mgSodium: 2683mgCarbohydrates: 25gFiber: 5gSugar: 9gProtein: 39g


What I would have done differently had I thought of it at the time:
I forgot to add green olives… Seriously? I forgot the olives!
Don't forget to add a half-cup of halved green olives at the end.
Here are some favorites we will be sharing with you during #SundaySupper this week.
Salads:
Main Dish:
Desserts:
Wine pairing Wine Everyday @wineeveryday
We will be sharing great family recipes all afternoon and want you to share yours with us! #SundaySupper starts every week at 3:00pm EST by showcasing fabulous recipes. Follow us on twitter by using hashtag #Sundaysupper or using Tweetchat. We love to feature your recipes on our #sundaysupper pinterest board and share them with all our followers.