Lately I've been spending quite a bit of time on the icky-bits. Firstly, I agree with the nose-to-tail movement. I firmly believe that if an animal has given me the honor of its very life so that I may eat that no part of that gesture should be wasted.
Granted, the animal in question may never understand the sacrifice it has made or why. It may never know that I'm thankful for its sacrifice or that I care that by not letting any part of it go to waste might allow others of its kind to live to a ripe-old age, but I do.
Secondly, these products are not only less expensive than their more popular brethren, but generally far better in a nutritional sense. Beef heart, for example, has less fat and cholesterol than a filet of beef and far less than a rib eye or chuck. I can't argue with either the price or the health benefits for my family.
If you're worried about the flavor, don't. This isn't a liver gig. If anything, beef heart tastes more beefy than a really good cut of prime beef. It is the essence of the animal after all and it shines brilliantly in this cut.
The only caveat of beef heart is that there really are only two ways to cook it. You can go blast-furnace hot for about a minute and have it on the rare to medium rare side, or cook ultra low and slow for six to eight hours. Anything in the middle renders something that is mostly the consistency of a set of 2006 all-weather radials. If you can remember that one little thing, I think you'll enjoy it.
Chili is a great introduction to this less than appreciated cut. it combines the low and slow cooking method for a tender bite, and somewhat hides the true nature of the beast. if your brood might wince at the thought of heart, you can ease them into the experience with this dish. Once they've tasted it, they'll be very glad they took the plunge.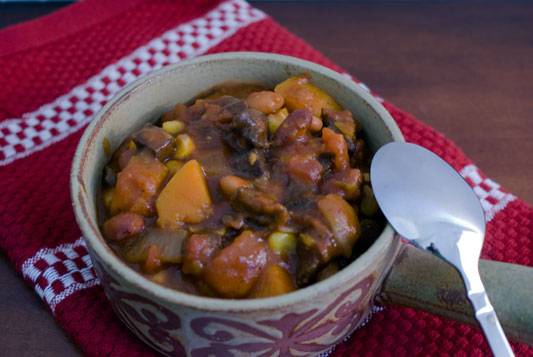 Yield: 12 servings
Beef Heart Chili Recipe
Prep Time: 10 minutes

Cook Time: 6 hours 30 minutes

Total Time: 6 hours 40 minutes
Ingredients
1 lb. beef heart, cut in 1/4-inch cubes
1 onion, diced
2 cloves garlic, minced
2 Tbsp. tomato paste
8 ounces tomato sauce
12 ounces good dark beer
2 – 14.5 ounce cans diced tomatoes
1 – 15 ounce can pinto beans
1 – 15.5 ounce can light red kidney beans
1 – 8 ounce can chopped green chilies
1 cup whole kernel corn
1/2 of one medium sized butternut squash, cut in 1/2 inch cubes
vegetable broth – up to 32 ounces depending on the seal of your pot
chili powder to taste (I used 2 Tbsp)
Cumin to taste (I used 1 Tbsp)
1 heaping tsp ground coriander
Paprika to taste
Salt and pepper to taste
Olive oil, for cooking
Instructions
Heat a large stock pot or dutch oven over medium heat. Add olive oil and allow to heat to a shimmer. Lightly season beef heart and cook in batches until just browned, placing finished batches in a large bowl. When done, set aside.
Add 1 Tbsp olive oil to pan. Cook onions, stirring frequently, for two minutes or until translucent. Add garlic and cook an additional 2 minutes. Add tomato paste and stir until all vegetables are coated.
Add beer and stir, being careful to scrape all the browned bits from the bottom of the post. (this is both for flavor and to prevent sticking and burning later.)
Return beef heart to pot and add all remaining ingredients. Bring to a boil, reduce heat and cook covered at a bare simmer for 5 to 6 hours, stirring often. Add stock as necessary to achieve desired consistency.
Test for spices and seasoning at about 1 hour before serving. Add spices a little at a time if ratios aren't quite where you like them, stir and give 5 minutes between tastings.
Serve hot with a sprinkling of Queso Fresco or sour cream.
Share and enjoy!
Nutrition Information:
Yield:
12
Serving Size:
1
Amount Per Serving: Calories: 218Total Fat: 4gSaturated Fat: 1gTrans Fat: 0gUnsaturated Fat: 2gCholesterol: 80mgSodium: 525mgCarbohydrates: 26gFiber: 7gSugar: 5gProtein: 18g


What I would have done differently had I thought of it at the time:
This chili, like any other, can be changed to suit your particular desires. Feel free to play with the amounts and ingredients. Have fun with it, make it your own!
Links to other recipes like this: