I'm partial to any recipe that starts with "open two bottles of beer." In my case this may not show that the beer is actually going to be used in the recipe, but it almost always indicates a fun meal. In this case it's my tried and true method for making the ultimate bratwurst.
I learned the method from an episode of Easy Entertaining with Michael Chiarello and I want to thank the chef personally for giving me the ultimate method for perfectly tender, juicy and flavorful sausage every time. His method of poaching the sausage first and then simply grilling them for flavor has never let me down.
Another plus to this method is that you get to introduce whatever flavors you choose in the form of the poaching liquid. In the case of these brats I used a Summerfest Ale, but you can easily swap that out for stock, water or wine with amazing results.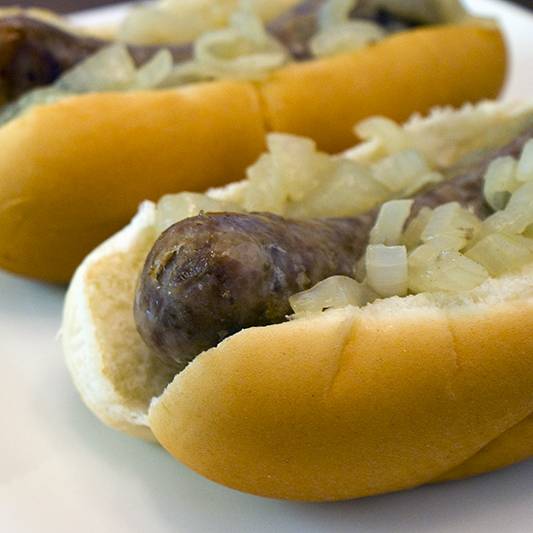 So here you have it; The ultimate bratwurst for your backyard BBQ or tailgate party. But don't limit yourself to bratwurst! this method works wonderfully for any uncooked link sausage in a natural casing. The slow poach at the beginning locks in the juices and leaves the meat moist and tender, even for sausages that are usually on the chewy side.
What's your favorite grilling sausage? I personally have no preference. I'll grill or smoke anything I can get my hands on, but I'd love to hear what you prefer and why.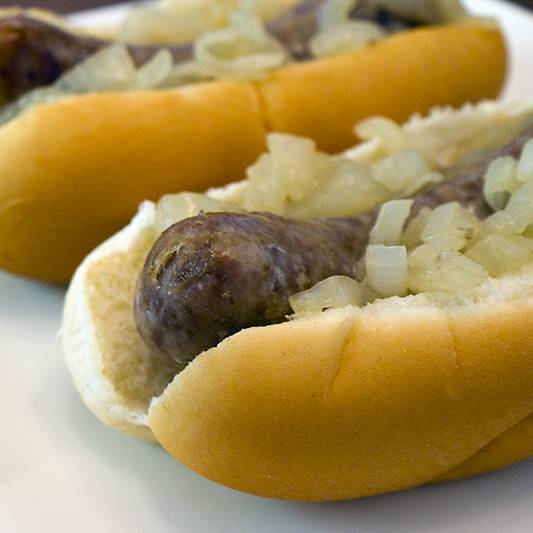 Yield: 5 Brats
The Ultimate Grilled Beer Bratwurst Recipe
Prep Time: 5 minutes

Cook Time: 35 minutes

Total Time: 40 minutes
Ingredients
5 good quality bratwurst sausages
24 oz beer or other liquid
2 large onions, halved, peeled and sliced
1 pat butter
Salt and pepper to taste
Instructions
Place bratwurst, beer and onions in a saucepan and place over medium-high heat. Bring to a boil, cover and remove from heat. Allow to stand at least 30 minutes.
Remove bratwurst from beer, strain onions and discard beer. heat a saucepan over moderate heat (this can be done on the grill) add butter and onions and cook until just browned. season with salt and pepper as desired
Grill bratwurst until nice grill marks have formed and sausage is warmed through.
Place brats on buns, garnish with onions, add condiments according to your tastes.
Share and Enjoy!
Nutrition Information:
Yield:
5
Serving Size:
1
Amount Per Serving: Calories: 429Total Fat: 31gSaturated Fat: 11gTrans Fat: 0gUnsaturated Fat: 17gCholesterol: 77mgSodium: 916mgCarbohydrates: 13gFiber: 1gSugar: 3gProtein: 15g


What I would have done differently had I thought of it at the time:
Nothing. This is a perfect method, though I do change liquids depending on the type and flavor of sausage I'm using.
Links to other recipes like this: