Perhaps a little on the low brow, college-dorm side of life, but quite tasty nonetheless! This is a take on a dish that I usually make with smoked sausage or Polska kielbasa. Not what I'd call light fare in either case, but it does have a good amount of veggies thrown in.
In truly Seat of my Pants fashion, this dish was cobbled together with whatever I could find at the ready when I discovered that I had not only forgotten to pull anything out for dinner, but that it was very late in the evening and I needed something for Mrs. Seat of Her Pants to eat in a hurry.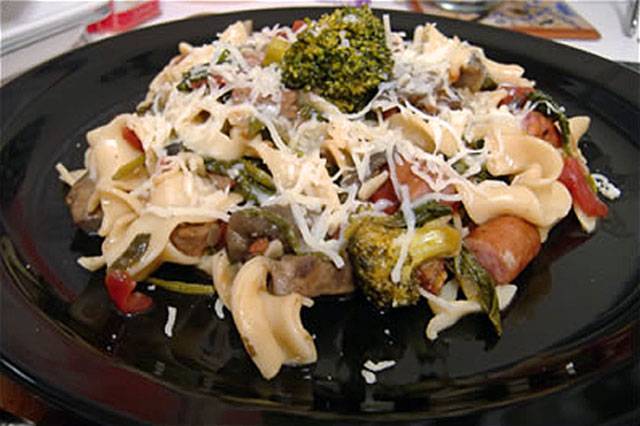 Yield: 4 servings
Smoky Sausage Ragout with Spinach, Broccoli and Egg Noodles
Prep Time: 10 minutes

Cook Time: 20 minutes

Total Time: 30 minutes
Ingredients
Egg noodles (2 handfuls, maybe ¾ cup)
1 small red onion: diced (Or half a big one...)
2 large cloves of garlic: diced
1/2 bag of Lil' Smokies® cut in half
5 Ready Made® breakfast sausages, chopped
1 1/2 cups fresh broccoli florets
8 oz chopped mushrooms
1 - 14.5 oz can diced tomatoes
1 6 oz bag of fresh spinach
Shredded Mozzarella & Asiago cheese (or Parmesan if you prefer)
Instructions
Add egg noodles to 2 quarts boiling salted water.
Heat pan over med high heat. Add olive oil, two swirls around the pan. Add onions, a pinch of salt and stir until translucent (about 2 minutes). Add garlic, stir wait 30 seconds (Garlic will turn bitter if it burns... No more than 45 seconds here!) Add mushrooms and broccoli, cook 5 minutes, or until mushrooms have turned a deep brown. Add Lil' Smokies® and Ready Made® sausages, Allow to brown slightly. Add tomatoes with liquid, stir and allow pan to return to heat. Add spinach, fold through until wilted. Salt and pepper to taste.
Remove egg noodles from water and drain, add noodles to saute pan and stir to combine. If the pan looks dry, add some of the pasta water.
Cover, remove from heat and let steam for five minutes. (Just to let the flavors mingle a bit.)
Nutrition Information:
Yield:
4
Serving Size:
1
Amount Per Serving: Calories: 311Total Fat: 16gSaturated Fat: 7gTrans Fat: 0gUnsaturated Fat: 8gCholesterol: 56mgSodium: 671mgCarbohydrates: 25gFiber: 7gSugar: 6gProtein: 20g


Serve Warm with a generous sprinkling of cheese and a good beer or iced tea and enjoy.
What I would've done differently had I thought about it.
I probably would have added a bit of chili flakes or used diced tomatoes with green chilies added. Perhaps saute the sausages in beer before adding them. I also might have added a touch of fennel seed at the beginning.
Considering the off the shelf nature of this particular dish I think it came out pretty well.
The response from Mrs. Seat of Her Pants… "Fan-Freakin'-Tabulous!"
That's good enough for me. I'm off to pull something out of the freezer.