If you're looking for a quick and painless weeknight meal that goes together easily but still packs in a serious dose of wow factor, this is it. Our Japanese rice and chicken stuffed bell peppers fit the bill ever time. Prep takes just minutes, it cooks in about a half-hour, and you can make it with leftovers. (Yes, leftovers.)
This dish is a twist on several recipes that I know, and is the sort of thing that you'd be likely to find in a bento, or Japanese box lunch. I made this using leftover rice and chicken. With just a few tweaks, these humble ingredients become something magical whether served hot or at room temperature at lunch time.
Another great thing about these is that you can make them in advance and freeze them for a quick meal during the week. (See recipe notes.) But enough of singing their praises. you're going to want to make these, so let's dive right in!
First, grab two bell peppers and slice them in half.
Clean out the seeds and ribs, and set them aside.
Get your oven going, whip up a quick sauce(see below), add a bit of water to the bottom of a casserole and mix the rice stuffing together.
the rice stuffing is a combination of Japanese-style fried rice and a tamagoyaki (玉子焼き), a Japanese rolled omelette. Just mix 'em together and fill those peppers you just cut up.
Cover, toss in the oven for about 20 minutes to set the egg, and poof! you've got these brilliant rice-stuffed bell peppers.
You could actually call it good right here, drizzle the sauce over the rice and make a meal of it. nobody would blame you! But we're going to go a bit further.
Take some leftover chicken (skin on, please), slice it in strips and arrange it over the peppers. Drizzle with a bit of that sauce and pop it back in the oven for a few minutes. This heats the chicken through and caramelizes the sauce. Yum!
All that's left is to drizzle on a little more sauce and then dig in.
Seriously, that's it.
Now get your chopsticks ready!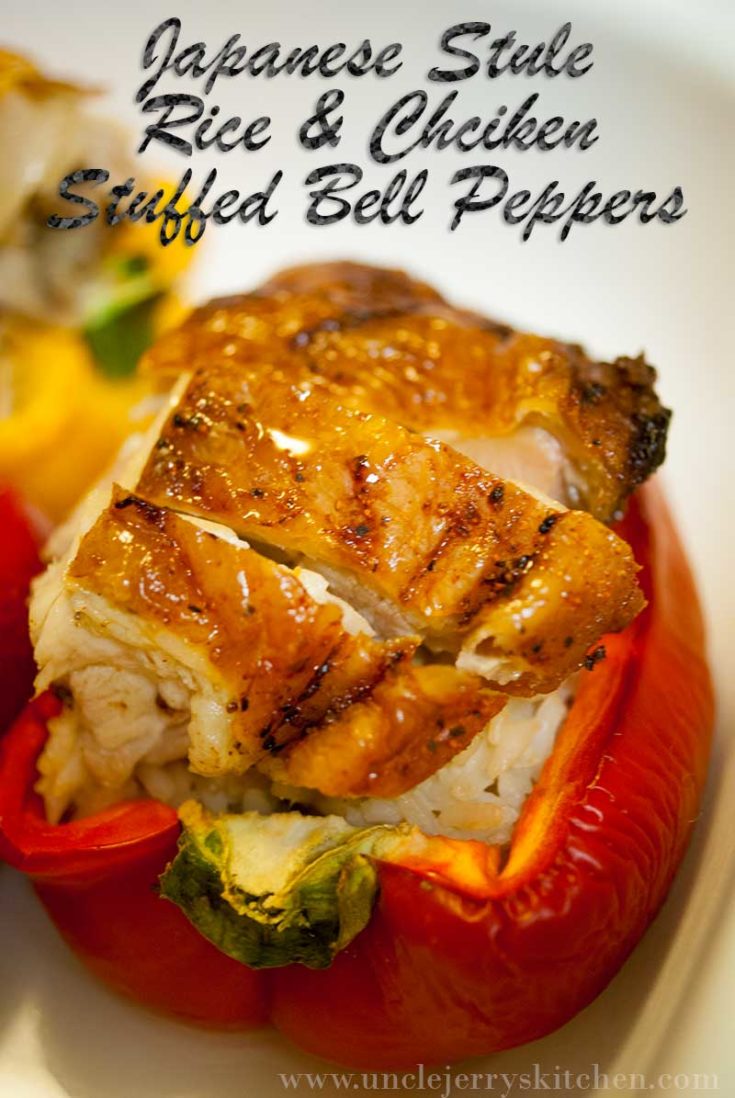 Yield:

4 servings
Japanese Style Rice & Chicken Stuffed Bell Peppers
A light and refreshing take on a stuffed bell pepper. Filled with tantalizingly sweet Japanese style rice and topped with crisp, juicy chicken. It's a meal sure to please even the pickiest of eaters.
Ingredients
For the Sauce:
1/4 cup water
1/8 cup mirin (or sherry)
1 teaspoon granulated sugar
2 Tablespoons dark soy sauce
For the Japanese Style Rice Stuffing:
2 cups cooled cooked white rice
1 large egg
2 Tablespoons water
1/2 tsp mirin or sherry
1/2 teaspoon soy sauce
Salt and pepper to taste
For the Stuffed Bell Peppers:
2 large bell peppers (any color)
2 cooked boneless chicken thighs or 1 large chicken breast, cut in strips
Stuffing and sauce from above.
1/4 cup water, for cooking.
Instructions
Sauce:
heat water, mirin and sugar in a small saucepan over medium low heat, stirring constantly until sugar is dissolved. remove from heat, add soy sauce and stir to combine. Set aside.
Japanese style rice stufing:
Place cooled rice in a large bowl. In a separate small bowl, mix egg, water, mirin, soy sauce, salt and pepper until frothy. pour over rice and stir until fully combined.
for the stuffed bell peppers
Heat oven to 400 degrees. Add just enough water to cover the bottom of a medium casserole dish or other heat-proof pan.
Cut bell peppers in half lengthwise. Remove seeds and ribs. Fill each pepper half with 1/4 of the rice mixture. Place in casserole dish, cover and cook for 20 minutes, or until the eggs in the rice has set.
Remove from oven. arrange chicken over rice and drizzle with a tablespoon of the sauce. Bake, uncovered for an additional 10 minutes.
Remove from oven, place pepper halves on serving plates and drizzle with remaining sauce.
Serve immediately
Share and enjoy.
Notes
If you're looking for the perfect freezer meal, just make the rice and stuff the peppers. Top with chicken and freeze. When you're ready, bake at 400 degrees for about 50 minutes, make the sauce and drizzle over the top before serving!
Nutrition Information:
Yield:
4
Serving Size:
1
Amount Per Serving:
Calories:

339
Total Fat:

8g
Saturated Fat:

2g
Trans Fat:

0g
Unsaturated Fat:

5g
Cholesterol:

141mg
Sodium:

914mg
Carbohydrates:

35g
Fiber:

2g
Sugar:

8g
Protein:

29g
What I would have done differently had I thought of it at the time:
These things are amazing on their own, but i think that maybe just a bit of garlic and some green onion mixed in with the rice would make them even better. that's definitely something you can try on your own if you'd like!
In fact, feel free to experiment. This is a fast and loose kind of stuffed bell pepper recipe. It's just done in the Japanese style of highlighting individual ingredients, rather than trying to blend everything together.
And it's gorgeous, as well.
Other awesome stuffed bell peppers from around the web: