I think I was 19 the first time I tried this dish. I think I had it at Don Taylor's Omelette Express in Santa Rosa California, but if so, it's no longer on their menu. No matter where it was that I tried this dish the first time, I was an instant convert.
Omelets are one of my culinary weaknesses. For me, they are on the same order of obsessive magnitude that some people hold chocolate. The very nature and versatility of the omelet is mind-boggling. Whether it be the classic folded French version or the currently more popular Italian frittata, there seems to be no limit on the flavor combinations possible and I think I may have tried them all.
Even after years of experimenting, I always come back to this simple dish. It satisfies a craving for me. Even though it's been years since I last made this it instantly took me back to a time in my life where the world was exciting, my culinary horizons were expanding and the road forward didn't seem like it was going to be paved with as much blood, sweat and tears as it has been. Food can do that.
This one is comfort food folks. Make it with love and share it with someone you care about. It will make memories.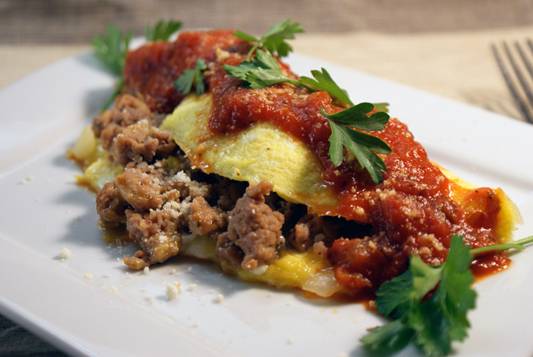 Yield:

2 servings
Italian Omelet
Ingredients
2 links Sweet Italian turkey Sausage
1 small onion, diced
2 cloves garlic, minced
4 eggs
4 Tbsp milk or water
2 Tbsp extra virgin olive oil
1/2 Cup marinara sauce
Grated Parmesan Cheese (optional, for topping)
Italian Parsley (optional, as garnish)
Salt and Pepper to taste
Instructions
Place a large skillet over medium flame until hot. Add olive oil. Slice sausage casing and crumble sausage into the skillet, breaking sausage up with a spoon as it cooks.
When sausage is just browned, add onions and garlic. Cook until onions are just translucent. Remove from heat and drain in a colander or fine mesh sieve.
Spray a small nonstick skillet with cooking spray and place over medium-low heat. Whisk eggs and milk together with a pinch of salt and pepper.
Pour half of the egg mixture into the skillet, stirring at the beginning, and cook until nearly set.
Cover egg with half of the sausage mixture. Fold egg over sausage and slide onto a plate. Cover with marinara sauce and grated Parmesan cheese and parsley if desired.
Repeat for the second half of the ingredients.
Nutrition Information:
Yield:
2
Serving Size:
1
Amount Per Serving:
Calories:

423
Total Fat:

30g
Saturated Fat:

7g
Trans Fat:

0g
Unsaturated Fat:

20g
Cholesterol:

417mg
Sodium:

929mg
Carbohydrates:

12g
Fiber:

2g
Sugar:

5g
Protein:

26g
What I would have done differently had I thought of it at the time:
Really nothing. I love this combination o flavors, especially if the eggs are cooked firmly. (this is no place for a super fluffy omelet.)
I've had this recipe with zucchini added and other veggies and it can be made without the sausage at all as long as the filling stands up well to marinara. In any case, enjoy!
Links to other recipes like this: