If you've followed along with this blog for any length of time, you'll probably know that I'm the California born son of a very Southern family. We didn't eat the same kinds of food at home that most of my native Cali born friends did. We had beans and cornbread, grits, biscuits, gravy, and S.O.S. I thought I knew Southern food pretty well. But I'd never in my life tried hoecakes!
Never! Can you believe it?
The funny thing is, I've lived in the Southwest and the deep South off and on for the last 13 years and, until I made these hoecakes for myself, I'd never seen them anywhere. Not by any of their names. No hoecakes, no Johnny cakes, no corn cakes, no fried cornbread. Nada.
So, I started doing a little research. I first saw a recipe for hoecakes on the Townsend's YouTube channel. The recipe he shared is from the 18th century, so I kept poking around for a more modern version, which led me to several takes on the recipe. But they're all similar.
I settled on adapting a recipe from Paula Deen as a starting point. The biggest difference in the two (so far) is that I don't stock buttermilk regularly, so I used a buttermilk substitute in this recipe.
But enough about how I got around to making these incredibly delectable little corn cakes, let's get started.
A little clarification on Hoecakes
First, let me tackle a few long-standing myths about Hoecakes.
Hoecakes were never actually cooked on the blade of a garden hoe, but rather in an iron pan called a hoe. (Though I can't find an image of one. If you can, please let me know!)
The difference between Hoecakes and Johnny cakes is basically the size of the thing as far as I can tell. Johnny cakes were always cooked in skillets, so they just covered the bottom of the pan with batter.
OK, moving on…
Let's make some Hoecakes!
Gather up your ingredients. For this recipe we've got flour and corn meal (Both of the self-rising variety.), sugar, eggs, milk or buttermilk, vegetable oil, and something to fry 'em up in. In our case that would be butter, because Yum!
Add your dry stuff to a bowl.
Get your buttermilk (or buttermilk substitute) ready.
Then mix it all together.
You're going to get a really thick batter out of this, and that's exactly what you want.
Next, get your butter or bacon fat good and hot.
Then toss in the batter. Two heaping Tablespoons is just about perfect for a single Hoecake. (If you're going for a johnny cake, just cover the entire bottom of the skillet. with a thin layer of batter.)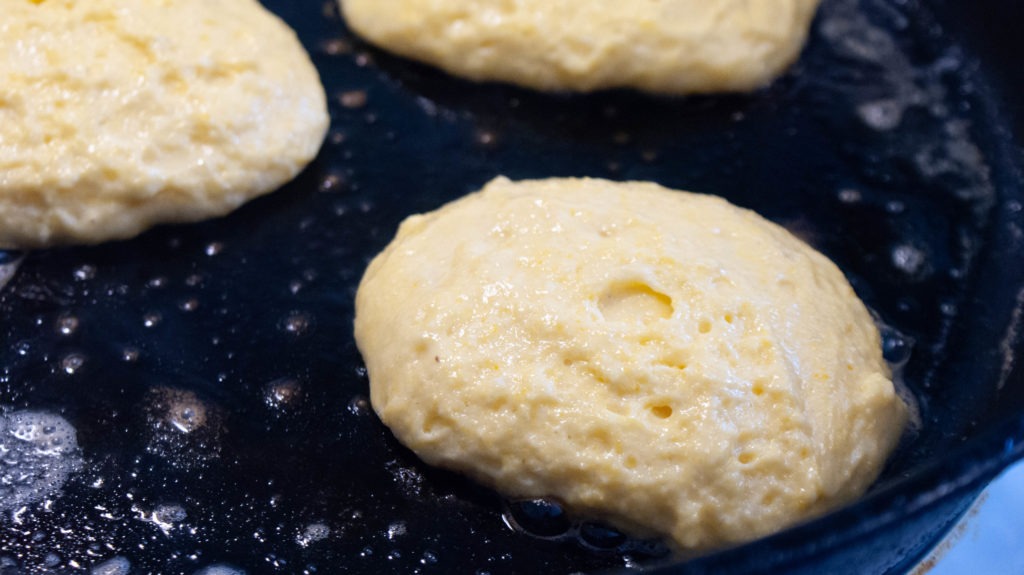 Cook over medium high heat until your lovely corn cake is golden. (I have a small issue with my old cast iron pan and our current stove, hence the black-ish bits, but I hope to get that remedied soon.)
Give it a flip and cook until the other side is gorgeously golden as well.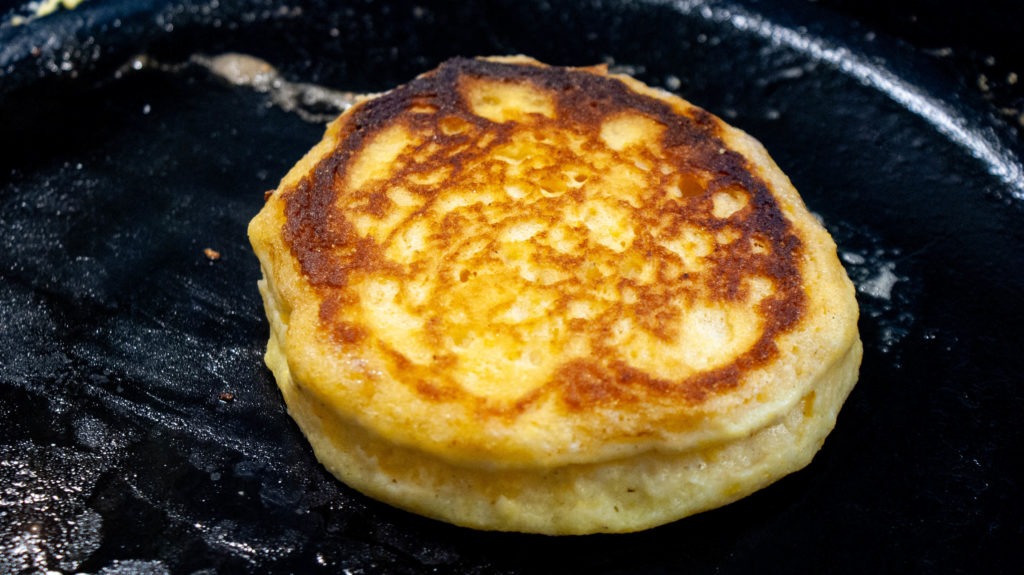 Rest those little golden pillows of yum on a platter while you finish making the rest.
(See the one on top that split on it's own? We poured honey in that one. Yes. It was good!)
And there you have it. Serve them up two or four to a person, depending on appetite and whether they're for breakfast or just a cornbread alternative at dinner.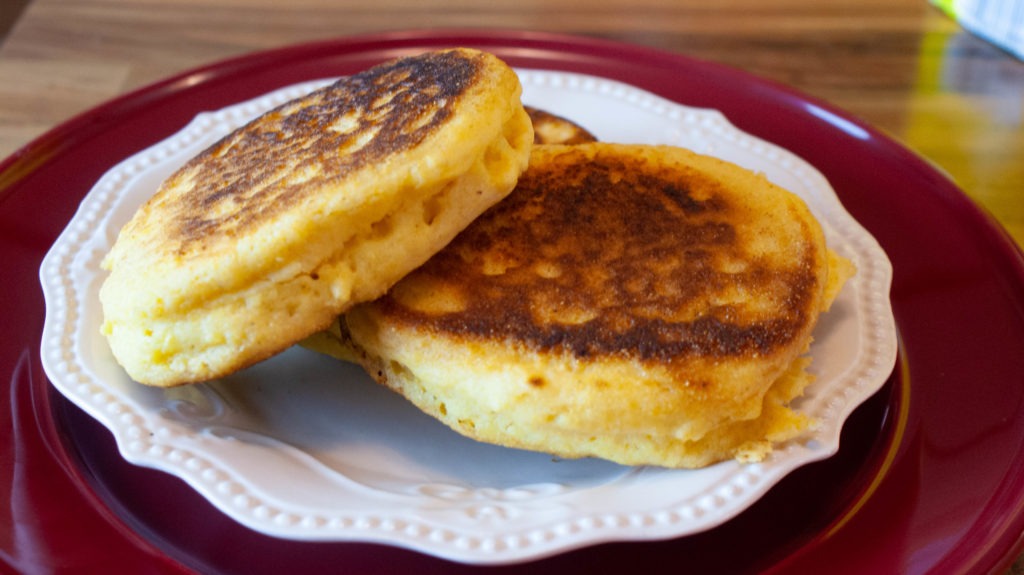 Feel free to top them with whatever strikes your fancy. Seriously, We won't judge. You do you and be proud!
(Also, I haven't found anything that doesn't go well with there yet, so I have no firm recommendations!)
Yield:

4 people
Hoecakes (a.k.a. Johnny Cakes, Corn Cakes)
Whether you call these little gems Hoecakes, johnny cakes, or corn cakes, they're always delicious. You can make them in the same amount of time it takes to make pancakes, but they're far less finicky and a lot more filling. (Recipe adapted from an original by Paula Deen)
Ingredients
1 cup Self-rising flour
1 cup Self-rising yellow corn meal
1 Tablespoon Granulated sugar
3/4 cup Buttermilk, or buttermilk substitute (See notes)
1/3 cup +1 Tablespoon water
1/4 cup Vegetable oil, or bacon grease
2 Tablespoons Oil, butter, or bacon grease, for frying
Instructions
Mix all ingredients except frying oil in a large bowl. The batter will be thick.
Heat oil or butter in a large skillet over medium-high heat.
Drop batter 2 heaping tablespoons at a time into the skillet. Cook until golden on the bottom. (about 3 minutes.) Flip Hoecake and cook until the top is golden as well. (About 2 1/2 to 3 minutes.)
Nutrition Information:
Yield:
4
Serving Size:
4 people
Amount Per Serving:
Calories:

503
Total Fat:

28g
Saturated Fat:

5g
Trans Fat:

1g
Unsaturated Fat:

22g
Cholesterol:

14mg
Sodium:

613mg
Carbohydrates:

55g
Fiber:

3g
Sugar:

9g
Protein:

9g
What I would have done differntly:
A better question is what I'm not going to try next.
Once I got past the "Where have you been all my life" moment, I realized something. This is a great recipe, but it's been begging me to get in and add stuff. I want to make a savory version with green onions. I'm toying with the idea of adding whole kernel corn, or bacon, or sausage.
So many possibilities… You'll be seeing more variations on these hoecakes in the future, guys. Trust me.
What's your take?
If you're like me and you've never tried Hoecakes, Are you going to? (You should!) And if you're an old hand at these gems, what are your favorite toppings, dips, or accompaniments?
Are these breakfast food, or does your family serve them as a side dish for Holiday dinners. (I can see them going great with collard greens…)
Let us know in the comments. And, if you make these, pleas share an image on our Facebook page or on Instagram with the hashtag #unclejerryskitchen. We'd love to see what you come up with!
And that's it for today, guys.
As always,
Food is love. Share and enjoy!
Stay safe! Se Y'all in the next one. I'm gonna go have another couple Hoecakes!