This post brought to you by Butterball Every Day. All opinions are 100% mine.
Weeknight dinners can be challenging. You want to make something good for your family and yourself, but with all of the things you've got packed into your schedule, it can be difficult to find the time or inspiration to make something different. Every now and then it's OK to take a little help from the freezer and cut your prep time, and that's just what these turkey burgers do.
It's simple to go with routine and stick to a few quick and easy "go-to" meals. Let's face it though, after a while, that just gets boring. For you, for the family, for everyone. And that, dear friends, is why it's absolutely acceptable to turn to your freezer for a little help and inspiration. In this case, the inspiration is turkey burgers.
To be exact, It's Butterball Every Day Turkey Burgers, used as the base for satisfying meal that you can whip up in about 30 minutes. No fuss, no hassles, just good food on the table quickly. As a bonus, this is turkey, so it's lean and wholesome. It's also fairly light, which is always welcome during a busy week.
To start, just grab a box of burgers from the fridge.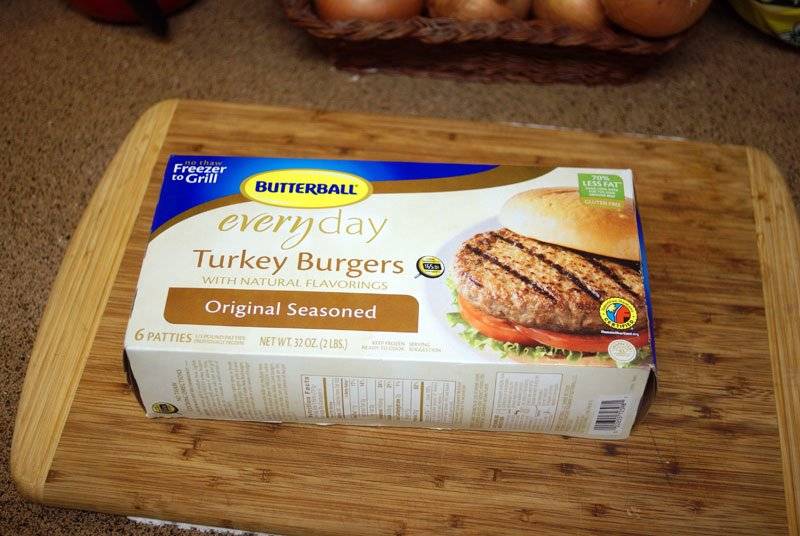 Pop them open and cook as many as you need according to the package directions. I cooked three, because they're packaged that way, and because I made these as a late dinner for my wife and myself. I recommend one patty per person, so use however many you need.
While those are sizzling away, chop an onion and some mushrooms so they'll be ready for the next step. (You can use pre-sliced onions and mushrooms if you really want to save time and effort, but I prefer to chop my own.)
Once the burgers are cooked, remove them from the pan and cover loosely with foil to keep them nice and warm. Then plop a few tablespoons of butter or olive oil into the same pan and turn the heat up to medium.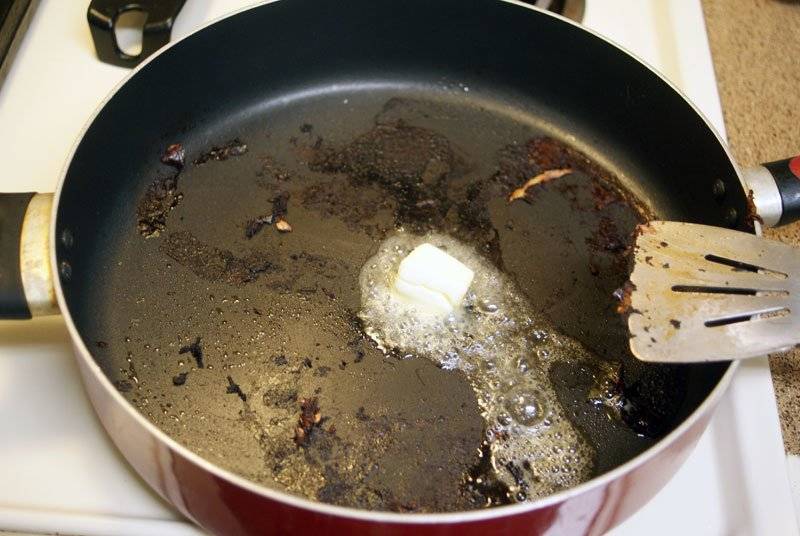 Once the butter melts (or the oil is hot) toss in your mushrooms and onions. Cook until the mushrooms are golden and the onions are fragrant. Then add a tablespoon of flour or two and stir to coat everything. Add a dash of salt and pepper and cook just a minute longer. It should look something like this:
Here's where the magic happens. Once the flour in the pan starts to brown a bit, pour in about two cups of chicken stock or water. Stir this around with the mushrooms and onions for about a minute and you get a luscious mushroom gravy.
Like this!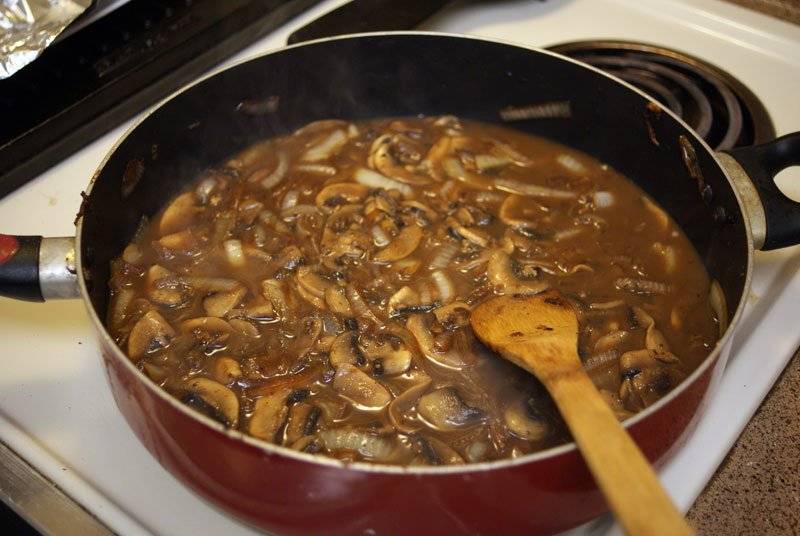 All that's left to do now is test for seasoning, put a burger on a plate and spoon some gravy over the top. You can use a little or a lot, depending on your preferences, but I think a good ladle full works just about right. (Don't worry; If you have extra gravy, just keep in in the fridge and eat it over toast in the morning… Not that I think you'll have any leftover, that is. But it's always possible.)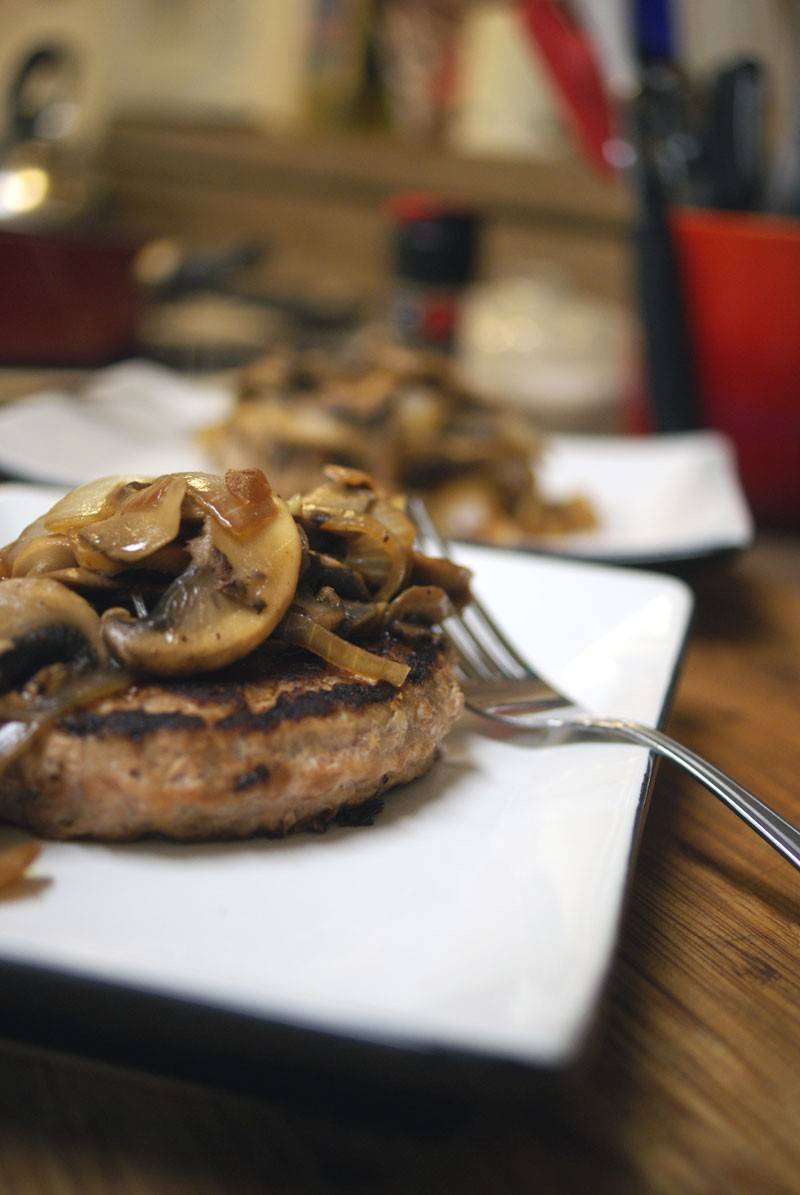 There you have it. A simple, decadent and sumptuous meal, ready in just few minutes, with minimal effort and tons of appeal. Trust me, you're gonna love this, and your family will, too.
Need a little more inspiration? Not a problem. Why don't you grab some Butterball coupons from their website and go check out all the different varieties available at your local Mega mart. Once you've got a selection, you can check the Butterball recipes website for more ideas on how to get the most out of your new best Every Day dinner friend. (Of course, you'll want to make these smothered burgers first. Because they're awesome.)
And now, the recipe: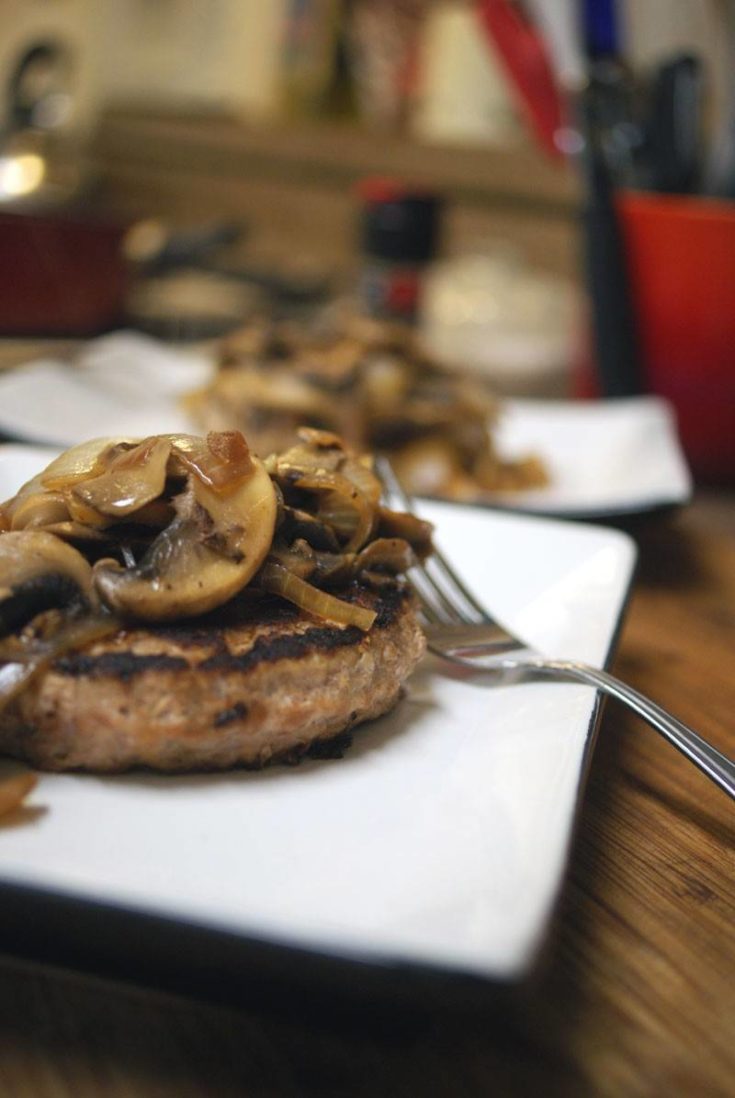 Yield: 4 servings
Every Day Smothered Turkey Burgers (No Buns Required)
Prep Time: 5 minutes

Cook Time: 15 minutes

Total Time: 20 minutes

Quick, decadent and indulgent turkey burgers smothered in mushroom and onion gravy. Perfect for a quick weeknight meal
Ingredients
4 Butterball every Day Turkey Burger Patties
2 Tablespoons butter or olive oil
1 medium onion, chopped
8 ounces mushrooms, sliced
2 Tablespoons all-purpose flour
2 cups chicken stock or water
Salt and pepper to taste
Instructions
Cook Every Day Turkey Burger patties as directed on package. Remove from pan and cover loosely with foil. set aside.
Increase heat to medium. Melt butter or heat oil iin the sme pan. Add mushrooms and onions a cook, stirring often, until mushrooms are golden. Add flour, salt and pepper. Stir until the mixture is coated evenly and flour begins to brown on the bottom of the skillet.
Add chicken stock or water. Cook, stirring frequently and scraping the bottom of the pan, until the stock comes to a simmer. Simmer 1 to 2 minutes or until the gravy has thickened to your liking.
Arrange patties on individual plates, spoon gravy over patties and serve immediately.
Nutrition Information:
Yield:
4
Serving Size:
1
Amount Per Serving: Calories: 217Total Fat: 14gSaturated Fat: 5gTrans Fat: 0gUnsaturated Fat: 8gCholesterol: 41mgSodium: 313mgCarbohydrates: 13gFiber: 2gSugar: 4gProtein: 11g


That's it!
What I would have done differently:
Maybe a little Swiss cheese. But that's about all I can think of.
Other Turkey Burger Recipes