At first glance you might think that these little guys are sad and looking for their mummies. On closer inspection you'll see that they're wrapped up all warm and snuggly, just waiting for some little hobgoblins to come take them home. These little mummy wrapped sausages are a favorite in our house around the end of October, and we call them Halloweenies.
(I couldn't pass up the mummy joke, sorry.)
Sometimes simple is better, and it doesn't get a whole lot simpler than this when it comes to appetizers. Just cocktail sausages wrapped in refrigerated crescent dough and served with a side of mustard, spiced with your favorite hot sauce or horseradish and you've got yourself a wiener! (I know. It's bad, but I can't help myself!)
Halloweenies make a perfect party opener, but be warned, too many and your guests won't want dinner. They're filling! we used beef Lil' Smokies for this one, but any cocktail wiener you can find will do just as well, I'm sure. They're great hot out of the oven or at room temperature and can be served with ketchup for kids too little to appreciate a good mustard. (Or adults that just don't like mustard, for that matter)
Any way you serve them, they're sure to be a hit!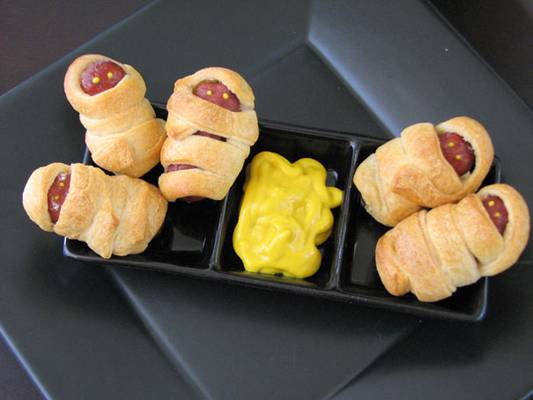 Yield: 44 Mini sausage rollups
Halloweenies - A Ghoulishly Good Recipe
Halloweenies are perfect little bites that are all dressed up for your next Halloween get-together. A perfect snack before trick or treating, too
Ingredients
1 can (8 oz) refrigerated crescent dough
44 cocktail-sized smoke link sausages (from a 1-lb package)
1/2 cup mustard
Your favorite hot sauce, to taste
Instructions
Preheat oven to 375°F. Line a half-sheet pan with parchment paper or a silicone baking sheet. (Don't have either? Just spray with some cooking spray or grease with shortening.)
Roll dough sheet out to 14×11 inches. Cut vertically to make two 11×7 -inch rectangles cut crosswise to make 44 7×1/2-inch strips (note: we found it easier to cut these down into 3 1/2-inch by 1/2-inch strips and use two per sausage.) Pat sausages dry with paper towels.
Wrap 1 strip of dough around each sausage so that it looks like a little mummy. Press the ends of the dough together firmly at the ends to secure. Place wrapped sausages 2-inches apart on baking sheet to promote even browning. Bake for 15-20 minutes or until golden brown.
For dipping sauce:
Mix 1/2 cup of your favorite mustard with 2 or 3 drops of your favorite hot sauce or a bit of horseradish and stir to combine.
Nutrition Information:
Yield:
44
Serving Size:
1
Amount Per Serving: Calories: 174Total Fat: 1gSaturated Fat: 0gTrans Fat: 0gUnsaturated Fat: 0gCholesterol: 1mgSodium: 47mgCarbohydrates: 11gFiber: 0gSugar: 10gProtein: 1g
What I would have done differently had I thought of it at the time
I would have eaten a few less of them! They are quite addictive, but tend to be a bit heavy.
Other folks have versions of Halloweenies, too!
And now this post is all wrapped up. (I'll be here all week, folks!)