Irish Brown Bread is, at its heart, just soda bread made with half whole wheat flour. This particular version ads oats and a bit of molasses, but would probably be made with treacle in the UK. (You try to find treacle in the U.S. I dare you!)
The molasses ads just a hint of sweetness, while the oats give the bread a hint of nuttiness. Brown soda bread is perfect warm from the oven slathered in butter or jam, but just as good the next day made into French toast or cinnamon bread. No matter how you use it, it's sure to be a treat for the whole family.
Irish brown bread is also called Wheaten Bread or just Brown Bread in the UK. Like its cousins, it's a quick bread that uses baking soda as a leavener and generally uses buttermilk. This particular recipe calls for sour cream and milk, but only because I was out of buttermilk and needed a substitute. If you happen to have buttermilk on hand, simply substitute 1 3/4 cups buttermilk for the sour cream and milk.
The secret to a great soda bread is to never overwork the dough. A gently worked dough will result in a light, airy bread. An overworked dough will yield a dense, wet loaf that you won't enjoy much. Remember this simple rule and you'll end up with a hearty, rustic loaf of heartwarming brown soda bread that's sure to be a hit.
And don't skip on the Irish butter and some good jam.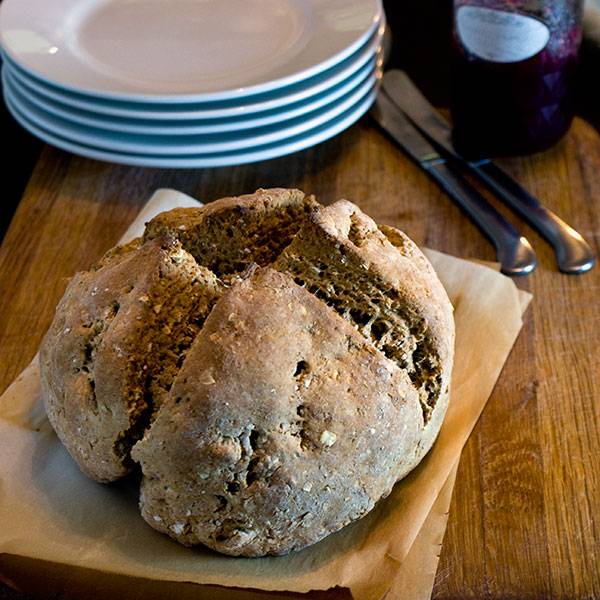 Yield: 1 loaf
Brown Soda Bread with Molasses
Prep Time: 10 minutes

Cook Time: 45 minutes

Total Time: 55 minutes
Ingredients
2 cups all-purpose flour
2 cups whole wheat flour
1/2 cup rolled oats or instant oats
1 1/2 teaspoons coarse salt
1 teaspoon baking soda
1/2 cup plus 3/8 cups milk
1/2 cup plus 3/8 cups sour cream
2 Tablespoons dark molasses
Instructions
Heat oven to 450 degrees. Line a baking sheet with parchment or wax paper.
Combine flours, oats, salt and baking soda in a large mixing bowl and combine well.
Whisk together milk, sour cream and molasses. Make a well in the center of the dry ingredients and pour milk mixture into the center. Stir together with a fork, working from the center and gradually combining the flour and milk. Mix with floured hands until a firm dough forms.
(Alternately, mix until well combined using the paddle attachment of a stand mixer.)
Shape the dough into a circle and place on the lined baking sheet, pressing to about 3/4 inches thick. Using a sharp knife, cut a deep cross across the top.
Bake for 15 minutes, then reduce heat to 400 degrees and bake for an additional 20-25 minutes, or until the bottom of the loaf sounds hollow when tapped.
Transfer to a wire rack and cool slightly. Serve warm with plenty of butter and jam.
Nutrition Information:
Yield:
8
Serving Size:
1
Amount Per Serving: Calories: 297Total Fat: 4gSaturated Fat: 2gTrans Fat: 0gUnsaturated Fat: 2gCholesterol: 7mgSodium: 567mgCarbohydrates: 57gFiber: 5gSugar: 5gProtein: 9g
What I would have done differently had I thought of it at the time:
I think a bit more molasses… But that's just my sweet tooth talking.
Links to other recipes like brown soda bread: