The French will tell you that it's all in the sauce. Italians will tell you it's all about the pasta. In the Southwest it's all about the gravy, and that is what this is all about, gravy. Wonderful, light, slightly sweet, creamed onion gravy.
If I had to harbor a guess, I'd say that there is a good probability that this recipe is a translation of a German recipe, or at the very least has German influence. I say this because it's a recipe that my wife's Grandmother made to serve with meat and was generally served with green onions on the side. This is a classic Southwestern adaptation of a Schnitzel, so we've got a good starting point.
Regardless of where the recipe originated, it's a new family favorite for the boys and I, and an old family recipe from my wife's side of the family. Recipes like this deserve to be preserved and shared and we're honored to be able to share this one with you.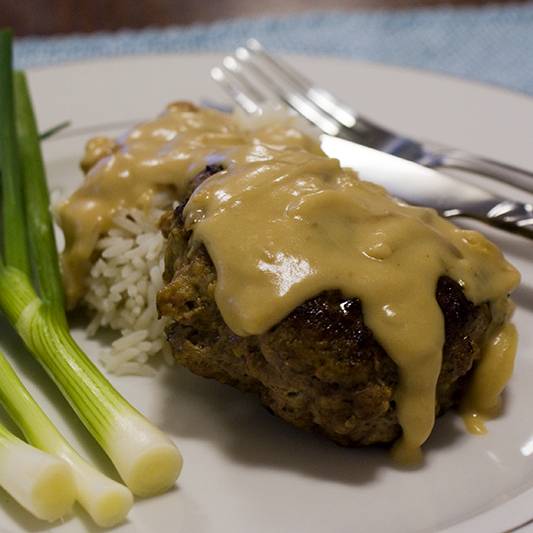 Gorgeous, isn't it? Now go make some!

Yield: 2 cups gravy
Creamed Onion Gravy
Prep Time: 5 minutes

Cook Time: 35 minutes

Total Time: 40 minutes

When you need to make a meal extra special, whip up a batch of creamed onion gravy to top everything off with. It's the perfect accompaniment to steak, hamburgers, chicken fried steak or meatloaf.
Ingredients
1/4 cup unsalted butter
1 large onion, peeled and thinly sliced
5 Tablespoons unbleached all-purpose flour
2 teaspoons kosher salt
1 Tablespoon Worcestershire sauce
2 cups milk
Instructions
Melt butter in a heavy saucepan over low heat. Add onion and cook, covered, until onion has softened. (About 15 minutes.)
Remove lid and continue to cook, stirring occasionally, until most of the liquid evaporates and the onion caramelizes. (About another 15 minutes)
Whisk in flour, stirring constantly, until mixture is a light brown in color. Slowly add milk, stirring constantly until smooth.
Season with salt and Worcestershire sauce. Simmer until gravy has thickened and reduced by 1/4, (about another 10 minutes.)
Notes
Use three or four shallots instead of onions for a milder flavor, or use white onions for a richer, more defined onion flavor.
Nutrition Information:
Yield:
8
Serving Size:
1
Amount Per Serving: Calories: 109Total Fat: 7gSaturated Fat: 4gTrans Fat: 0gUnsaturated Fat: 2gCholesterol: 20mgSodium: 583mgCarbohydrates: 9gFiber: 0gSugar: 1gProtein: 3g
What I would have done differently
Not a lot. I'm a fan of this creamed onion gravy and so was the family, so I think we'll just keep it the way it is :)
Links to other creamed onion gravy recipes, and a few great Southern Gravy recipes