Who doesn't love cheesecake? If made properly it is decadent, creamy, fluffy and just sweet enough to satisfy the cravings of any sweet tooth. It can be made in a variety of flavors, and toppings are always welcome. It plays well with others and finds its place easily as the star dessert at back yard barbecues and five star restaurants. It's just that good. The only problem with it is that I have a tendency to eat way too much of one kind and don't have room to sample others. This little recipe solves all that.
These mini cheesecakes are tiny. They are perfect for appetizers or if served in all of their possible variations, as a perfect dessert sampling menu. Go crazy with toppings and you could serve a seven course dessert without breaking a sweat. Trust me, the Oooh's and Ahhhs you'll get will be worth the effort.
The inspiration for them came from a recipe by Giada DeLaurentis, but as usual, I found Giada's original version somewhat uninspired. Oh, they were good, but they weren't jaw dropping, and they were more labor intensive than this variation. The original called for orange zest, but for my tastes it just didn't work as well as I'd hoped, so I swapped out for vanilla. The results were superb.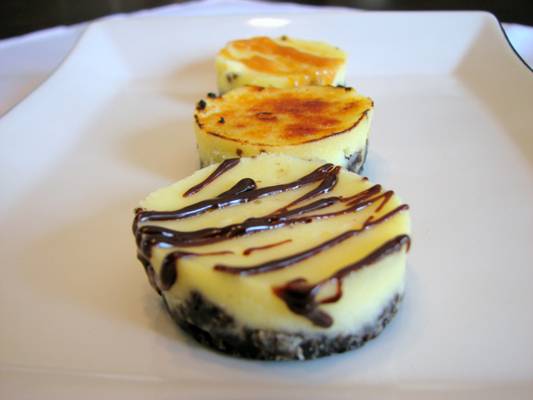 Yield: 24 cheesecakes
Cream Cheese and Ricotta Cheesecake Bites with Chocolate Crumb Crust Recipe
Prep Time: 10 minutes

Cook Time: 25 minutes

Additional Time: 20 minutes

Total Time: 55 minutes
Ingredients
2/3 cup finely crushed chocolate cookies (I used chocolate animal crackers)
2 tbsp. butter, melted
1/2 cup ricotta cheese
4 oz. softened cream cheese
1/2 cup sugar
1 tsp vanilla extract
2 eggs
Toppings of your choice. (My recipes still need work!)
Instructions
Preheat oven to 350°F.
Mix the crushed chocolate cookies with the melted butter. Place a tightly packed teaspoon of the mixture into pre greased mini muffin cups and press down firmly.
(Hint: for more uniform crusts, use the bottom of a second mini muffin pan to press down the chocolate mixture)
Combine ricotta, cream cheese, sugar, vanilla and eggs in a food processor until smooth using the blade attachment. Fill each mini muffin cup with 1 1/2 tablespoon of the cheesecake mixture. Place mini muffin tin into a dish or sheet pan and pour enough water in the dish or pan to cover the muffin tin halfway up the side.
Bake for approximately 25 minutes. Transfer mini muffin tin to a rack for 30 minutes, then transfer to the freezer for at least 1/2 hour.
Use a small knife to gently pop the cheesecakes out of the muffin tin.
(Note: I suggest a paring knife. Between each cheesecake, wipe the knife in a clean kitchen towel that has soaked in warm water. This will keep the cheesecakes from crumbling)
Drizzle with your favorite topping, or brulé the tops of mini cakes just before serving.
To add a brule top:
Sprinkle the top of the cheesecake with sugar. Shake the cake to coat evenly and pour off any excess. Caramelize the sugar using a blowtorch or by placing under a broiler until sugar is a deep golden brown and bubbly. Serve within 15 minutes.
Nutrition Information:
Yield:
12
Serving Size:
1
Amount Per Serving: Calories: 171Total Fat: 11gSaturated Fat: 6gTrans Fat: 0gUnsaturated Fat: 4gCholesterol: 62mgSodium: 113mgCarbohydrates: 15gFiber: 0gSugar: 14gProtein: 3g


What I would have done differently had I thought of it at the time:
I'm still working on my topping recipes for the ganache (chocolate) and caramel drizzles. Neither of the ones that I tried set firmly enough for my liking. As soon as I find a recipe that achieves the desired results, I'll post it.
Of course you needn't limit yourself to the toppings shown. Chocolate Port Wine Sauce is splendid, as are berry reductions and most fruits. Be creative!
Links to other recipes like this: