Cheesecake may just be the perfect food. It is certainly one of the oldest on record. It is believed that cheesecake was served to the Olympic athletes during the first Olympic games in 776 B.C. Any food with that kind of staying power just has to have something to it. I know that this chocolate cafe mocha cheesecake does.
Perhaps it's because cheesecake can be modified in so many ways. Cheesecake is adaptable. It can be made in any number of different flavors and textures, from light and fluffy with a hint of vanilla to incredibly dense and savory, the cheesecake has been with us since the beginning of Western history and I'm pretty sure it's not going anywhere anytime soon, especially with flavors like the ones in the cake pictured above.
My guests for Christmas requested only three things. Turkey, ham and a chocolate cheesecake. That's a simple request if I've ever heard one. I was happy to oblige. Initially I was going to make a simple chocolate cheesecake, but the gift of 8 oz. of German milk chocolate and the thought of my favorite coffee drink made me decide to go in a different direction. It turned out to be a fated decision, as this is by far the best tasting chocolate cheesecake I've had to date.
I'd picked up Coffee Liqueur and Creme De Cacao with the intention of posting the recipe for my cafe mocha (coming soon) and the smell of the cheesecake batter reminded me of that drink, so a few quick additions to the custard were all it took to turn what I'm sure is a phenomenal recipe into something extraordinary.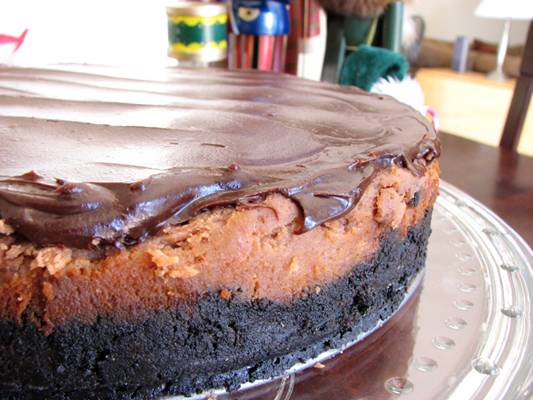 Yield: 16 slices
Chocolate Cafe Mocha Cheesecake Recipe
Prep Time: 20 minutes

Cook Time: 1 hour

Additional Time: 4 hours

Total Time: 5 hours 20 minutes

Succulent chocolate cheesecake with a hint of chocolate and coffee liqueur. A perfectly decadent treat.
Ingredients
For the Cheesecake:
1 1/2 cups crushed Oreo Cookies (about 20 cookies)
2 tbsp. unsalted butter, melted
24-oz cream cheese (3 packages), softened
1 cup sugar
1 tsp. vanilla extract
8 oz. milk chocolate, melted, slightly cooled
3 eggs
1 tbsp. Creme De Cacao
1 tbsp. Coffee Liqueur
For the Ganache Topping:
8 oz. dark chocolate chips
3/4 cup heavy cream
1 tbsp. Creme De Cacao
1 tbsp. Coffee Liqueur
Instructions
Cheesecake:
Preheat oven to 325 degrees if using a silver 9? springform pan or to 300 degrees if using a dark nonstick 9? springform pan. Mix crushed cookies and butter; press firmly onto bottom and sides of pan. Bake 10 minutes, remove and allow to cool.
Beat cream cheese, sugar, vanilla, Creme De Cacao and Coffee Liqueur with electric or stand mixer on medium speed until well blended. Add chocolate and mix well. Add eggs, one-at-a-time, mixing on low speed until just blended. Pour over crust.
Bake 45-55 minutes or until center is almost set. Run a sharp knife or metal spatula around rim of pan to loosen cake. Cool to room temperature before removing rim of pan. Refrigerate at least 4 hours or overnight before topping.
Ganache icing:
Place chocolate chips in a small heat proof bowl. heat cream in a small saucepan over low heat until just boiling. Immediately pour cream over chocolate. Allow to stand for 5 minutes.
Mix well with a wire whisk or silicone spatula. Add Creme De Cacao and Coffee Liqueur, stir to combine well. Refrigerate at least 45 minutes or until ganache is stiff but not set.
Assembly:
Remove ganache from refrigerator and allow to stand at room temperature for at least 15 minutes. Stir to loosen slightly. Remove cheesecake from refrigerator and level the top with a very sharp knife if necessary.
Gently spread ganache icing from center of cheesecake to edges. Allow to come to room temperature before serving.
Share and Enjoy!
Nutrition Information:
Yield:
16
Serving Size:
1
Amount Per Serving: Calories: 525Total Fat: 34gSaturated Fat: 19gTrans Fat: 0gUnsaturated Fat: 12gCholesterol: 99mgSodium: 248mgCarbohydrates: 49gFiber: 2gSugar: 39gProtein: 7g


What I would have done differently had I thought of it at the time:
I think I managed to over cook this cake a little. The sides puffed up a good inch higher than the center, which made the icing a necessity once the cake was leveled. It was a happy accident though. The ganache icing adds an entirely new dimension to the already rich flavor of this cheesecake that we all enjoyed very much.
You'll want to be sure to serve this one just slightly chilled or at room temperature. Straight from the refrigerator the coffee liqueur is a bit overpowering, but it mellows and plays nice with everything else at room temp.
Be warned, this is a very dense chocolate cheesecake and it doesn't slice "pretty" Just overlook that and go for it anyway. It's more than worth it!
Links to other chocolate cheesecake recipes: