'Tis the season once again. With that comes the call for cookies, candies and other sweets to thrill and delight both young and old. (And not-so-old, as well.) This year I'm trying to focus on the flavors of the season with a highlight on seasonal fruits, berries nuts and whatever else I can find that fits well with winter fare. These cookies cover all the bases.
Cranberries are everywhere at this time of year, both in their plump and tart ripe state and in their dried form. It was the latter that inspired me to make this recipe, which is adapted from one I found at Baking Bites and yet another I found somewhere else, but can't remember at the moment.
These may not be traditional Christmas cookies for most people, but I think for my family they have just found a permanent place on my "must bake for the Holidays" list, along with my Aunt Thelma's Tea Cookies and my mothers peanut butter cookies. they are crisp, light, pack a ton of flavor into every bite and were adored by my kids (and the neighbor's kids). Anything that gets the whole family rummaging at the cookie jar is a sure fire winner for me, especially when the batch makes 48, so there is no need to double the recipe.
C'mon, put a little seasonal love in your holiday baking. Make these cookies. Do it now! I'll continue when you get back…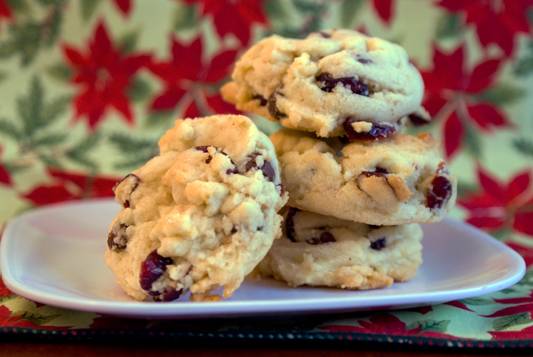 Yield: 32 cookies
Cranberry Orange Chocolate Chip Cookies
Prep Time: 10 minutes

Cook Time: 12 minutes

Total Time: 22 minutes
Ingredients
2 cups all-purpose flour
1-1/2 teaspoons baking powder
1/4 teaspoon baking soda
1/2 teaspoon kosher salt
3/4 cup cup butter (1-1/2 sticks), at room temperature
1 cup granulated sugar
1 large egg
The zest of 1 orange (or two itty-bitty ones) Approximately 1 tbsp.
1/2 cup dried sweetened cranberries
1/2 cup semi-sweet chocolate chips
Instructions
Heat oven to 350-degrees F.
Whisk together flour, baking soda, baking powder and salt in a medium bowl. In a separate large bowl, cream butter and sugar together with an electric hand mixer (or your stand mixer) until light in color. Beat in egg and orange zest. Add flour a little bit at a time with mixer on low speed, stirring until just combined. Fold in cranberries and chocolate chips.
Drop dough by rounded tablespoons onto parchment lined or silpat covered cookie sheets. Bake for 9-12 minutes, or until the edges of the cookies are just slightly golden. cool for 3-4 minutes on pan, then transfer to a baking rack and cool completely.
Nutrition Information:
Yield:
32
Serving Size:
1
Amount Per Serving: Calories: 107Total Fat: 5gSaturated Fat: 3gTrans Fat: 0gUnsaturated Fat: 2gCholesterol: 17mgSodium: 110mgCarbohydrates: 14gFiber: 0gSugar: 8gProtein: 1g


What I would have done Differently had I thought of it at the time:
I'm not sure why, but these cookies didn't spread out as much as I was expecting them to. That being said, they are still wonderful. I may try dark chocolate in the recipe next time I make them, and am considering adding a bit of coconut as well.
*From the archives. This is truly one of the best cookie recipes we've ever made. It's so good that I included it in my new cookbook I Want… Christmas Cookies!, available at Barnes and Noble for Nook. If you enjoyed this recipe, check out the book!
Links to other recipes like this: