This shop has been compensated by Collective Bias, Inc. and its advertiser. All opinions are mine alone. #Treats4All #CollectiveBias – Butterfinger Skillet Brownies
Halloween means different things to different families. For some, it's about trick-or-treating, for others it's about parties and get togethers. Some folks love to head to the local haunted house for a little scare-therapy. For us, it's about cheesy scary movies and crazy good treats like these Butterfinger Skillet Brownies.
I'm serious about the cheesy movie part. We go for classically bad horror films around here. You know, the ones that are so bad they're actually more funny than scary. (Yes Bruce Campbell, I'm talking about you.) We skip the trick or treating, buy a bunch of everyone's favorite candy, say a few bags of BUTTERFINGER® Fun Size candy bars and a bag of NESTLÉ Jumbo Assorted Fun Size Candy. The big one. Yup, just for the four of us. (Shhhh. We get a bit piggy, but it's OK, it's Halloween!) The kiddos get a ton of sugar, and Me and Mom sit and munch on skillet brownies while we giggle at bad special effects.
We stay up late, hide under the covers and have a blast. It's a good night.
Of course you can't just have candy, you've got to eat, too. And what better choice than something quick and comforting, like some STOUFFER'S® Classic Mac Cups? They only take 4 minutes to make and don't require any clean up, so they're perfect for a quick bite.
They best part is, they're quick and easy to get at your local WalMart. Just head to the frozen foods aisle for dinner for the Mac Cups…
Then hit the Halloween aisle and grab a ton of candy on your way out.
Once you get home, we'll need to get those brownies going, so heat your oven and mix a batch of your favorite brownie mix according to the directions. Pour that into a skillet, then open up about 8 Butterfinger Fun Size candies.
Time to get in the horror movie spirit! Grab a knife and get choppin'! (Feel free to wear a hockey mask while doing this. I did, and it freaked the dog out, which would be funny if he wasn't really scary when he's freaked out!)
Now dump the hacked up candy over your brownie mix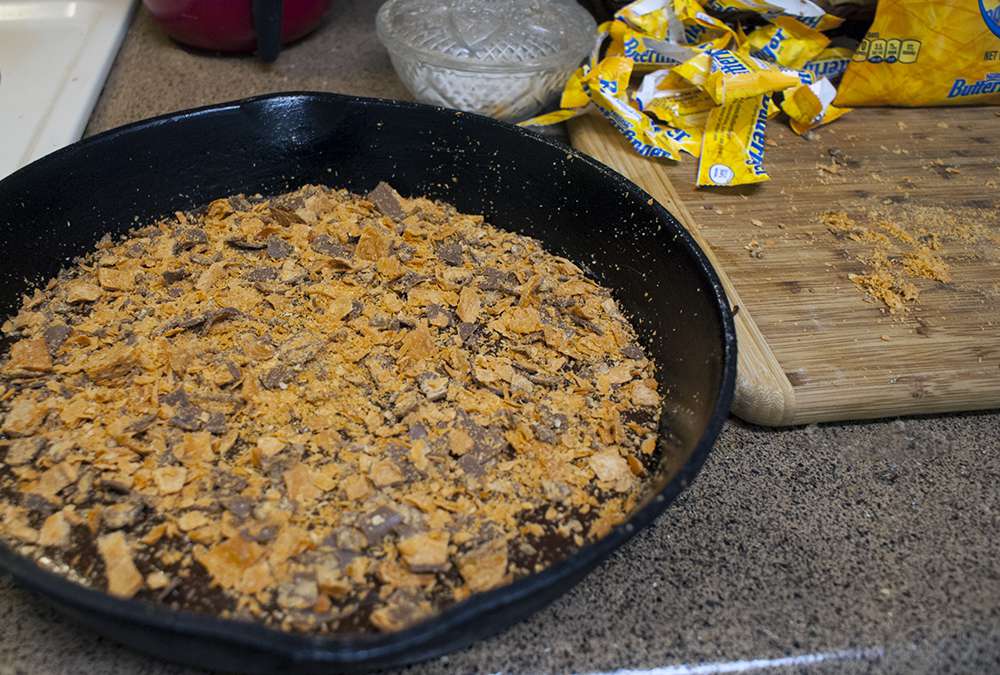 Pop that in the oven and cook according to the directions for your mix. (Usually about 30 minutes.)
Now, grab some great movies, heat up some mac and cheese, pour candy all over the table and have fun!
Yep, we go all out for this. But it's only once per year, so it's OK! Be sure to eat dinner before you eat your candy, kiddies.
And because these butterfinger skillet brownies are probably the best things you'll ever eat, here's another look at them before I give you the recipe.
Yep, that's a butterfinger crust on top! So good!

Yield: 16 brownie wedges
Butterfinger Skillet Brownies
Prep Time: 5 minutes

Cook Time: 30 minutes

Total Time: 35 minutes

What do you get when brownie mix meets butterfinger candy? Heaven. Decadens, blissful, chocolate/peanut butter heaven.
Ingredients
1 package brownie mix
2 eggs
1/4 cup water
1/2 cup vegetable oil
8 BUTTERFINGER® Fun Size Candy bars, chopped
Instructions
Grease a heavy skillet or baking pan and preheat oven to the temperature specified by your favorite brownie mix.
Mix brownie mix, eggs, oil and water together and pour into skillet. Top with chopped candy bars and bake according to directions
Cool completely before devouring
Nutrition Information:
Yield:
16
Serving Size:
1
Amount Per Serving: Calories: 254Total Fat: 14gSaturated Fat: 2gTrans Fat: 0gUnsaturated Fat: 11gCholesterol: 24mgSodium: 134mgCarbohydrates: 32gFiber: 0gSugar: 2gProtein: 3g
What I would do differently
According to my lovely wife, this may just be the best dessert recipe we've ever made, so nothing. We'll keep it just the way it is!
What are your Halloween traditions?
Is there one thing you just have to do around Halloween? Is trcik or treating your thing, or are you more in for parties? Do you like to get scared, or are you more into scaring other people? Let us know int he comments!