This gorgeous dish almost never existed. It was, quite frankly, never intended to exist. For the first installment of #theSaladBar monthly blogging group I'd planned a lovely little salad with frisée, strawberries, blueberries, some fresh cheese and a yogurt dressing. Unfortunately the end of the school year left our schedule in tatters and many of my ingredients inedible.
That doesn't mean I'd leave the lovely Wendy Wofford-Garcia hanging on the first week her new group was supposed to post our salads. She's a sweet lady and a fellow San Antonian. I had to come through.
Even though my original plans had been foiled, I knew we could pull something off, and a rummage through the pantry found us all the ingredients we needed for a spectacular fruit and pineapple salad featuring the star of the month, blueberries.
You won't find any heavy syrups or artificially-colored fruits and berries here. Everything about this salad is crisp, sweet, and amazingly light. Brown sugar and honey sweeten up the tart berries a bit and add a hint of molasses to the cantaloupe. (Trust me, it's a good thing. An incredibly good thing.)
Everything else here is simply what nature gives out. Sweet, cool melon, tart, tangy blueberries and surprisingly succulent pineapple with a hint of honey. This was such a hit that my wife and youngest son devoured half of it within a few minutes, and I don't expect the rest to last until morning. Yeah. Its a winner.
You need to try this. Really.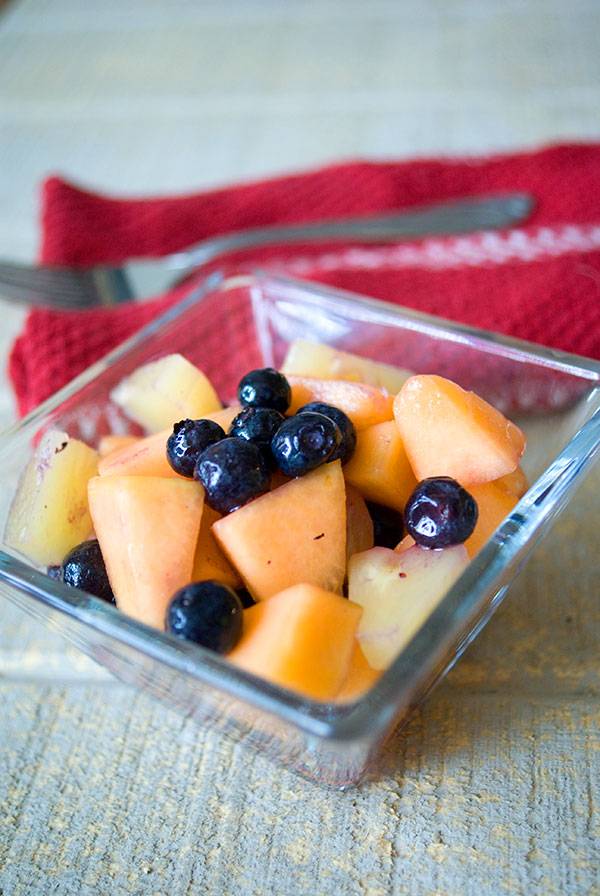 Yield: 4 servings
Blueberry, Cantaloupe and Pineapple Salad
Prep Time: 5 minutes

Total Time: 5 minutes
Ingredients
1/2 cantaloupe (musk melon) peeled, seeded and cut into 1/2-inch pieces
1 (20 ounce) can sliced pineapple in 100% juice, cut in 1/2-inch pieces, juices reserved
2 cups blueberries
3 Tablespoons honey
3 Tablespoons dark brown sugar
Instructions
Add melon and pineapple together in a large bowl. In a small bowl, whisk honey and pineapple juice together until combined. Toss melon and pineapple with brown sugar. Pour juice mixture over fruit and stir until evenly coated. Add berries and stir well before serving.
If using frozen berries, add just before serving and stir until just distributed.
Share and enjoy!