Today's post is brought to you by the letter B. As in Bacon. It's also brought to you by my lovely wife, who made this bacon rose bouquet for me for Father's day this year, though we celebrated a week early, since she's out-of-town for a bit.
If you're looking for a way to add a bit of flair to your next meal without a lot of fuss or bother, this is it. This is a simple take on what's quickly becoming a sensation around the crafting and food circles, the bacon rose. (Or in this case, the bacon lollipop, since we had no fake rose stems.) Our version doesn't need the creation of a special pan, or in my thoughts, the destruction of a perfectly good pan. Others call for drilling holes in a muffin tin. (Sacrilegious!)
Either way, we think that these little guys are perfect for Father's day, or your next dinner get-together. They definitely make a statement, don't they?
Don't expect them to last long as a centerpiece though. Ours were gone within 5 minutes. I'm pretty sure yours won't last any longer.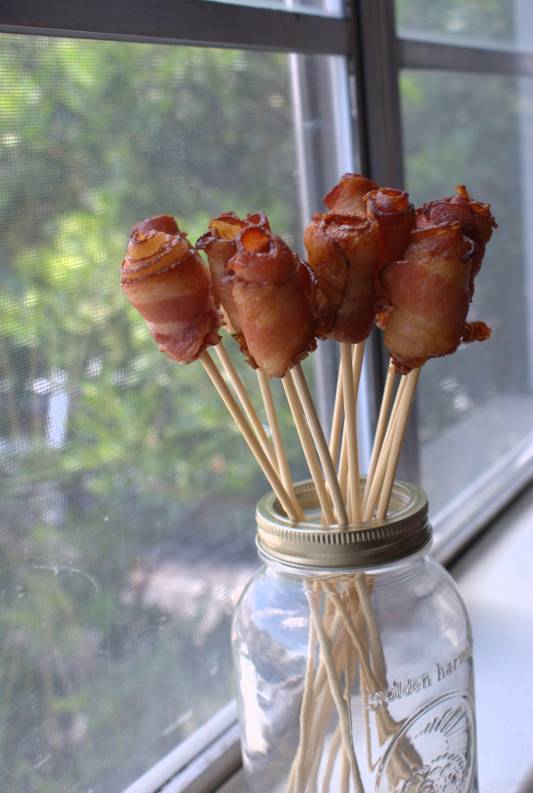 Yield: 1 dozen bacon roses
Bacon Roses
Prep Time: 10 minutes

Cook Time: 50 minutes

Total Time: 1 hour
Ingredients
2 pounds sliced bacon (2 packages)
Instructions
Preheat oven to 350 degrees.
Roll individual bacon slices into spirals, starting from the widest end, fat side down. Place bacon flap-side down in the cups of a mini cupcake tin. Bake at 350 degrees for 45-50 minutes, or until bacon is as crisp as desired.
Remove from tins and drain on paper towels. Place each bacon rose on the end of a skewer. serve as desired.
Share and enjoy!
Nutrition Information:
Yield:
12
Serving Size:
1
Amount Per Serving: Calories: 354Total Fat: 27gSaturated Fat: 9gTrans Fat: 0gUnsaturated Fat: 16gCholesterol: 75mgSodium: 1273mgCarbohydrates: 1gFiber: 0gSugar: 0gProtein: 26g
What I would have done differently had I thought of it at the time:
I wish we'd had some fake roses from the craft store. I think these would have looked awesome on the (well cleaned) wire and plastic stems.
Another thought would have been to use avocado slices, sliced jalapenos or sliced green tomatoes as "leaves", but again, we just didn't happen to have any lying about. Any way you look at it though, these are COOL!
Links to other recipes like bacon roses: