My wife and I aren't really in to "normal" breakfast foods. It's rare that you'll find scrambled eggs and toast featured as a breakfast item. (It's a perfect late night dinner though.) We're also not likely to start the day with anything sweet. Pastry and doughnuts are the very last thing I want to see first thing in the morning, if ever. I'm just not a serious sweets-eater. So what does a family that eschews the standard breakfast offerings head for to stave off morning hunger?
Ramen and eggs, of course.
You see, around here instant ramen noodles are just another pantry ingredient. They are a go-to for the kids, a quick substitute for other types of pasta and we honestly just enjoy them. They can be used for a huge number of different dishes and are ready in minutes. They can't be beat for convenience and ease of preparation and they make a great, filling dish for any meal of the day.
The yolks and freshly cracked black pepper are the key to this dish. While I generally discard the flavor packet that comes with the noodles I find that in this case it adds a little something to the flavor and pairs well with the egg yolks, which turn this amazingly simple recipe into something sumptuous when broken into the broth. Seriously, just look at it…
The joy of the recipe is really that you just poach the eggs with the noodles, so it's one pan cooking. There's no need to add vinegar to keep the eggs together because the noodles hold them together wile they're cooking. The whites also change the texture and flavor of the cooking liquid and coat some of the noodles, which does a lot texturally. Just be gentle with them and they'll be good to you.
The best part about this is that it's entirely freeform. Add anything you love as you go and you still end up with something delicious. If you love spicy, use Ramyun noodles instead of ramen or some sriracha for intense heat and spiciness. (Ramyun
noodles are the spicy Korean equivalent to Ramen and can be found all over the country now.) If you want bolder flavors, drizzle in a bit of hoisin sauce or some oyster sauce. The choice is yours, this is a truly timid version of something that I make in about a hundred different variations, but it's my wife's favorite. The only thing I would avoid adding is sesame oil, as it clashes with the eggs in my opinion.
What do you do with Ramen noodles? Do you have a favorite hack? Let us know! And as always, until next time…
Share and Enjoy!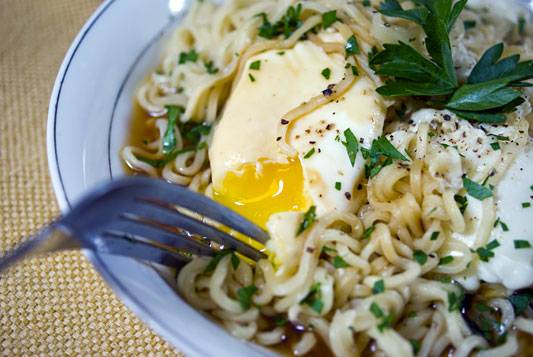 Yield: i serving
Ramen Noodles with Poached Eggs and Parsley
Cook Time: 6 minutes

Total Time: 6 minutes
Ingredients
1 package Ramen or Ramyun noodles
3 cups water
2 eggs
1 Tbsp chopped parsley
Soy Sauce and black pepper to taste
Instructions
Bring water to a boil in a small saucepan over medium-high heat. Add flavor packet from noodles and stir to combine well. Add noodles and boil for 1 1/2 minutes or until the noodles have softened and break apart when stirred.
Reduce heat to a bare simmer (The setting will vary depending on your cooktop.) Gently add eggs to the pot, being careful not to break the yolks. Allow to simmer for 3 to 4 minutes, or until whites are set.
Carefully transfer noodles and eggs to a serving bowl using a slotted spoon or skimmer. Add 1/4 cup of the liquid, soy sauce and parsley. Grind black pepper over the top of the noodles and serve immediately.
Nutrition Information:
Yield:
1
Serving Size:
1
Amount Per Serving: Calories: 1309Total Fat: 46gSaturated Fat: 16gTrans Fat: 0gUnsaturated Fat: 25gCholesterol: 599mgSodium: 3744mgCarbohydrates: 152gFiber: 9gSugar: 8gProtein: 69g


What I would have done differently had I thought of it at the time:
This is actually one of my wife's favorite meals, so there's little or nothing that I would change about this dish. It's pretty much perfect just the way it is.
Links to other recipes like this: