What does a foodie make for lunch? Perhaps a better way to phrase that question is to ask what a foodie who generally hits the kitchen with no idea what he's about to make cooks for lunch, because when I threw this together I had absolutely no concept of what I was going to do with what I had, just that I needed lunch on the table in under 30 minutes and I wanted it to be a fairly light meal. The result was, as are most truly inspired culinary moments, sublime. In the end the dish was light, slightly spicy and just enough for two (with the addition of a little bread to sop up the leftover juices).
Why chutney you ask? To be honest, I had no idea that I'd made a chutney until I looked it up this morning. For me the process went more like this:
Notice the time, blurt out a chosen expletive and run for the kitchen.
Throw open the fridge to see what's available for a trip to the stove top, decide on super thin pork chops because they cook quickly.
Tear open the pantry and rummage, not finding anything that looked good at the moment.
Switch to the freezer… We haven't had corn in a while, but what to do with it…
AHA!
It's those "AHA" moments that make cooking a joy for me. They are the culmination of the methods I've learned, the flavor combinations I've tried and the skills acquired in my 20-plus years of cooking. Sometimes it works, sometimes it doesn't. This time it was a resounding success, and in the process I discovered something.
Chutney isn't necessarily all that exotic.
That may strike some of my more experienced foodie friends as quite humorous. Chutney, by definition, isn't complicated stuff at all. The fact is, I've always thought of chutney as some exotic concoction that only classically trained chefs whip out on anything like a regular basis. I also never realized that I've been putting them together for over a decade without ever knowing that was what I was doing.
To Quote CooksOnline.com, Chutney is simply:
A sauce or relish containing fruits, spices and herbs.
Hmmm. Been there, done that. And they're good!
So why, you may ask, didn't I just write this up as an entry on how to make chutney? Well, the simple fact of the matter is that this particular variant requires a pan that's had pork seared in it. It just wouldn't be right without it. So I'm suggesting this as a substitute for the apple sauce that so many people seem to slather on their poor lil' unsuspecting chops.
But enough of this dissertation… On with the food!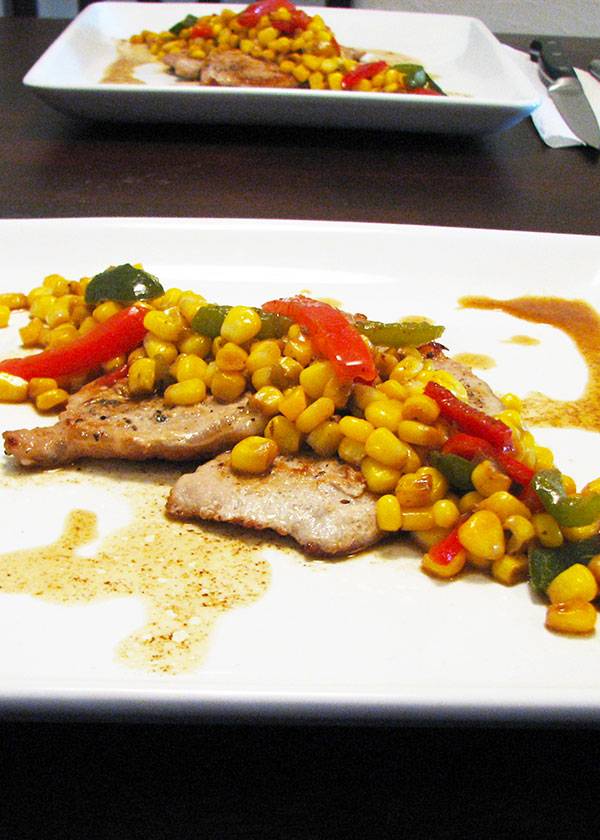 Yield: 2 servings
Pan Seared Pork Loin Chops with Corn Chutney Recipe
Prep Time: 10 minutes

Cook Time: 15 minutes

Total Time: 25 minutes
Ingredients
4 thin cut pork loin chops
8 oz. sweet yellow corn kernels, either fresh or frozen
1/2 red bell pepper, sliced
1/2 green bell pepper, sliced
1/8 cup minced canned green chili peppers, with juices
1/4 can chicken or vegetable broth
2 tbsp. extra virgin olive oil
Salt and pepper to taste
Instructions
Heat a large heavy-bottomed skillet over medium-high heat. Season pork chops with salt and pepper. Add 1/2 of oil to skillet, when heated add pork chops. Cook approximately 2 minutes per side or until desired doneness is achieved. Move chops to a plate and cover loosely with foil.
Add remaining oil and bell peppers to the skillet. Cook, stirring frequently for approximately 3 minutes, or until peppers are slightly softened. Add chili peppers and corn, season with salt and pepper. Cook an additional 2 minutes, stirring frequently, add the stock, stirring vigorously until the pan is thoroughly deglazed. Turn heat to low and simmer 4-5 minutes or until liquid is reduced by half.
Remove from heat and serve immediately.
Nutrition Information:
Yield:
2
Serving Size:
1
Amount Per Serving: Calories: 1004Total Fat: 51gSaturated Fat: 14gTrans Fat: 0gUnsaturated Fat: 31gCholesterol: 272mgSodium: 805mgCarbohydrates: 45gFiber: 4gSugar: 23gProtein: 89g


What I would have done differently had I thought of it at the time:
I didn't quite get the chops right this round. The pan wasn't hot enough and I had to cook them a bit too long, which makes a thin cut chop like this a bit tough. Next time I'll let the pan warm a bit more first. Other than that, this was fantastic, and I'd be happy to make something like it again.