Who says meat and potatoes has to be boring? With just a little thought and a touch or two, the basic American plate of beef and starch can become something exciting. It becomes an experience, rather than just something you eat. That's what good food is all about and I think that this dish qualifies nicely as an adventure in cooking, even though each part of the dish is utter simplicity to prepare.
The petit fillet is not a very tender cut, so either marinade well, cook rare (as we did) or braise for preparation. I use it not only because it's inexpensive, but because it has a ton of flavor that some better cuts of beef simply can't compare to. Since we prefer our meats under the medium mark, just a few minutes sitting in seasoning was enough. Had I been shooting for medium rare or above I would have marinated the cut for at least two hours. If you're still a bit frightened of this cut, try switching it out for a more tender chuck cut or new york strip, but stay away from mild cuts like fillet Mignon, as the sauce will overpower the beef.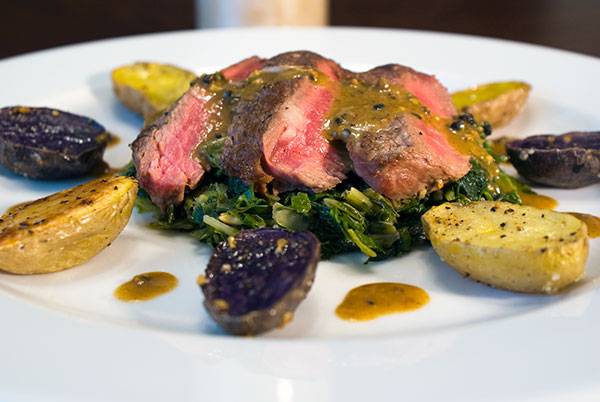 Add some roasted potatoes and greens of your choice and this is a complete meal in the greatest of American tradition. My presentation is obviously a more refined take, but there's nothing wrong with just plopping everything on a plate and drizzling with sauce before going wild with it.
Hey, it's your kitchen and your family. Do it your way. It will taste just as good no matter how it's plated.
Yield: 4 servings
Pan Seared Petit Fillet Steak with Mustard Sauce Recipe
Prep Time: 10 minutes

Cook Time: 25 minutes

Total Time: 35 minutes
Ingredients
4 -4 oz. Petit Fillets
16 new potatoes, halved (I used a Yukon medley with gold, red and purple potatoes)
1 bag frozen chopped greens or 2 bunches of your favorite greens, cut in strips.
4 tbsp butter.
5 cloves garlic, minced.
4 tbps. spicy deli mustard.
3/4 cup vegetable stock.
2 tbsp cracked peppercorns.
Your favorite steak seasoning blend.
Salt and pepper to taste.
Olive Oil, for cooking and tossing potatoes.
Instructions
Preheat oven to 350 degrees.
Cut potatoes in half lengthwise (quarter any potatoes that are exceptionally large). Place potatoes in a large mixing bowl and drizzle with olive oil. Add steak seasoning blend and toss to coat well. Turn out onto a baking sheet and bake for 25-30 minutes, or until potatoes are fork-tender.
Meanwhile, season steaks with salt and pepper. Coat the bottom of a hot skillet over medium heat with olive oil. Place steaks carefully in skillet, making sure edges do not touch. Cook for approximately 4 minutes per side (for medium rare) or until steaks are well seared and cooked to desired wellness. Remove from heat and cover loosely with aluminum foil.
In same skillet, add 1 clove minced garlic and toss until fragrant. Add chcken stock and stir with a wooden spoon, scraping the bottom of the pan to release all the stuck-on bits. add mustard and whisk to combine well. Add peppercorns, stir well and remove from heat. Taste and season with salt if needed.
For greens, prepare your favorite style using this method.
Place a small mound of greens in the center of a serving plate. Cut steaks into three sections and arrange on top of greens. Arrange potatoes around outside of steak and greens. Drizzle with mustard-peppercorn sauce. Serve immediately
Share and Enjoy!
Nutrition Information:
Yield:
4
Serving Size:
1
Amount Per Serving: Calories: 736Total Fat: 17gSaturated Fat: 8gTrans Fat: 0gUnsaturated Fat: 7gCholesterol: 31mgSodium: 500mgCarbohydrates: 136gFiber: 18gSugar: 8gProtein: 18g


What I would have done differently had I thought of it at the time:
As always, check your greens for sweetness. Frozen greens especially can be very bitter. If so, add a bit of sugar or caramelize some onions to go with them to add some sweetness.
Links to other recipes like this: