*From the archives, because these dessert empanaditas are awesome and because I'm thinking of making a batch.
What does the word empenada conjure in your mind when you first hear it? Do you think of the savory meat and cheese-filled versions found all over the Western United States, or do you think of the sweet versions found in Latin America? Do you suddenly crave the Filipino version, stuffed with ground beef or pork and potatoes, or the Mexican version, filled with exotic fruits and sugars?
If you have never heard of an empanada I may have just swayed you toward the sweet version, though please be aware that I also love a good savory empanada as well. There really isn't a way to go wrong with what is basically a hand-carried pastry stuffed with whatever you have around your kitchen, and this recipe for little pillows of lusciousness is now one of my kids' favorite desserts.
The topper? They are dead-simple to make, can be adapted to your own tastes in seconds, and are perfect Holiday party fare. Just lay them out and watch them disappear. And they will. Quickly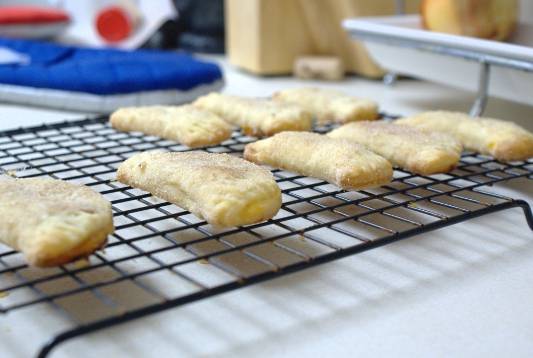 Technically these bite-sized pastries are not empanadas, but empanaditas, or mini empanadas. They are a perfect two-bite sized appetizer and something that I would be happy to serve any guest. (That is, if I can keep the kids from eating all of them first.) They're awesome. My greatest suggestion for this recipe is this:
Make a double batch. Right now.
Try your own spin on these as well. Let us know what fillings you used and how they turned out. This is something we're definitely going to be revisiting in the future.

Yield: 24 mini empanadas
Mini Dessert Empanadas (Empanaditas)
Prep Time: 2 hours

Cook Time: 15 minutes

Total Time: 2 hours 15 minutes
Ingredients
1 cup softened butter
6 ounces (Or two 3-ounce packages) cream cheese, softened
2 cups all-purpose flour
1 cup Apricot Pineapple preserves (Or other tropical fruit jam of your choice)
1/3 cup sugar
1 tsp ground cinnamon
Instructions
Combine butter and cream cheese in a large bowl. Beat with an electric mixer or stand mixer on medium to high speed until light in color and fluffy. Gradually add flour at low speed until combined.
Gather dough into a ball and divide in half. Cover and chill dough for 1 to 2 hours, or until easy to handle.
Preheat oven to 375 degrees. Grease a large cookie sheet and set aside. roll out half of dough on a lightly floured surface until it is 1/8-inch thick. Cut out rounds using a 3 to 3-1/2 inch cookie cutter. Place approximately 1 Tbsp of jam in the center of each round. moisten edges of dough with water and fold in half to form half-moon shapes. Press edges together with the tines of a fork to seal.
(Repeat this step for other half of dough)
Place empanaditas 1-inch apart on prepared cookie sheet. Bake at 375 degrees for 12 to 14 minutes or until golden brown.
Combine sugar and cinnamon in a small bowl. While cookies are still warm, carefully roll each one in the cinnamon-sugar.
Allow to cool.
Notes
Adapted from Better Homes and Gardens "Christmas Cookies" 2008, prepared by the lovely and talented Mrs. seat of her Pants, without whom I would be lost.
Nutrition Information:
Yield:
24
Serving Size:
1
Amount Per Serving: Calories: 152Total Fat: 10gSaturated Fat: 6gTrans Fat: 0gUnsaturated Fat: 3gCholesterol: 27mgSodium: 107mgCarbohydrates: 13gFiber: 1gSugar: 4gProtein: 3g


What I would have done differently had I thought of it at the time:
An egg wash on the cookies before cooking might make them a little prettier to look at, but otherwise these are pretty awesome. My kids want more made right this minute, so we must have got something right.
Links to other recipes like this: