Our Family's Iced Tea Recipe. The perfect drink on hot August afternoons with family and friends.
There's nothing that speaks to me of home like a tall, frosty cold glass of iced tea. Whether you like yours sweet in the southern tradition or with little or no sugar, nothing says summer like iced tea, and nobody… And I mean nobody, made it better than my mother did.
Agree or disagree with the last statement as you like, this is my family's closely guarded recipe for iced tea. I don't think it's been shared outside the family before, but it is something that I think the world needs to know about. It's the drink my wife requests when she's home to visit. It's what my sister expects to find in my refrigerator in the summer months. It's the one thing I can't live without when the temperatures start climbing into higher digits.
And there is only one right way to make it… At least for us.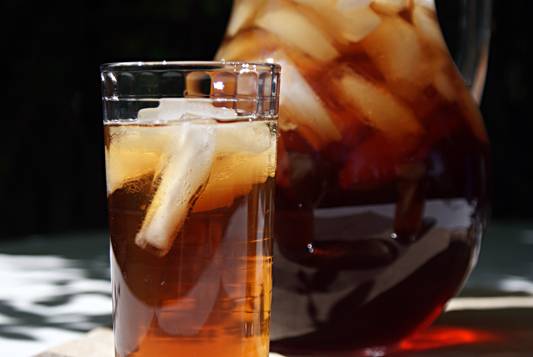 The key to good iced tea is to make it strong. That way the ice doesn't dilute the taste of the tea. Too many people forget this. If it's hot outside, the ice in your glass is going to melt, and your tea tastes more like sweetened murky water than it does of anything else. It's something I can't tolerate, and is one of the reasons I rarely order iced tea in a restaurant .
I hope you enjoy this one. It's a very simple recipe that has seen my family through many decades of summers, BBQ's, parties and outdoor gatherings. It has outlived both of the women who perfected the recipe and has comforted hundreds of people on hot California afternoons.
This is a piece of my life that I need the world to share with me.

Yield: 1 gallon of the best tea you've ever had
The Ultimate Iced Tea Recipe
Cook Time: 10 minutes

Total Time: 10 minutes
Ingredients
1/2 gallon water
13 Orange pekoe/black tea blend tea bags
1/2 gallon iced water
Sugar to taste
Instructions
Bring 1/2 gallon of water to a rolling boil over high heat. Remove pan from heat and add 13 tea bags. Allow to steep for 3 to 5 minutes. Remove tea bags from water and discard.
Add sugar to a heat proof pitcher. My rule of thumb is as follows:
*No sugar – For tea that's just, well... Tea
*1/3 cup sugar – This is how we take ours. Just enough sugar to take the bitter edge off.
*1 cup sugar – For semi-sweet tea. Enough that you'll know that there was sugar there
*2 cups sugar – For sweet tea, but not "way down South" sweet.
*3 cups sugar – For ultra sweet tea as served in most of the deep South. Kind of like syrup with depth.
Mix sugar and hot tea until all of the sugar is completely dissolved. Add 1/2 gallon of cold or iced water to the tea and mix thoroughly.
Serve chilled over ice with any garnish of your choice.
Share and enjoy!
Nutrition Information:
Yield:
8
Serving Size:
1
Amount Per Serving: Calories: 114Total Fat: 0gSaturated Fat: 0gTrans Fat: 0gUnsaturated Fat: 0gCholesterol: 0mgSodium: 21mgCarbohydrates: 29gFiber: 5gSugar: 20gProtein: 2g
What I would have done differently:
There is no differently for this recipe. It's comfort food and I never mess with it.
Links to other great Iced Tea Recipes: