Are you getting tired of turkey yet? Do you need a new way to spice up that grand bird that graced your holiday table? Are you just sick-to-death of trying to find ways to get the last little bit out of your holiday feast?
If so, our leftover turkey tacos are for you.
Whether you're trying to reinvent a little more of your leftover bird, or are just looking for a new way to incorporate turkey into your diet, this is the dish for you. In fact, you'd be hard pressed to tell it was turkey on the first bite. Seriously.
Just adding a bit of seasoning and a little spice can seriously ramp up the flavor of any dish. When it comes to turkey it pulls the natural flavors out even more.
This has everything you've ever wanted in a last-time for this old bird recipe, along with a wealth of ideas for chicken or turkey dishes for anytime of the year.
Even if you're stuck with dry leftover turkey (And if you are, you should follow our holiday roast turkey recipe next time!), our method of simmering the leftover turkey taco filling in stock and spices results in tender, juicy turkey every single time.
In a word, it's fabulous. I highly recommend it. I mean seriously, how good does this look?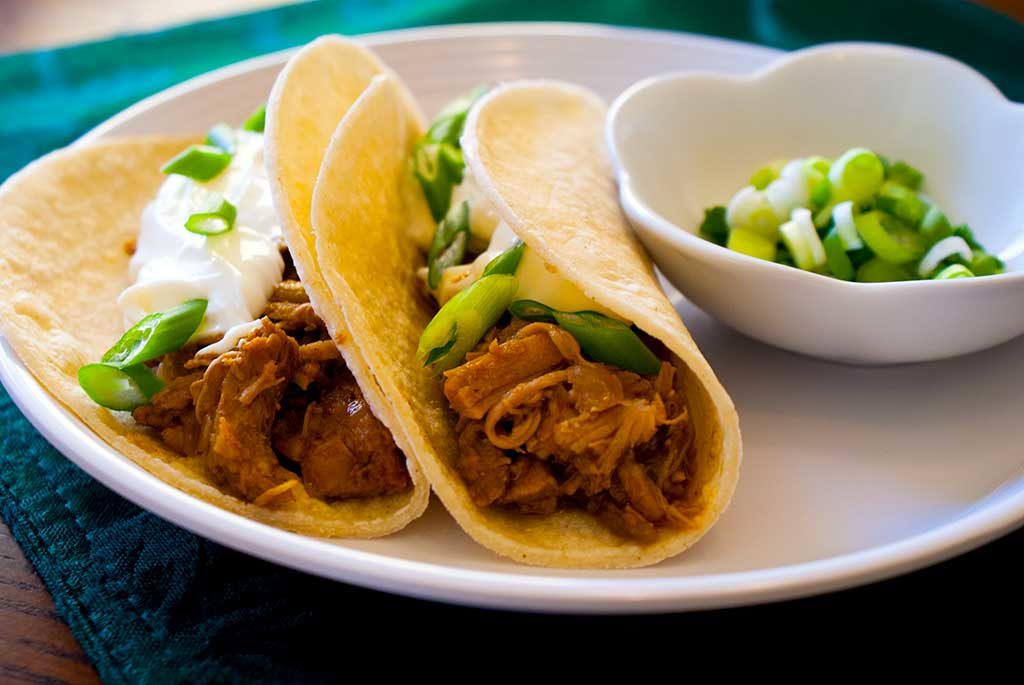 You need to try this. I'll provide methods for both leftover poultry and for preparing the dish from scratch, just in case you love the idea but, like many homes, have already gone through any leftovers from your Holiday meals until December. (But hey, this would be great on a New Years table, too!)
The household taste-testers (being my son's Lil' E and Lil' D) devoured a full half batch in minutes, with a startling number of "oooh's and Ahhhh's considering the amount of food they had packed in their mouths, so I deem this dish "kid tested and approved". If those two will eat it, any kid will!
For me… Well, I ate the other half batch while shooting the pics for the post, and I may have made about 6 or 8 one or two deformed tacos on purpose in the process.
You have to try this!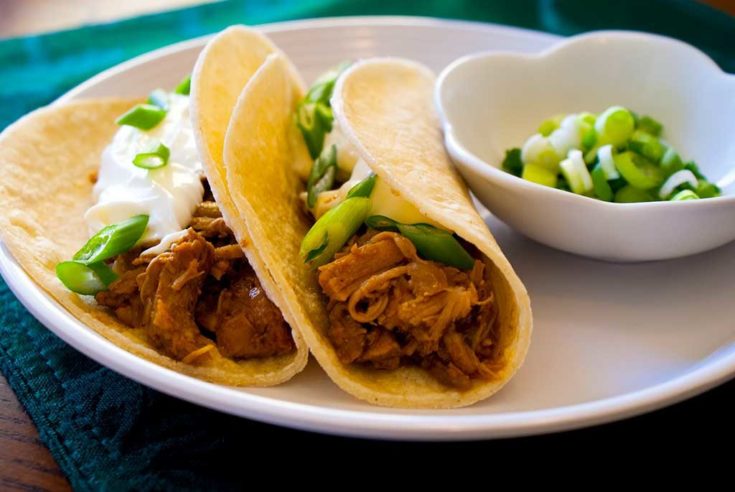 Yield: 10 to 12 tacos
Leftover Turkey Tacos Recipe
Prep Time: 5 minutes

Cook Time: 20 minutes

Total Time: 25 minutes

Don't let your Thanksgiving leftovers be boring! Leftover Turkey Tacos will take your leftovers from classic American to a Southwest favorite!
Ingredients
Approximately 1-pound leftover turkey meat (or 1-pound precooked turkey or chicken)
2 tbsp butter
1 large red onion, chopped fine
1-7 oz. can chopped green chilies, drained
1 – 1-1/2 cups vegetable or chicken stock
Paprika to taste
Adobo to taste
Cumin to taste
Light red chili powder to taste
1 tbsp Worcestershire sauce
The juice of 1 lime
Salt and pepper to taste
White corn tortillas
Sour cream and chopped green onions for garnish
Instructions
If using leftover chicken or turkey, separate meat from carcass and tear into bite-sized pieces. A combination of light and dark meat is preferred.
If using fresh chicken or turkey, either roast, grill or boil meat first, then shred with a pair of forks. you won't get the right consistency if you just try to cook the meat in the pan.
Saute onions in butter with a pinch of salt in a large skillet over medium-high heat, stirring frequently, until onions are translucent. Add green chilies and cook until the aroma turns slightly sweet. (They are packed in vinegar, this needs to be cooked off.)
Add turkey and approximately 2/3 cup stock. season with salt, pepper and adobo powder. Reduce heat to medium low and cook for about 5 minutes to allow the meat to heat through. Test for seasoning.
Add remaining spices a little at a time, starting with about a teaspoon of each and increasing each a bit at a time until the mixture has the flavor and heat levels that you prefer. (I don't like to give exacts with any seasoning blend like this. use your judgment and go with whatever heat levels you like!)
Add Worcestershire sauce, and lime juice. Simmer, stirring often, for an additional 5-10 minutes or until turkey or chicken meat is falling apart in the skillet. Add stock as needed to keep the mixture moist, but not wet.
Reduce heat to low and allow to simmer while you prep the rest of the ingredients.
The tortillas can be cooked on the stovetop on a lightly greased griddle with just a tiny bit of oil over medium heat, in the microwave in a microwave-safe tortilla warmer or stacked, wrapped in foil in a 350 degree oven for approximately 15 minutes, or until heated through and pliable. (I prefer either of the first two methods) tore tortillas in a tortilla warmer or wrapped in aluminum foil until serving or they will become brittle.
Nutrition Information:
Yield:
12
Serving Size:
1
Amount Per Serving: Calories: 113Total Fat: 4gSaturated Fat: 2gTrans Fat: 0gUnsaturated Fat: 2gCholesterol: 44mgSodium: 138mgCarbohydrates: 7gFiber: 1gSugar: 3gProtein: 13g


Serve with Sour cream and chopped green onions or whatever toppings float your boat.
Share and Enjoy, or as my friend Ben would say, ¡Buen provecho!
Did you like this recipe for Leftover Turkey Tacos?
This recipe is a part of my cookbook Leftover Turkey Recipes, which is available on Amazon.com. Be sure to go check it out! And if you've got Kindle Unlimited, you can download it for free!
What I would have done Differently had I thought of it at the time:
I think a bit of cilantro would have gone a long way here, but I don't currently have any and wasn't in the mood to go get it.
I'm thinking tat the turkey itself would be a great salad topper or tostada topping… In all honesty I think it would be good on just about anything.
Links to other recipes like this: