If you're like most of us the holiday dinner has passed and now you're looking for a few creative ways to use up all that leftover turkey. While there is absolutely noting wrong with turkey sandwiches, I know that there are a lot of people who tire of them quickly or just want to find something a little more creative to do with what's left of a once regal bird. If you're one of those people, this leftover turkey curry might just fit the bill.
Before any true curry fanatics out there step up to inform me that this isn't a traditional curry. Don't bother. I already know. This dish was cobbled together with what I had on hand at the moment and geared towards introducing my kids to flavors they have never experienced before. I used potatoes instead of rice because my middle son runs screaming at the mention of long grained anything, let alone basmati or jasmine rice. This is just a big heapin' pot o' love, and may actually have made it ot my comfort foods list.
In the end I suppose this could be treated like a soup or a stew. The liquid is fairly mild the first day (but gets pretty ambitious by day 2), and can easily be eaten with a spoon if you desire, or skip the potatoes and serve the curry with rice to soak all the wonderful flavors up while you're eating it. In any event it came out wonderfully and was enjoyed by all but my youngest, who was not only ill that evening, but is finicky to the point of sending this foodie father into fits on some occasions.
He had chicken nuggets. The rest of us polished off half of this dish in minutes. I'd call that a raging success!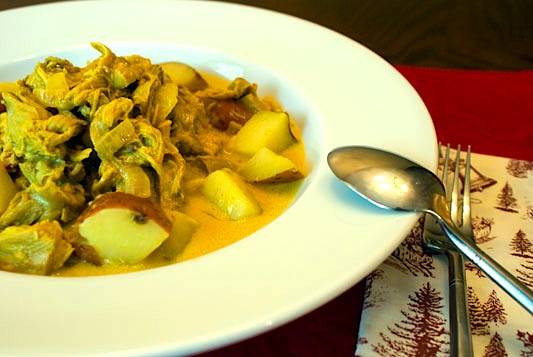 Yield: 4 - 6 servings
Leftover Turkey and Potato Curry
Prep Time: 5 minutes

Cook Time: 15 minutes

Total Time: 20 minutes

If you're looking for a great alternative to holiday leftovers, our leftover turkey curry with potatoes will put a welcome smile on your face. Enjoy a warming bowl of this on a cool winter evening and you'll be smiling for the rest of the night.
Ingredients
Approximately 1.5 lbs. leftover roast turkey, torn in bite-sized pieces
5-6 small red skinned potatoes, cooked and cut into bite-sized pieces (You can use leftover roasted potatoes or just boil or steam a few for the dish)
1 large yellow onion, chopped
4 cloves garlic, minced
1 tsp cumin
1 tbsp turmeric
2 tbsp yellow or red curry powder
1 tsp crushed red pepper flakes
3 tbsp sour cream
1 - 13.5 oz can coconut milk
1/2 cup Chicken stock (approximate)
The Juice of 1 lemon
Salt and pepper to taste
Olive oil, for cooking
Instructions
Heat 2 tbsp olive oil in a large skillet over medium low heat. Add onion and a pinch of salt. Cook, stirring frequently, until translucent. Increase heat to medium. Add garlic and cook for approximately 2 minutes, stirring often. Add all spices and cook, stirring occasionally for 2-4 minutes or until spices are fragrant and toasted.
Add 1/2 of the chicken stock and stir, making sure to lift all the bits of spice and onion on the bottom of the skillet. Add remaining stock, sour cream, coconut milk and lemon juice. Stir to combine well. Add turkey and stir. Reduce heat to low and simmer, stirring occasionally, until juices are reduced by approximately 1/4. (About 10 minutes)
Place cooked potatoes in the bottom of a serving dish or in individual bowls. Ladle curry mixture over potatoes.
Serve immediately.
Share and Enjoy!
Nutrition Information:
Yield:
6
Serving Size:
1
Amount Per Serving: Calories: 535Total Fat: 26gSaturated Fat: 16gTrans Fat: 0gUnsaturated Fat: 9gCholesterol: 128mgSodium: 222mgCarbohydrates: 38gFiber: 5gSugar: 4gProtein: 39g
What I would have done Differently had I thought of it at the time:
One word. Cilantro. I didn't have any, but it could have used a bit.
Also, I think the addition of some golden raisins or dried cranberries might have done a lot to bring this dish one step closer to perfect. I'll let you know the next time I make it.
Links to other awesome leftover turkey curry recipes: