It's not often that I can say I wish I had less fish in my diet, but this week that's what I've been saying. My kids went fishing over the weekend with their brother and brought home a gallon-sized freezer bag of fresh rainbow and brook trout. Even for a fish lover like me, that's an awful lot of fish to go through.
Luckily all of the fish came to me cleaned.
With fish this fresh, I didn't have the heart to do much to them at all. The flavor of freshly caught fish is something that requires little or nothing to make it perfect. Because trout can be eaten in its entirety, I simply floured the fish and fried it in a nice hot wok.
The boys didn't even flinch. The fish was gone in minutes.
It really does taste better when you catch it yourself.
As for the rest of the fish in my fridge, you'll just have to come back in a few days to see what direction I'm going with them. I'm sure you'll like it.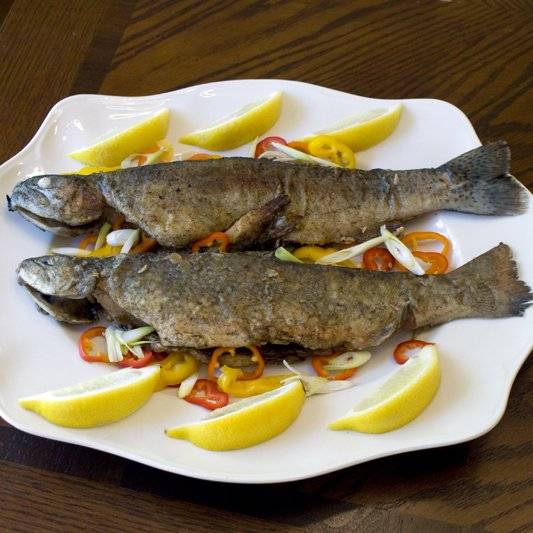 Yield: 4 servings
Fried Whole Trout
Prep Time: 5 minutes

Cook Time: 8 minutes

Total Time: 13 minutes
Ingredients
2 to 4 whole trout, cleaned (about 1 lb each)
1 cup all-purpose flour
salt and pepper to taste
Lemon, peppers and green onions, as garnish
Vegetable or peanut oil. Enough to cover 1/4 inch of pan or 3/4 inch of wok. (Roughly 1/2 cup in my case)
Instructions
Mix together salt, pepper and flour in a large bowl. Set aside.
Heat oil over medium heat in a wok or frying pan large enough to accommodate the fish. oil should reach approximately 325 degrees.
Lightly dredge as many fish as will fit in your pan with flour. Shake off any excess. Carefully place fish in pan and cook for 1-1/2 to 2 minutes. Turn carefully and cook an additional 1-1/2 minutes. Remove and place on paper towels to drain
Allow to rest 5 minutes and serve with lemon wedges, slices sweet peppers and green onions.
Share and Enjoy!
Nutrition Information:
Yield:
4
Serving Size:
1
Amount Per Serving: Calories: 288Total Fat: 9gSaturated Fat: 2gTrans Fat: 0gUnsaturated Fat: 7gCholesterol: 46mgSodium: 128mgCarbohydrates: 30gFiber: 3gSugar: 2gProtein: 21g


What I would have done differently had I thought of it at the time:
I would have added some Cajun seasoning to the flour for some kick. Otherwise it really doesn't get any better than this.
Links to other recipes like this:
Pan Fried Rainbow Trout, from Morsels and Musings
The most simple grilled rainbow trout ever, from foodandwineblog.com