A little late on my part, I know, but I thought I'd share the corned beef dinner Mrs. seat of her Pants and I shared for our belated St. Patrick's day meal.
Generally speaking, I go large for our St. Paddy's day celebration. Corned Beef, Guinness for myself and Killian's for the Mrs. (She's not a fan of stout) and some good "Irish Movie" (whatever that is. I just tend to rent something I remember watching as a kid with my mother. Generally something like "The Quiet Man" or "The bells of St. Mary")
This year my wife had a bridal shower/wine tasting with a few friends (Italian friends… I nearly fell over, but I suppose it's not a tradition for them, so they didn't think about it.) She was compelled to go, and I wasn't about to make a production out of the evening for myself. (I ended up making Ramen with frozen shrimp and broccoli, but that's another story.)
Sunday came along with dreams of making all of the above mentioned, perhaps with some champ or other lovely old country side. Unfortunately, Mr. seat of his Diaper had plans of his own, most of which included keeping my wife and myself very busy tending to his needs rather than anything fancier than what I threw together.
A lot of folks would call this a New England Boiled Dinner. I beg to differ. This was the corned beef my mother made every St. Paddy's day for the first 25 years of my life. Our home had precisely one cabbage lover, my father. He was summarily overruled in his request for corned beef and cabbage by his lovely (and extremely Irish/Cherokee) wife and two children right up until the day he moved out when I was 16. I'm hopeful that he managed to get his requested dinner on the following holidays before he passed away, but I wasn't around by that point to find out.
I will concede that this isn't the traditional Corned Beef and Cabbage served by most Irish American families, and so I've just dubbed it Corned Beef and Potatoes, though really I just think of it as "Mom's corned beef". In any case, it's something worth making more than once per year, and I usually get around to it about four times between one St. Paddy's Day and the next, jut because I love the flavor, the memories and the simplicity of the entire affair.
Being a very old family dish, I have no recipe for this. I simply use the same method that my mother and her mother before her used, and I'll detail it for you here.
*Note: You won't find my usual "What I would have done differently…" section in regards to this post. I will never do anything differently with this dish, regardless of what the Dr. might tell me about sodium intake. Period.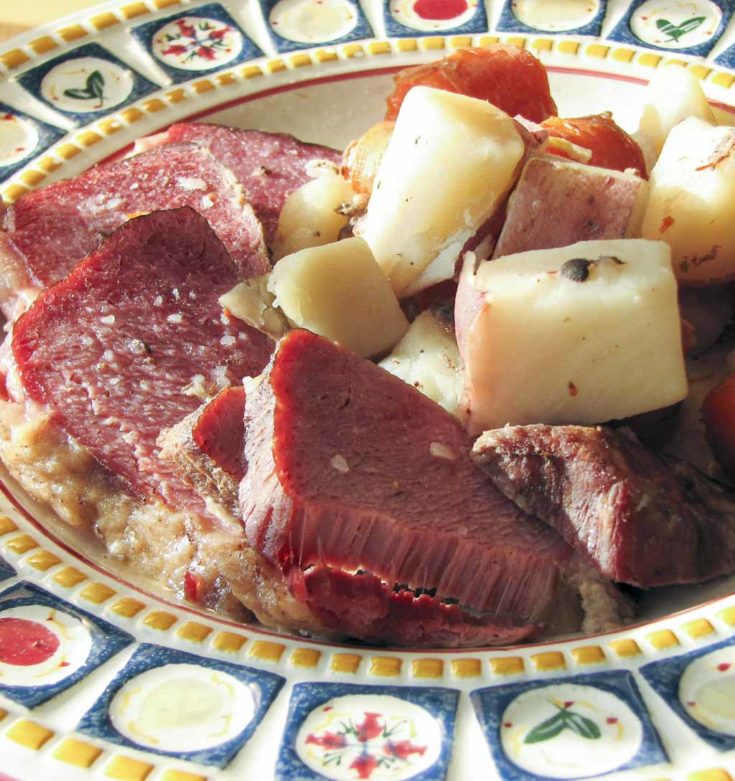 Yield: 10 servings
Corned Beef and Potatoes Recipe
Prep Time: 5 minutes

Cook Time: 2 hours

Total Time: 2 hours 5 minutes

Corned Beef & Potatoes. Perfect for St. Paddy's day, or any other day of the year.
Ingredients
1 large corned beef brisket (4-6 lbs)
1 large onion
6-10 new (red/Irish) potatoes, depending on size, quartered and halved
3 large carrots, chopped large
Instructions
Place corned beef in a large stock pot and cover with water. Add the seasoning included in the package. (No, I don't rinse mine.) Bring to a boil, then reduce to a simmer. Simmer uncovered, adding water as necessary until brisket is fork tender, or cooked to the desired doneness.
Toss in veggies and add enough water to cover. Cover pot and allow to simmer until veggies are done to your liking.
Add salt and pepper to taste and enjoy.
Nutrition Information:
Yield:
10
Serving Size:
1
Amount Per Serving: Calories: 35Total Fat: 2gSaturated Fat: 1gTrans Fat: 0gUnsaturated Fat: 1gCholesterol: 9mgSodium: 12mgCarbohydrates: 2gFiber: 1gSugar: 1gProtein: 3g