Brown Rice and Barley are good for more than just soups. Barley is overlooked in American cooking. The most common uses of the grain in the U.S. are actually Malt production for beer and animal food products. I think that's a crying shame, and I'm on a mission to prove it. (Though I won't ask them to stop making Malt, I do like me a beer now and again. O.K. A little too often, but that's a different issue altogether.)
I originally put this recipe together as a side dish for some turkey thighs we had on hand, but there was just so much of this that Mrs. seat of her Pants and I ate this by itself, and it was wonderful as a main dish as well.
*Please note, the recipe as shown is made with Chicken Stock, though substituting Mushroom Stock, Vegetable Stock or water will convert this omnivorous version into a vegetarian version in seconds.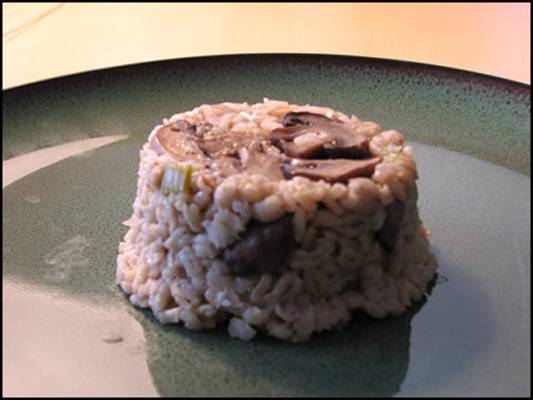 Yield: 12 Servings
Baked Brown Rice and Barley with Mushrooms Recipe
Cook Time: 1 hour 20 minutes

Total Time: 1 hour 20 minutes
Ingredients
¾ cup short grain brown rice, washed and drained
¾ cup pearled barley, washed and drained
1½ cups sliced mushrooms. (I used Crimini (baby portabella), but shiitake would work well, too
2 cups onion, diced
2 Tablespoons extra virgin olive oil
1/4 teaspoon Kosher Salt or Sea Salt
1/4 teaspoon Fresh ground black pepper
1/8 teaspoon thyme or sage
1 cup water
3 cups chicken, vegetable or mushroom stock
2 Tablespoons minced parsley, for garnish
Instructions
Heat oven to 350°F
Heat oil in a medium saucepan and saute onions for 10 minutes. Add celery and mushrooms, reduce heat to medium-low and sauté another 5 minutes. Remove from heat.
Heat a skillet and dry roast the brown rice and barley over high heat until most of the water from rinsing has evaporated. Reduce heat to medium-low and dry roast for another 3 to 4 minutes, until the grain begins to smell a bit nutty. Stir constantly!
Place in baking dish, add the onions, celery and mushrooms. Bring water/stock to a boil and our over rice and barley mixture. Add Salt, pepper and thyme and stir to combine.
Cover baking dish and bake for 1 hour.
Serve garnished with parsley.
Share and enjoy!
Nutrition Information:
Yield:
12
Serving Size:
1
Amount Per Serving: Calories: 154Total Fat: 7gSaturated Fat: 2gTrans Fat: 0gUnsaturated Fat: 5gCholesterol: 32mgSodium: 152mgCarbohydrates: 12gFiber: 2gSugar: 3gProtein: 10g


What I would have done differently had I thought about it:
I'm pretty new to cooking with barley, so I'm not sure what, if anything I would change at this point. The resulting dish was savory and immensely satisfying. both Mrs. seat of her Pants and I went back for seconds (or thirds), and I didn't miss a main course of meat at all.
I think perhaps a wilted spinach salad on the side would have been nice, though.