I know I say it a lot, but sometimes the simple things in life are the best. They are often the most satisfying, the most soul-soothing and heartwarming things. It could be a child's laughter, a favorite frumpy old sweatshirt or a soft smile from that significant someone-else that makes an otherwise normal and dreary day better, but in this case it's a cookie. A simple, plain, ordinary cookie.
Sure, there are a million variations on the classic chocolate chip cookie. Some are grand and elegant. Others are mischievous and include hidden ingredients. Some are soft, some are chewy and some are crunchy, some are even arranged in a creative cookie bouquet. A few boast nuts and exotic ingredients and others will blow your mind with the complexity of flavors involved.
These are not those cookies. These are the perfect combination of ooey-gooey, warm, chewy and "my mother loves me." They're the warmth of a fire in winter and a cup of hot cocoa after a long, hard day in elementary school. These are the chocolate chip cookies of childhood, something between the ones that came out of the Betty Crocker Cookbook and a Toll House cookie.
The recipe is an adaptation on one taken from a bag of chocolate chips, but modified by my wife. This also happens to be the one dessert recipe that neither my wife or I make. No. these cookies are not our domain. They are the domain of my oldest son, now dubbed Super Chef Jr. by my wife. I must admit, I think she might be right. He does these very, very well.
Though I may be biased by the fact that my son made these for us, I am still convinced of one thing. Out of all of the chocolate chip cookie recipes I've ever had, these are by far the best. I'm sure that you and your family will enjoy them as well.
Do you have an absolute favorite chocolate chip cookie recipe? Are they chewy or crunchy? do they have nuts? Let us know in the comments. Perhaps we'll change our minds when we hear about your favorite. I doubt it, but perhaps.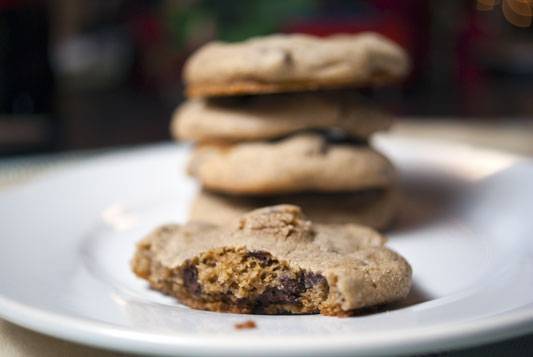 Yield: 32 cookies
The Best Chocolate Chip Cookie Recipe Ever
Prep Time: 10 minutes

Cook Time: 10 minutes

Total Time: 20 minutes
Ingredients
3/4 cup sugar
3/4 cup brown sugar, packed
1 cup room temperature butter
1 egg
2 1/4 cups all-purpose flour
1 tsp baking soda
1/2 tsp salt
1/2 tsp vanilla extract
1 Tbsp milk (if needed)
2 cups (12 ounces) semi-sweet chocolate chips
Instructions
Preheat oven to 375 degrees.
Mix sugars, butter and egg in a large bowl until light and fluffy.
Add flour, baking soda, vanilla and salt until dough is smooth. If dough is dry, add 1 Tbsp milk. Stir in chocolate chips until just incorporated.
Roll dough into 1-inch balls and place on an ungreased cookie sheet leaving 2 inches between cookies.
Bake at 375 degrees for 8 to 10 minutes, or until golden.
Share and Enjoy!
Nutrition Information:
Yield:
32
Serving Size:
1
Amount Per Serving: Calories: 133Total Fat: 7gSaturated Fat: 4gTrans Fat: 0gUnsaturated Fat: 2gCholesterol: 21mgSodium: 125mgCarbohydrates: 17gFiber: 0gSugar: 10gProtein: 1g


What I would have done differently had I thought of it at the time:
Let me think about it for a minute…
Nothing!
Except perhaps to make a double batch next time. Yeah. That sounds good.
Links to other recipes like this: