I decided to cook lamb this Easter season. I've never cooked lamb before, and as such was a bit nervous. I suppose I shouldn't have been, but anytime something new hits the menu I approach it with a bit of trepidation.
The recipe I finally settled on was from cooks.com. More precisely, I found that this recipe looked simple enough for a first attempt. I knew I'd be modifying a bit, since I'd already planned on using UGLI fruit in place of the mandarin oranges, and was relatively sure that ½ of an UGLI would pretty much equal 1 can of oranges, and the juice from the other half would not only make up for the syrup from a can of oranges, but render the whole thing a bit less sweet.
The other change was the addition of rosemary instead of mint since I do not stock dried mint, but always have fresh rosemary on hand if possible.
I'd call the dish a success, though I have to apologize for the slightly substandard photo. I was dying to dig into this after having worked on it for an hour, with the scent of lamb wafting through the house.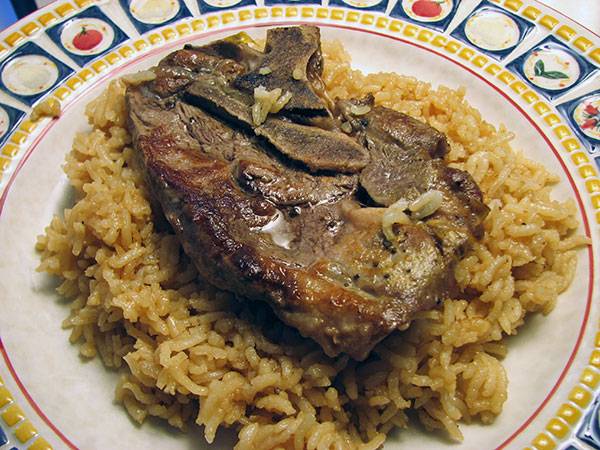 Yield: 4 servings
Lamb Chops with Rosemary, UGLI Fruit and Rice Recipe
Prep Time: 10 minutes

Cook Time: 50 minutes

Total Time: 1 hour
Ingredients
2-4 lamb leg sirloin chops
1 cup long grain white rice (uncooked)
1 UGLI fruit or large pink grapefruit
3 rosemary spears
2½ cups beef stock
Salt and pepper to taste
Instructions
Sear chops in their own juices until crusted nicely, set aside.
Spread rice grains evenly in bottom of a buttered casserole or shallow glass baking dish. lay two rosemary spears over rice.
Place chops over rice and arrange one spear of rosemary over each chop and UGLI fruit wedges over the top (about 6 wedges for 2 chops, 8 wedges for 4 chops.)
Mix beef stock with juice from ½ UGLI fruit and pour over top of rice and chops.
Sprinkle with salt and pepper, cover and bake for 50 minutes at 350°F.
Rest 5 minutes, remove fruit wedges and rosemary. Serve chops over rice.
Nutrition Information:
Yield:
4
Serving Size:
1
Amount Per Serving: Calories: 382Total Fat: 18gSaturated Fat: 7gTrans Fat: 0gUnsaturated Fat: 9gCholesterol: 99mgSodium: 440mgCarbohydrates: 23gFiber: 2gSugar: 7gProtein: 32g


What I would have done differently had I thought of it at the time.
I would have made 4 chops instead of two. My wife loved it so much that I ended up feeding her some of mine, which just left me wanting Sooooo Much more.