In my opinion, fish is best cooked simply. Flavors should be added sparingly so that the delicate flavor of the meat comes through as its own statement, rather than being buried in herbs and spices or some overwhelming sauce. That doesn't mean that fish should be boring, and this dish is anything but.
Tilapia is described as a mild flavored, medium textured fish, but I find the flavor to be much closer to moderate than mild, especially when baked, which seems to deepen the flavor considerably. It's also one of those fish that people either love or hate. I used to be one of the latter crowd, but I find that as time goes on I like the texture (and price!) a lot more. Perhaps it's an acquired taste, or my tastes are simply changing as I approach the big Four-Oh, either way, tilapia is something that will find its way onto my plate quite a bit more often.
The inspiration for this particular dish was simple necessity. I had a bunch of summer squash I'd bought for a barbecue that never happened and I needed to cook at least some of them up before they went too far south. The light flavors of the zucchini and yellow squash seemed like they'd be a good compliment to the tilapia I'd bought the week before, and with a few other small editions, such as a bit of garlic infused olive oil, I could have it all done in jut a few minutes, which sounded good as well.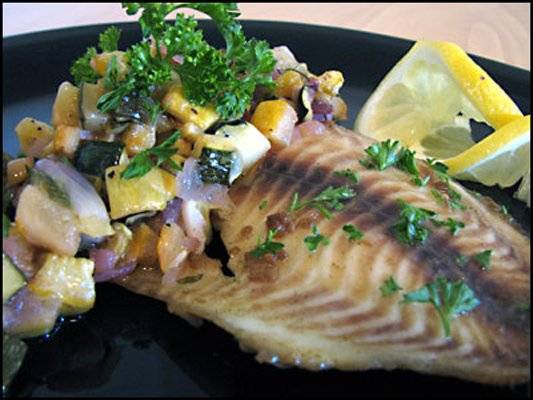 Yield: 4 servings
Baked Tilapia with Zucchini and Yellow Squash Recipe
Ingredients
4 tilapia fillets, 4 oz. each. (one 16 package fillets.)
1 medium yellow squash, chopped
1 medium zucchini, chopped
1/2 red onion, chopped
1 lemon
4 tbsp garlic infused olive oil*
4 tsp. chopped garlic for garnish
Salt and pepper to taste
Instructions
Garlic infused Olive Oil:
Place the desired amount of olive oil in a small sauté pan over low heat. Add 1 clove garlic, sliced in half, per estimated 1/8 cup of oil. Sauté, stirring occasionally until garlic is deep brown and withered. Remove garlic, cool, place in an airtight container. Refrigerate between uses.
Sautéed Zucchini and Yellow Squash:
Heat a heavy bottomed skillet or sauté pan over medium heat. Add 2 tsp Garlic infused olive oil and onions, stirring occasionally for about 3 minutes. Add zucchini, Yellow Squash, salt, and pepper, stirring every few minutes until vegetables are crisp-tender. (On my cook top, about 5 minutes.)
Baked Tilapia:
Preheat oven to 350°F. Brush both sides of tilapia fillets with garlic infused olive oil, sprinkle with salt and pepper. Bake uncovered on a parchment covered cookie sheet until flesh flakes easily with a fork, (Approximately 12 minutes)
Plating:
Place one or two tilapia fillets (depending on your desired portion size) in the center of a plate. Spoon squash over one end of fish in a single row. Squeeze lemon juice over the entire mixture. sprinkle with chopped parsley and garnish with a lemon wedge or lemon twist (as shown.)
Serve immediately, or place in warmer for no longer than 10 minutes.
Enjoy.
Nutrition Information:
Yield:
4
Serving Size:
1
Amount Per Serving: Calories: 228Total Fat: 7gSaturated Fat: 2gTrans Fat: 0gUnsaturated Fat: 5gCholesterol: 65mgSodium: 143mgCarbohydrates: 12gFiber: 3gSugar: 4gProtein: 32g



What I would have done differently had I thought of it at the Time:
I'm not sure, really. This dish was wonderful in its own right, but so many things came to mind while I was making it that I'm sure I'll be doing variations on the theme in the future. Fish lends itself well to other mild flavors, or citrus if used sparingly, so the thought of an orange or ginger glaze is nudging around the back of my mind as an excellent combination.
Then of course we have salads. I think Tilapia, especially if smoked, might be wonderful as part of an updated Cobb Salad, especially if a mild goat cheese or perhaps a mild jack cheese was used.
I'll be delving more into the world of fish and seafood as the year goes on, and we'll see how many winners I can get out of the mix. To be honest, it's been years since I made a lot of fish, mostly because my ex-wife detested all forms of seafood, so its a very refreshing change.