Before there was California Fusion Cuisine or even California Cuisine, there was the California health food craze. This is a style of cooking that still defines what most of the country thinks everyone in California eats every day. Anyone that lived in California in the late 80's will remember some of the hallmarks of this misguided good frenzy, from enormously sized composed salads to anything and everything with cashews. These were bad enough, but the one signature example of California's contribution to the mid-to late 80's, and to the perception of America as a whole cannot help but be the chicken sandwich with avocado and bean sprouts, otherwise known as the California Chicken Sandwich.
In its basic form, this is just a sandwich composed of chicken, avocado, bean sprouts and cheese. There isn't anything intrinsically wrong with it, it's a good meal. When I worked the line at my local Lyon's restaurant we made hundreds of these things every week and they were well liked. The downfall of this unassuming little dish is that somewhere, somehow, it found its way into the American psyche and became linked to California in the same breath as tofu, Haight-Ashburry, Flower Power and brown rice. Just ask a non-Californian what we eat every day and chances are they're going to mention tofu, bean sprouts and avocado.
My wife is Texan and has teased me about this combination since the day we met. (Fair, since I tease her constantly about having to ride a cow to school.) This post is for her as much as it is for the rest of the world. Yes, this dish is indicative of what California was in the 80's. Yes, it's something many Californians would like to forget, and something no self-respecting chef in the state would place on their menu. In fairness though, it's stood the test as a great combination of flavors and when I though of it the other day I simply couldn't pass up the chance to make one.
Just for old times sake, you know?
So I present to you my latest version of California's most widely recognized dish; the California Chicken Sandwich.
Hope you enjoy.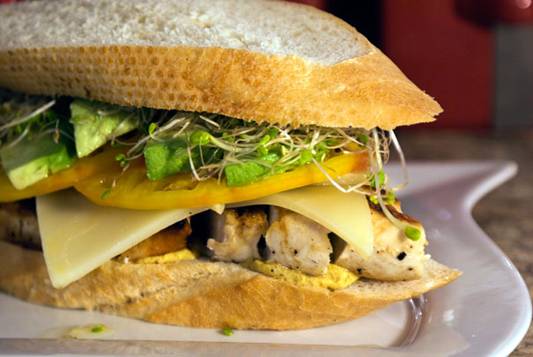 Yield: 1 sammich
The California Chicken Sandwich
Prep Time: 5 minutes

Total Time: 5 minutes
Ingredients
2 slices extra sourdough bread (toasting is optional)
1 - 6 oz chicken breast, cooked
2 slices aged Swiss cheese
2 slices heirloom tomato
1/2 avocado, sliced
a good 1/4 cup alfalfa sprouts
Condiments of your choice*
Instructions
Lay out a slice of bread and apply condiment of your choice. In the 80's this would have almost invariably been Ranch dressing or mayonnaise, but you can, and should try to mix it up a little. for this particular sandwich, I was in the mood for spicy deli mustard, but some chipotle mayo would have been wonderful too.
Assemble the rest of the ingredients in order.
Nutrition Information:
Yield:
1
Serving Size:
1
Amount Per Serving: Calories: 1058Total Fat: 45gSaturated Fat: 15gTrans Fat: 1gUnsaturated Fat: 25gCholesterol: 199mgSodium: 1142mgCarbohydrates: 79gFiber: 10gSugar: 9gProtein: 85g


What I would have done Differently had I thought of it at the time:
Just about anything you'd like. Regardless of popular opinion, this is not some sacred Californian tradition. You can't screw it up. You can't fudge it. Nobody is going to get angry if you add your own touch…..
Well, it can never have ketchup. That is kind of a rule, I suppose. you might find the California Cuisine police at your door if you do that, so if you do, don't mention my name… O.K!
Basically this thing is just a salad on bread, so if you really want to kick it up a notch, try tossing the sprouts in a light vinaigrette before adding them or adding any of your other favorite salad greens. This is not a dainty sandwich. It predates the Californian trend of tiny portions, so live it up!
Links to other recipes like this:
Are you kidding? I'm probably the first person in Cali to have made this thing in years! I'm trying to rekindle the spark on this one!