When the good people from FoodBuzz and Fresh Express contacted me to ask if I'd like the opportunity to develop a salad recipe using Fresh Express products; And for a chance to win a paid trip to the FoodBuzz Blogger Festival, I couldn't hit reply on my email fast enough. Not only was it a chance to to save a good chunk of change if I win, but there was a savings in my grocery bill as well. The result was this filling and refreshing chicken fajita salad.
Please don't think I'm just giving lip service to a brand because it was free. I use the company's products often. They are featured in many, many posts here, though I usually don't mention the brand name in those posts, thereby allowing the reader to decide what to purchase. If you guys would like a list of those previous posts, I'll be happy to supply it, just let me know!
So having said that, the real challenge for me lies in matters far closer to home. I had to develop a recipe using greens. For a house full of boys all under the age of 13. And they needed to love it so that I would know that other families could make and enjoy this dish.
That's a pretty tall order, especially since Ranch dressing would not be involved.
I went through a LOT of concepts for this dish. Some of those I'll be making soon. Others I'm pretty sure just wouldn't work well. In fact, there were so many ideas that I'm not sure how I ended up with the idea for a fajita salad. Just that I did.
And it was good.
The two older boys initially turned their noses up at the idea, but by the time the chicken was half cooked their resistance was fading. This chicken smells amazing while cooking, filling the house with scents of lime, cilantro and cumin. It's heavenly. Really. In the end, there were no leftovers. This dish is officially kid-approved and I'm a happy dad because my kids ate spinach. Lots of it. Without arguing.
Drop a comment below along with your ideas for kid friendly salad ideas or tips you might have to help kids eat more veggies.
Trust me, we parents need to know how you do it!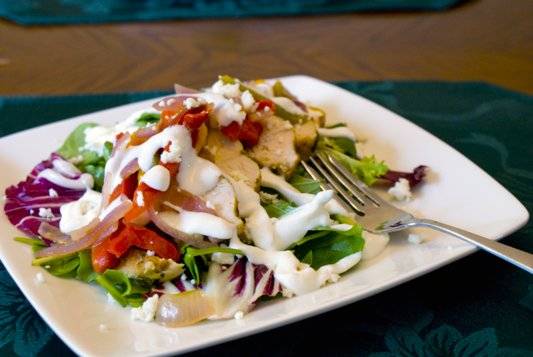 Yield: 4 servings
Chicken Fajita Salad
Prep Time: 10 minutes

Cook Time: 30 minutes

Total Time: 40 minutes
Ingredients
2 boneless, skinless chicken breasts
The juice of 2 limes
2 Tbsp olive oil
1/4 cup cilantro, including stems, chopped
1 Tbsp ground cumin
1 large red union, quartered and cut into strips
One red and one yellow bell pepper, sliced into strips
1/2 cup sour cream
1/2 cup queso fresco or goat cheese, crumbled
1/2 package Fresh Express® Baby Spinach
1/2 package Fresh Express® Spring Mix
The juice of 1/2 lemon
Salt and pepper to taste
Instructions
Mix lime juice, olive oil, garlic, cumin and cilantro together in a medium bowl or large mixing cup. Place chicken in a large zipper top bag and pour marinade over. Massage marinade thoroughly into chicken. Marinate in refrigerator for 1 to 2 hours.
Preheat oven to 350 degrees.
Brown chicken in 2 Tbsp of olive oil in a large oven proof skillet over medium high heat. Bake at 350 degrees until chicken reaches an internal temperature of 155 degrees, or until juices run clear when pierced. (About 25 minutes) Remove from skillet and cover with foil. Allow to rest at least 10 minutes.
In another skillet over medium heat, cook bell peppers and onions in 2 tbsp butter, turning often, until onions are just translucent. (About 5 minutes.)
Place greens in a large bowl and squeeze lemon juice over he top. toss to coat all greens. (Do not do this step in advance or your spinach will wilt!)
Place 1/4 of greens on 4 plates, slice chicken into strips and arrange on top of greens. Place peppers and onions over chicken. Add sour cream and queso fresco.
(Tip: Spoon sour cream into a zip top bag , seal and snip a bit off the corner to pipe the sour cream as shown in the pictures.)
Serve immediately.
Share and Enjoy!
Nutrition Information:
Yield:
4
Serving Size:
1
Amount Per Serving: Calories: 378Total Fat: 20gSaturated Fat: 8gTrans Fat: 0gUnsaturated Fat: 10gCholesterol: 82mgSodium: 388mgCarbohydrates: 25gFiber: 3gSugar: 17gProtein: 26g


What I would have done differently had I thought of it at the time:
I would have added some chili powder tot he marinade for a bit of heat. (Elise at simply Recipes suggests dicing a jalapeno into the marinade as well, but I was fresh out.)
In any event, the kids loved it and this salad will definitely be on the menu again in the near future.
Links to other recipes like this: