I think most people get nervous over the idea of cooking acorn squash for the first time. But in reality, acorn squash can be treated just like a pumpkin or potato (They're just a lot harder to peel.) we're just going to make a simple roasted acorn squash here, so lay those worries to rest!
So let's take a look at the unassuming acorn squash. Sure, you can toss it on your Holiday table as a decoration, or you can turn this gorgeous green and orange-skinned beauty into a side dish that everyone will rave about.
So how do you turn this…
Into this?
First things first, you'll have to break your acorn squash into something manageable. For me, there is no better tool for this than a good, solid cleaver. Yup. A meat cleaver does a solid job of getting your acorn squash into sections you can deal with.
So grab that cleaver and let's take this acorn squash down!
First, remove the stem of the squash. This should be quite easy to do, as they usually just pop off.
Put your acorn squash on a cutting board top side down. Place the blade of the cleaver in the center o the squash and give it a few solid taps. It should wedge its way into the squash a little, like this.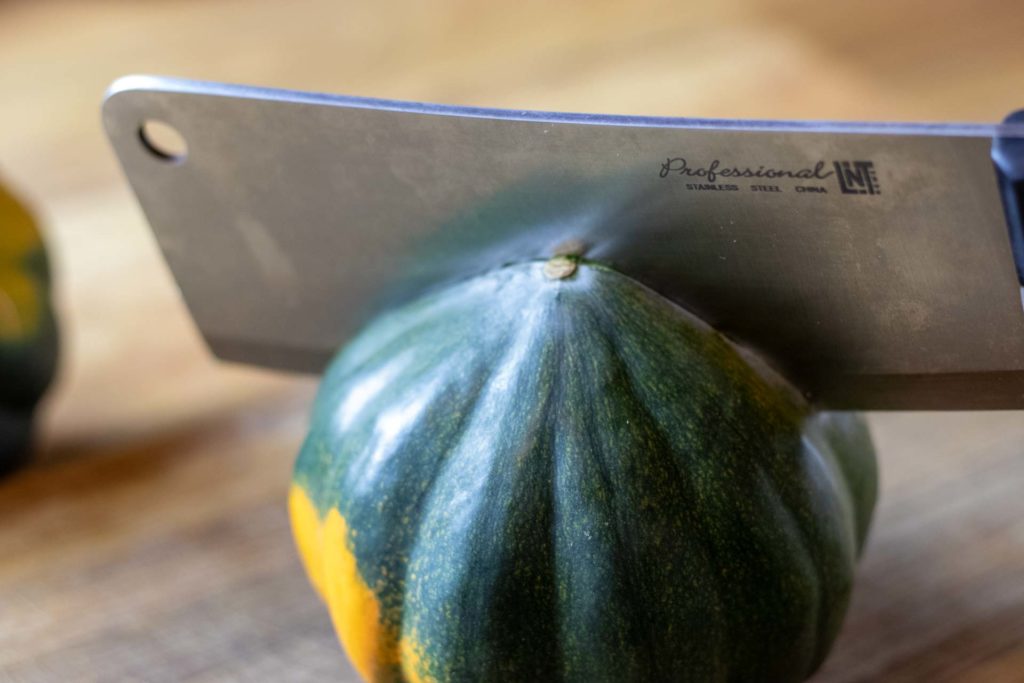 Then just give the cleaver a few good whacks, and your squash should split right in half, like so.
(*Note: If you don't have a cleaver, you might want to slice off the stem end and the very bottom of the squash before cutting it in half. This will make it more stable and easier to work with.)
Next, you'll need to address the seeds. Don't worry though. Unlike its cousin the pumpkin, getting the seeds out of acorn squash is quite easy. I just used a teaspoon, and it took about 5 seconds.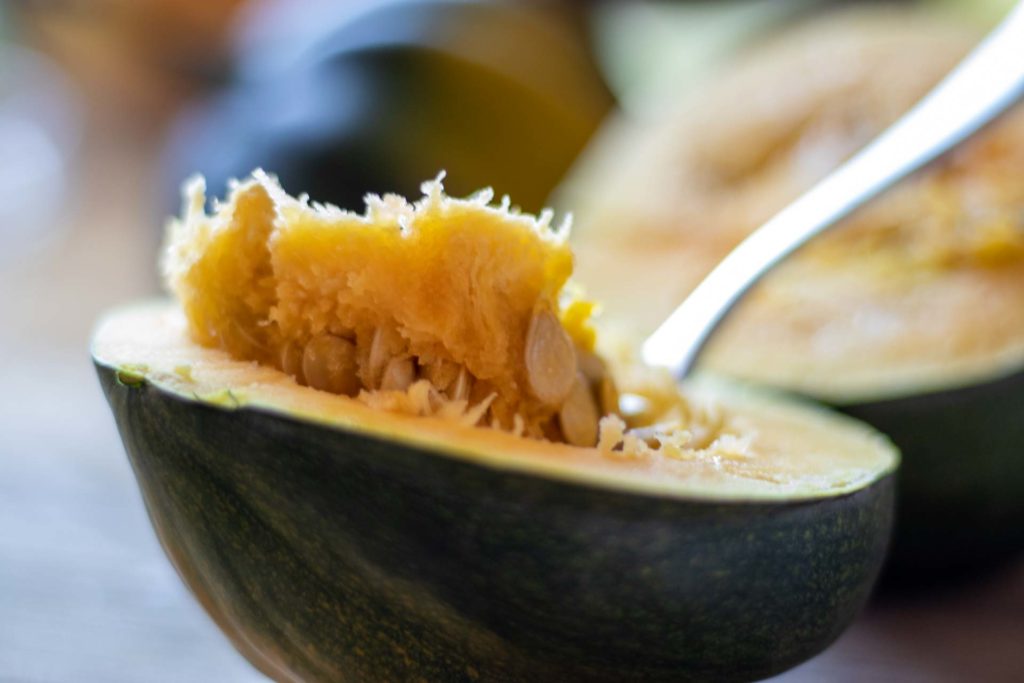 Acorn squash seeds are edible, so you can clean them and roast them up with some hot sauce if you want to, but I don't tend to like them, so I just toss them in the yard for the local wildlife.
What we're looking for is a beautifully cleaned squash, with no little stringy bits.
How do I cut the squash?
Now cut your squash into wedges. If you want, you can stop here and just roast your squash in wedges. (This makes it easier to get the skin off if you don't like it, too.)
For this, you're going to want a good sharp, thin-bladed knife. I love my Japanese-style nakiri knife for this, but you can use a boning knife or a carving knife with good results.
Next, cut your squash into bite-sized cubes and toss those bits onto a baking sheet or into a bowl. (I think baking sheets are easier to clean, so that's what I use.)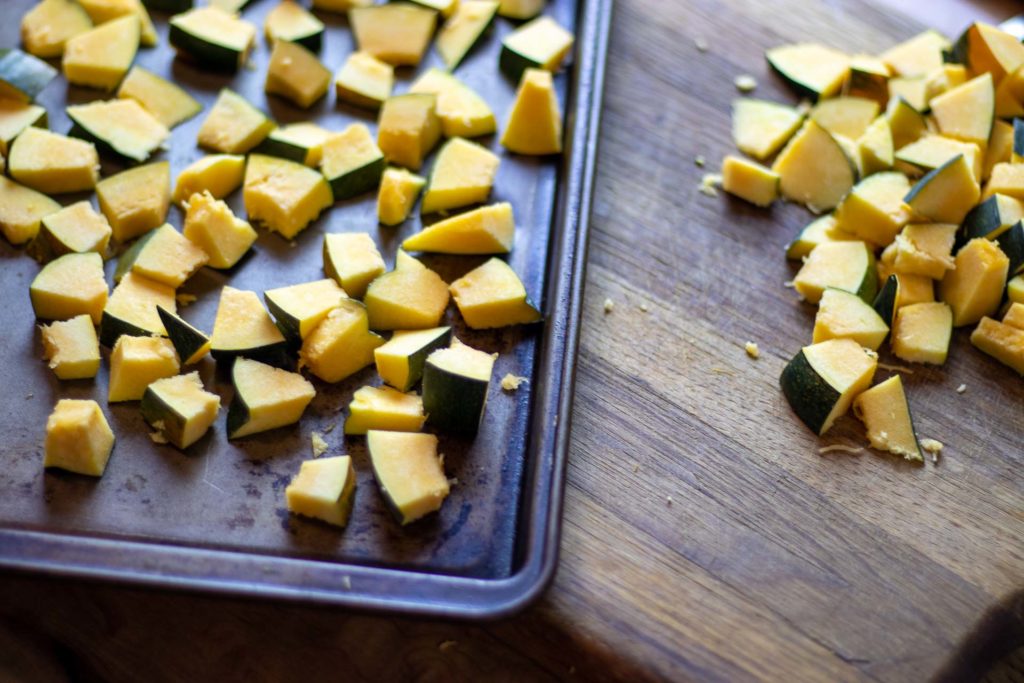 Give everything a good spritz with some olive oil spray, then toss and spritz again. (Or toss to coat in oil if you're using a bowl.)
Next, add a generous amount of coarse-grained salt.
Now just toss your squash into the basket or tray of your air fryer. (Or leave it on the baking sheet if you're using a regular oven.)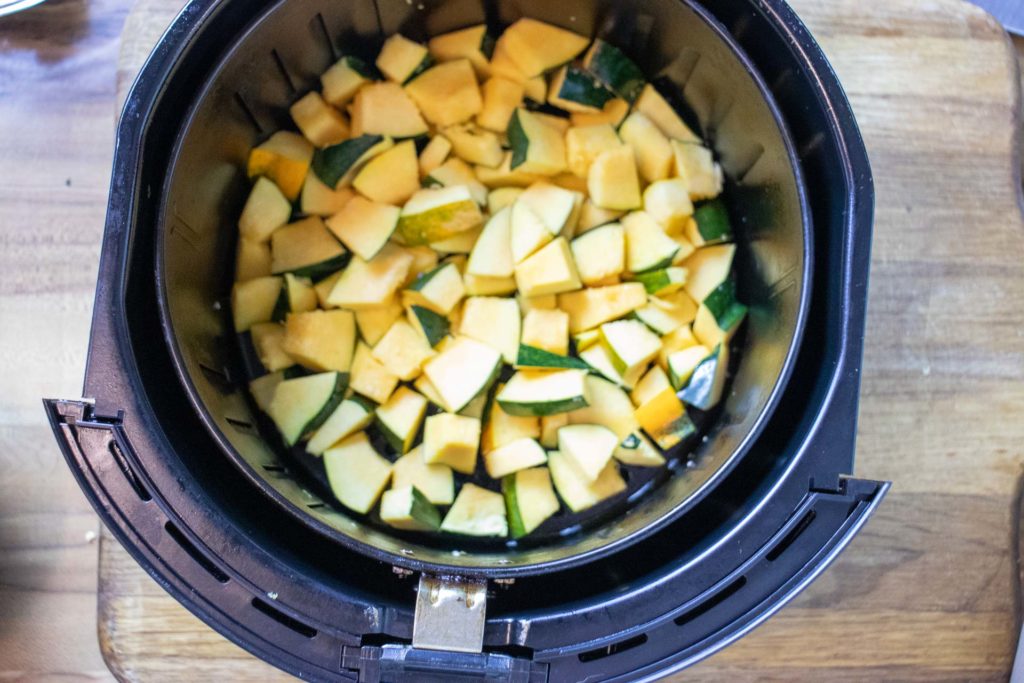 Set your air fryer to 375 degrees (190 C, or Gas Mark 5 if your air fryer works in Gas Mark.) Cook for 10 minutes, then toss well and cook for another 10.
Can I cook this in a regular oven?
Yup, of course, an air fryer is basically just a countertop convection oven, so aside from taking longer, a normal range works just fine.
If cooking in the oven, set it to 375 (190C, Gas Mark 5) and cook for 20 minutes, then flip and cook for an additional 20 to 25 minutes.
Look at these gorgeous little morsels!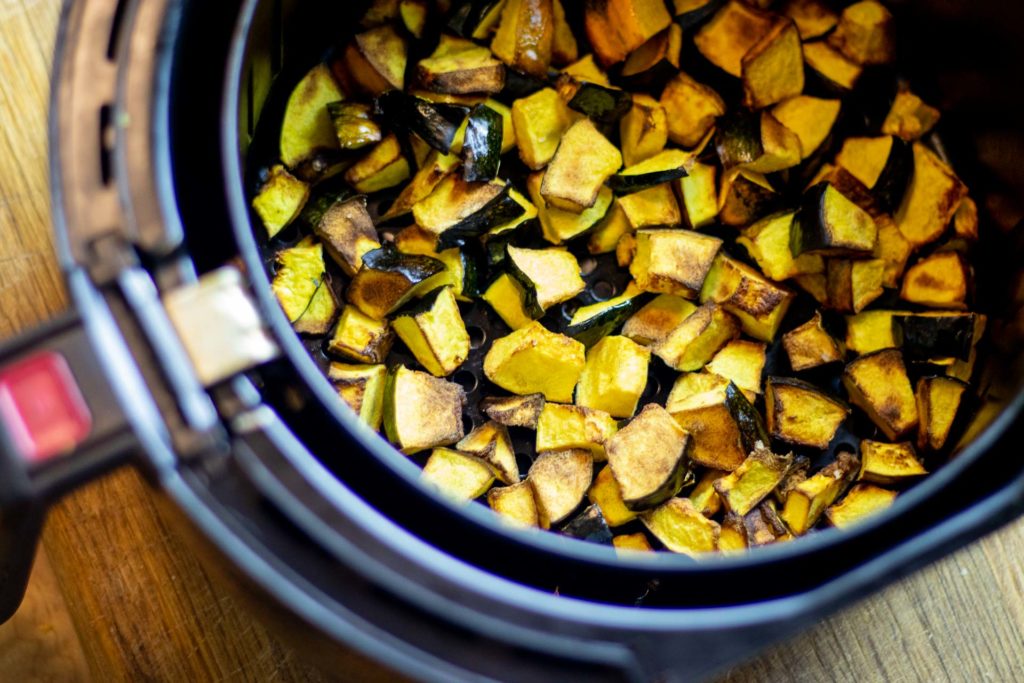 And now to add the finishing touch. Get that squash in a bowl and toss to coat in a few Tablespoons of honey. If you want to add any other flavors, now is the time to do it. (Think punchy flavors like curry powder, Garam Masala, Cayanne pepper, or Rosemary.)
And there you have it. Perfectly roasted acorn squash that's a perfect side for any savory dish. It's just as good at room temperature as it is hot, and is the perfect addition to a well-balanced lunchbox or fancy bento.
So be sure to think of this recipe the next time you need a great side for a family gathering!
Yield:

4 servings
Air Fryer Roasted Acorn Squash with Honey
Additional Time:
5 minutes
A deliciously sweet and savory side dish that's just as good at room temperature as it is on your holiday table. You'll be amazed at the flavor you can get out of the humble acorn squash. This is sure to be a new family favorite.
Ingredients
1 acorn squash
1 Tablespoon olive oil
1 Tablespoon coarse salt
2 Tablespoons honey
Additional spices or herbs, if desired
Instructions
Cut squash in half from bottom to top. Slice into wedges and cut into bite-sized pieces if desired.
Toss squash in olive oil and season liberally with coarse salt.
Roast in the air fryer for 20 minutes, turning once half-way through. (If using a regular oven, cook for 40 to 45 minutes, turning once.)
Toss with honey (and additional spices if desired.)
Recommended Products
As an Amazon Associate and member of other affiliate programs, I earn from qualifying purchases.
Nutrition Information:
Yield:
4
Serving Size:
1
Amount Per Serving:
Calories:

29
Total Fat:

0g
Saturated Fat:

0g
Trans Fat:

0g
Unsaturated Fat:

0g
Cholesterol:

0mg
Sodium:

2mg
Carbohydrates:

7g
Fiber:

2g
Sugar:

0g
Protein:

1g
What I would have done differently:
Not a lot, really. This is a very good recipe and it makes for a great addition to any table. I used to send this in my wife's lunches when she attended college, and it's always been a huge hit.
Depending on what I'm serving this with, I might add some curry powder or rosemary for a little pop of flavor. And I generally cook mine and then remove the peel, since neither my wife or myself are fond of it.
Do I have to use acorn squash?
Nope! Any squash will work in this recipe, and it would be awesome with sweet potatoes as well. Use your imagination!
Your thoughts:
What do you think? Is this a recipe you'd serve at a family dinner?
Either way, we'd love to hear your opinions. So please feel free to leave a comment below. And if you try this recipe, be sure to rate it! The recipe ratings help us decide what we've done right so we know what to make next.
Also, be sure to check us out on all the social sites. Just do a quick search for UncleJerrysKitchen or click on the social media icons at the top of the site. You'll find us there.
Love Y'all, and until next time,
Food is love. Share and Enjoy!