This post really isn't really a recipe, it's more of a How-To. It just didn't seem to fit any other category.
I've said it before and I'll say it again, I'm not really a baker at heart. I can bake, but the process of measuring everything knowing full well if I mess up by just 1/4 tsp somewhere could ruin my whole afternoon is just a little frightening to me, but I manage.
Once I have managed to bake something that comes out well, I'm then faced with more baking skills that I'm not entirely comfortable with, like cutting cake layers in something like an even and eye pleasing way. My first several attempts at this were abysmal at best. Oh, the cakes were good, but they weren't pretty by any stretch of the imagination.
My saving grace? The crafts section at the BigScaryMegamart. I bought a set of square wooden dowels designed for crafting and viola! I'm a perfect cake slicer!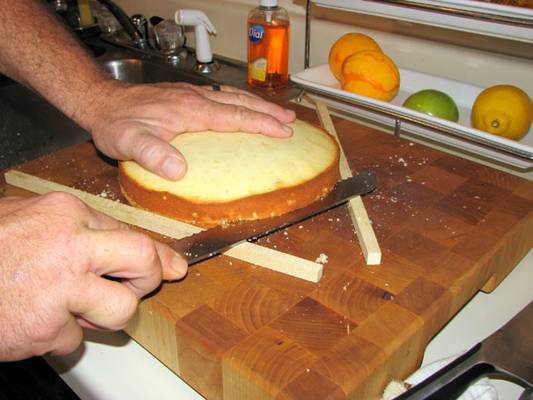 The trick here is to find a pair of dowels that are almost exactly 1/2 the height from the base of a cake layer to the point at which the cake starts to dome. Once you've got the proper dowels, just place on either side of the cake layer and cut carefully through the center. There you have one perfectly level cut.
Now just slide the bottom out of the way and repeat the procedure on the remaining piece. (which, if everything went right should be 2/3 the height of the slice you just made.) Discard the top, or better yet, save it for Parfait!
I hope this little trick helps someone else out this year when we're all pounding out cakes for the holidays. I know that it's a lifesaver for me.