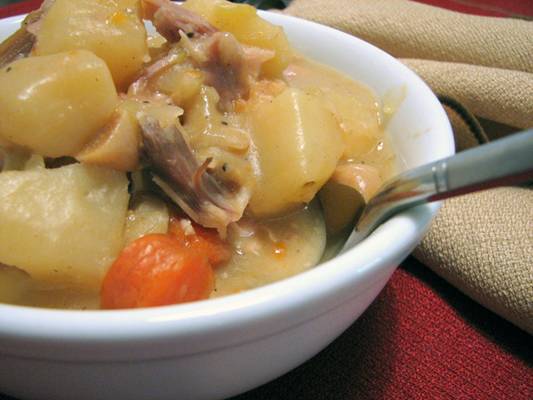 I Promise that this will be the last of my leftover turkey recipes. By now we're both most likely getting tired of turkey. Personally, I'll be buying another while they're still on sale, but it will be getting cut down into component parts and frozen for when the urge strikes later in the year.
This is a simple method for taking those last little bits of turkey and turning them into something hearty and filling at the same time. Total cook and prep time are less than 40 minutes, perfect for a quick meal after work,or a good hot lunch on the weekends. The addition of a ton of potatoes takes the focus off of the turkey and puts it on the vegetables which, in this case is exactly where it belongs.
Leftover Turkey Stew Recipe
Ingredients
1/2 to 3/4 pounds of leftover turkey, torn into bite sized pieces.
2 carrots, cut in 1/2-inch pieces.
3 celery stalks, cut in 1/2-inch pieces
1 onion, chopped.
3 cloves garlic, minced.
4 potatoes, cubed in bite-sized pieces.
32 ounces chicken or turkey stock.
1 tsp. dried sage.
1 tsp. curry powder.
2 Tbsp extra virgin olive oil.
Salt and pepper to taste.
Method
Heat olive oil in a soup pan over medium heat. Add garlic and cook for approximately 1 minute or until just browned. Add onions and cook until just translucent. Add celery, carrots potatoes and stock. Bring to a boil, reduce heat to low and simmer, covered for approximately 15 minutes, or until potatoes are nearly frork tender. Add sage and curry powder, stir to combine, cover and cook an additional 5 to 10 minutes.
Add turkey, stir to combine and cook just until turkey is heated through. Season to taste, remove from heat and serve immediately.
Plating:
I just tossed this in a bowl and ate it, but for a more festive approach, top with some fresh chopped parsley or celery leaves. Serve with a nice crusty bread or clover leaf dinner rolls.
What I would have done differently had I thought of it at the time:
Nothing, per-se. At this point it's hard for me to think turkey at all. Perhaps I'll revisit this later in the year and see what I can come up with…
Links to other recipes like this: