Just the mention of white chocolate and macadamia nuts together takes my mind rushing back to the 80's and the Mrs. Fields Cookie store in the corner of the mall where I worked at the time. I was fresh out of high school and working as a shoe salesman. Lunch was either going to be sushi (also from a little place in the same mall) or a bag of those cookies. It was a 50/50 proposition. If I smelled the cookies first, my willpower caved every time.
When my wife told me a friend at work who had just recovered from surgery had requested macadamia nut cookies those cravings came back. In spades. Not necessarily for the super-sweet cookies of my youth, but for something a little more subtle, more elegant, more adult.
My wife, as usual, delivered something amazing. My wife is an excellent baker. These white chocolate macadamia nut cookies reflect that. She switched out just one ingredient from a base recipe and transformed these cookies from simple and decadent to sublime with a hint of sophistication.
Baking is an art, and she's a master of that art.
These cookies are perfect with a cup of good, strong coffee and a few friends to share them with. They were a hit at the office and with my kids, who gobbled them up nearly before I got pictures of them. But really, can you blame them?
What sweets or treats do you associate with childhood? For me it's plums from my Grandfather's garden and a few choice treats made by my mom and my aunts, but everybody has something that makes them feel like a kid again. What dish is that for you? We'd love to hear about it.
And Now for the printable recipe: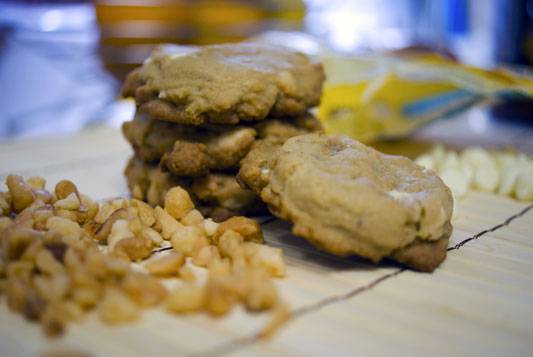 Yield:

32 cookies
White Chocolate Macadamia Nut Cookies
Ingredients
1 cup butter, softened
3/4 cup packed light brown sugar
1/2 cup white sugar
2 eggs
1/2 tsp vanilla extract
1/2 tsp rum extract
2 1/2 cups all-purpose flour
1 tsp baking soda
1/2 tsp salt
1 cup coarsely chopped macadamia nuts
1 cup coarsely chopped white chocolate
Instructions
Preheat oven to 350 degrees.
In a large bowl, cream together the butter, brown sugar, and white sugar until smooth. Beat in the eggs, one at a time, then stir in the vanilla and rum extracts. Combine the flour, baking soda, and salt; gradually stir into the creamed mixture. Mix in the macadamia nuts and white chocolate. Drop dough by teaspoonfuls onto ungreased cookie sheets.
Bake for 12-15 minutes in the preheated oven, or until golden brown.
Nutrition Information:
Yield:
32
Serving Size:
1
Amount Per Serving:
Calories:

178
Total Fat:

11g
Saturated Fat:

5g
Trans Fat:

0g
Unsaturated Fat:

5g
Cholesterol:

28mg
Sodium:

132mg
Carbohydrates:

19g
Fiber:

1g
Sugar:

11g
Protein:

2g
What I would have done differently had I thought of it at the time:
I think next time I'll trade out half of the butter for shortening. These little guy were just a bit "cakey" for me. still great, but they didn't spread out at all. Other than that, I have no complaints!
Links to other recipes like white chocolate macadamia nut cookies: