Waking up in the morning should never be a dull affair rather, it should be the start of something great, right? Anything with a copious amount of Mexican chorizo is definitely exciting. See where I'm going here? why not start your day with a zesty punch of flavors that will keep you going all day long. (Or at least until lunch time.)
This dish was directly inspired by my friend Ben at What's Cooking and his recipe for Huevos a la Mexicana. One look at that glorious image and I wanted something similar as soon as I could get it cooked. Trust me guys, this is the good stuff right here.
My version relied on what I had hanging out in the house. I'd bought some Mexican chorizo and Anaheim peppers a few days before they definitely fit, so in they went. I had some salsa and I always have cilantro, tomatoes and seasoning blend vegetable mix in my freezer, so I was on my way to a dish that I'll most definitely make again.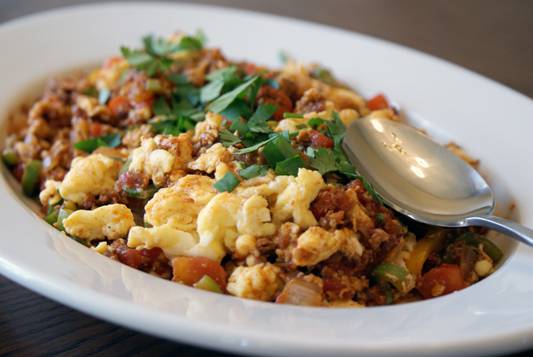 Yield: 2 servings
South American Breakfast Scramble
Prep Time: 3 minutes

Cook Time: 6 minutes

Total Time: 9 minutes

Quick, simple and incredibly delicious. This South American breakfast scramble is sure to brighten your day, whether you eat if for breakfast, lunch or dinner.
Ingredients
4 Tbsp cold water
4.5 oz Mexican beef chorizo
1 Anaheim chili, seeded and chopped
4 tbsp salsa
1/2 of one 14.5 oz can diced tomatoes
1/2 cup seasoning mix vegetables
4 large eggs
1/2 tsp smoked paprika
1/4 tsp ground cumin
Salt and pepper to taste
Fresh cilantro for garnish
Instructions
Cook chorizo in a large skillet over medium low heat until all fat is rendered. Pour into a fine mesh sieve to drain. Cook seasoning blend vegetables and peppers in the same pan with just a splash of olive oil until onions are translucent.
Whisk eggs and water together and add to pan. Cook, stirring constantly until eggs are fully cooked and fluffy. Add all ingredients and stir to combine.
Serve garnished with fresh cilantro.
Share and enjoy!
Nutrition Information:
Yield:
2
Serving Size:
1
Amount Per Serving: Calories: 807Total Fat: 52gSaturated Fat: 18gTrans Fat: 0gUnsaturated Fat: 27gCholesterol: 479mgSodium: 20701mgCarbohydrates: 36gFiber: 10gSugar: 9gProtein: 50g
What I would have done differently with this breakfast scramble:
The chorizo in this recipe wants to turn everything in sight a ruddy red color, so next time I think I'll cook the eggs separately and fold together at the last-minute for prettier eggs. Aside from that, if you like the flavor of the chorizo oil in the eggs, this is perfection.
This was amazing just as described, but could definitely benefit from additions like avocado. Feel free to mix it up. Since this is a dish that begs for substitution, just try what you've got on hand and I'm sure you'll end up with a winner!