Ah, the sweet aroma of pumpkin kissed with cinnamon, cloves, and nutmeg drifting through the house. It smells like fall and winter, doesn't it? It does here, and these pillowy cake-like pumpkin spice cookies capture all the flavors of the fall's favorite ingredient, the pumpkin. It's almost like having a portable pumpkin pie at your fingertips.
If you're a pumpkin fan, you're going to be in heaven after your first taste of these delectable treats. The delicate flavor of pumpkin with the sweetness of cinnamon and sugar is sure to delight anyone who's lucky enough to try them. They were a surprise hit in our house, even for my wife, who has an outspoken dislike for all things related to the winter squash. (Though she loves other varieties.)
These cookies are light, airy and leave a lingering hint of cinnamon and cloves on the tongue. They pair perfectly with strong coffee, tea, or milk, and the kiddo's devoured all 60 before I had a chance to give any to our neighbors. You know they're good.
With that, I'm going to let you have the recipe so you can be amazed by these treats yourself.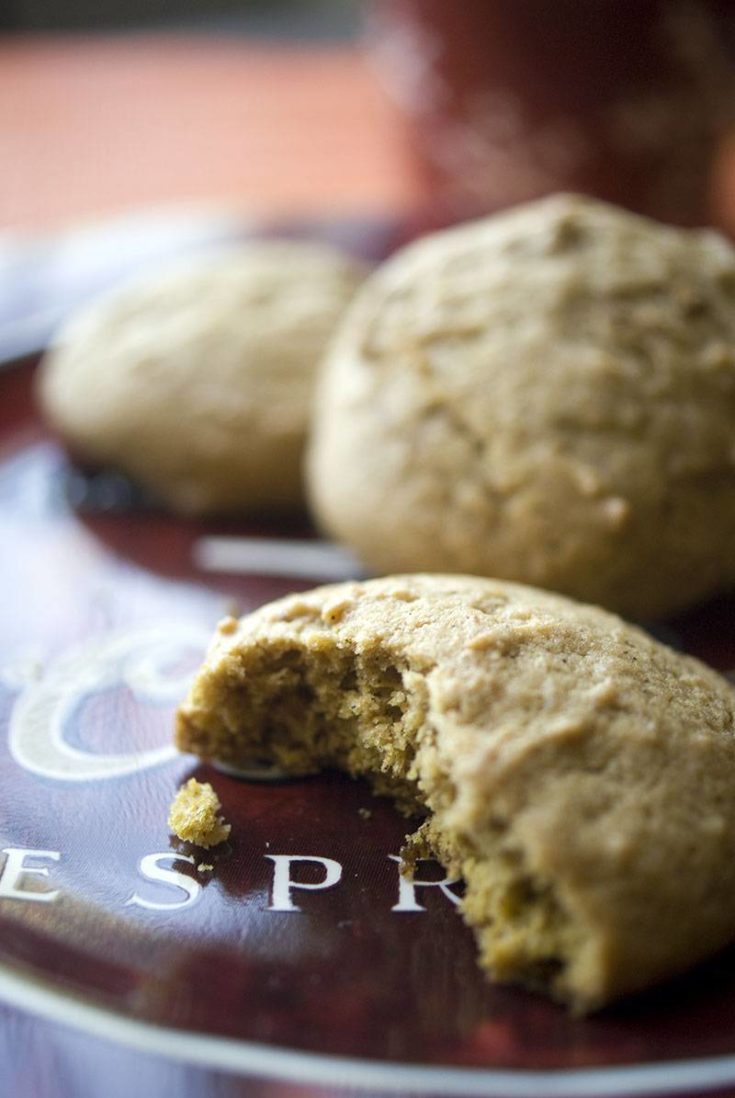 Yield: 30 cookies
Pumpkin Spice Cookies
Prep Time: 5 minutes

Cook Time: 15 minutes

Total Time: 20 minutes

Subtly sweet and spicy, these pillowy pumpkin spice cookies are sure to make a happy addition to any fall or winter afternoon.
Ingredients
1 cup (2 sticks) unsalted butter, softened
1 cup granulated sugar
1 cup brown sugar
2 large eggs
1 teaspoon pure vanilla extract
1 cup pumpkin puree (not pumpkin pie filling!)
3 cups all-purpose flour
2 teaspoons baking soda
1/2 teaspoon salt (or a good pinch)
2 teaspoons ground cinnamon
1/2 teaspoon ground ginger
1/4 teaspoon ground nutmeg
1/4 teaspoon ground cloves
Parchment paper, silicone baking mats or nonstick cooking spray
Instructions
Heat oven to 350 degrees. Line cookie sheets with parchment paper, silicone baking sheets, or spray with nonstick cooking spray.
Beat butter until smooth. Add both sugars in thirds, beat until light and fluffy (A stand mixer works best, but it can be done by hand, too.) Beat in eggs one at a time. Mix in pumpkin puree, and vanilla.
In a separate large bowl, mix together the flour, baking soda, salt, cinnamon, ginger, cloves and nutmeg using a whisk. Slowly add the flower mixture to the batter in thirds, stirring until fully incorporated before adding the next third.
Drop dough by heaping tablespoons (or a small ice cream scoop), onto lined cookie sheets about 2 inches apart. Bake for 15-18 minutes, until cookies are just browned around the edges. Allow to cool for two minutes on the cookie sheet, then transfer to wire racks
Notes
This is a very soft, moist cookie, so when storing them, be sure to layer the cookies between sheets of parchment to avoid flattening them or having them stick together.
Nutrition Information:
Yield:
10
Serving Size:
1
Amount Per Serving: Calories: 320Total Fat: 3gSaturated Fat: 1gTrans Fat: 0gUnsaturated Fat: 1gCholesterol: 40mgSodium: 388mgCarbohydrates: 69gFiber: 2gSugar: 39gProtein: 5g


What I would have done differently had I thought of it at the time:
These pumpkin spice cookies would be awesome with a glaze drizzled over the top. I'd go for this glaze recipe if I were to do that. Otherwise. This recipe is definitely a keeper in all respects.
Your thoughts:
Do you have a love of pumpkin? If so, what's your favorite use for it? If not, what do you make in its place? let us know in the comments.