I love cooking historic recipes. Whether it's traditional Irish soda bread from the 1800's, or Chicken Pilaf with Cilantro circa 1930's America. Old recipes fascinate me. This recipe for poached whitefish is an adaptation of a 1670's recipe from Martha Washington's Booke of Cookery originally titled "Boiled Trout".
The thing about recipes from this era is that they don't contain incredibly detailed instructions. It's common to see the author say "add a pinch", or use a bit of this", and not give a specific measurement.
In this recipe, Mrs. Washington simply says to "use as much butter and white wine as desired, and as much salt as is needed to season the sauce."
If you think about it, this makes a lot of sense. She probably had to vary the recipe every time trout was available, depending on how large the catch was for the day. So it's far more about method and the amounts of herbs and spices that Mrs. Washington had on hand at the time.
Enough with history, let's make poached whitefish!
This recipe is primarily about 2 things, bread and sauce. Yes, the fish is the key flavor component, but the bulk of the meal is actually in the toasted bread, or "sops." I would assume that in the time this was originally made these would have been full-sized slices of bread, but for this poached whitefish recipe we'll be using baguettes.
Gather together your ingredients. You'll need some bread, some salt, some good quality butter, about 2-inches (3 cm) worth of fresh ginger, a few sprigs of fresh rosemary, a little white wine, and of course, some fish. I used Swai fillets for this recipe, but any whitefish will do here, so feel free to use cod, trout, tilapia, milk fish, or whatever you happen to have available.
First, cut your bread into fairly thick slices. We'll be using this to soak up all the amazing sauce we're creating, so they need to be a bit sturdy.
Then chop up your whitefish into about 1-inch cubes. (Though I'm sure this recipe would work with whole fillets, also.)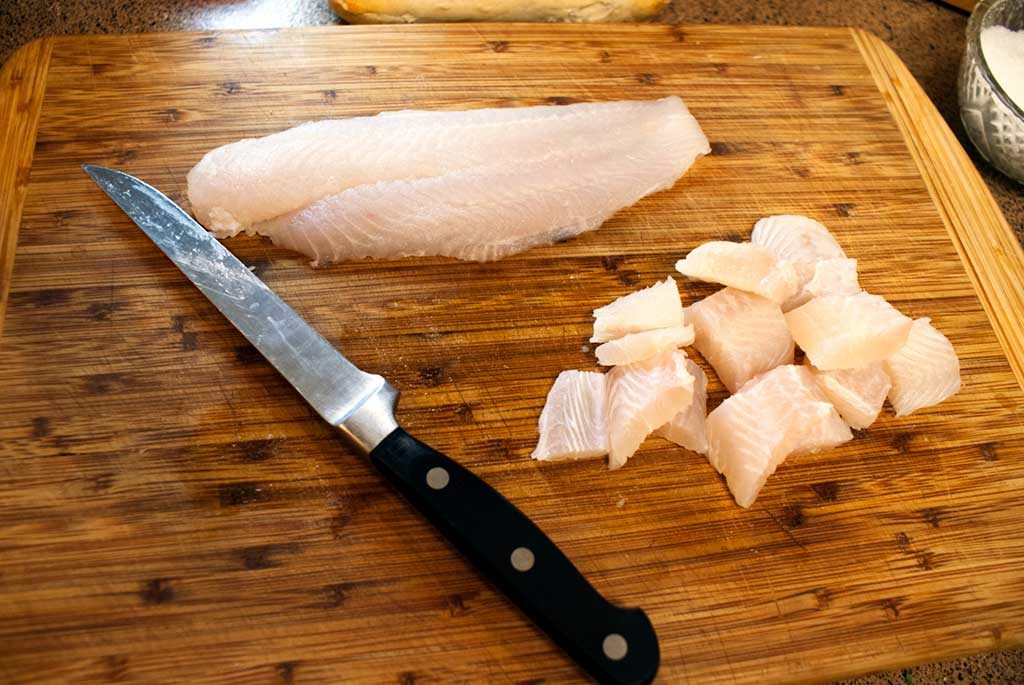 Butter your sops in a heavy pan and toast until golden, then set aside.
In the same pan, add your white wine, butter, ginger, rosemary, and salt to taste. Bring it all to a boil.
Turn off the heat, add the fish and baste until just cooked through. (About 2 minutes.) You'll know it's done when it's just barely opaque all the way through.
Then, just pop your lovely little croutons into a bowl or on a plate, and spoon a heaping helping of poached whitefish and as much of the amazing sauce as you'd like. It's that simple, but it's far more amazing to taste than it is to look at.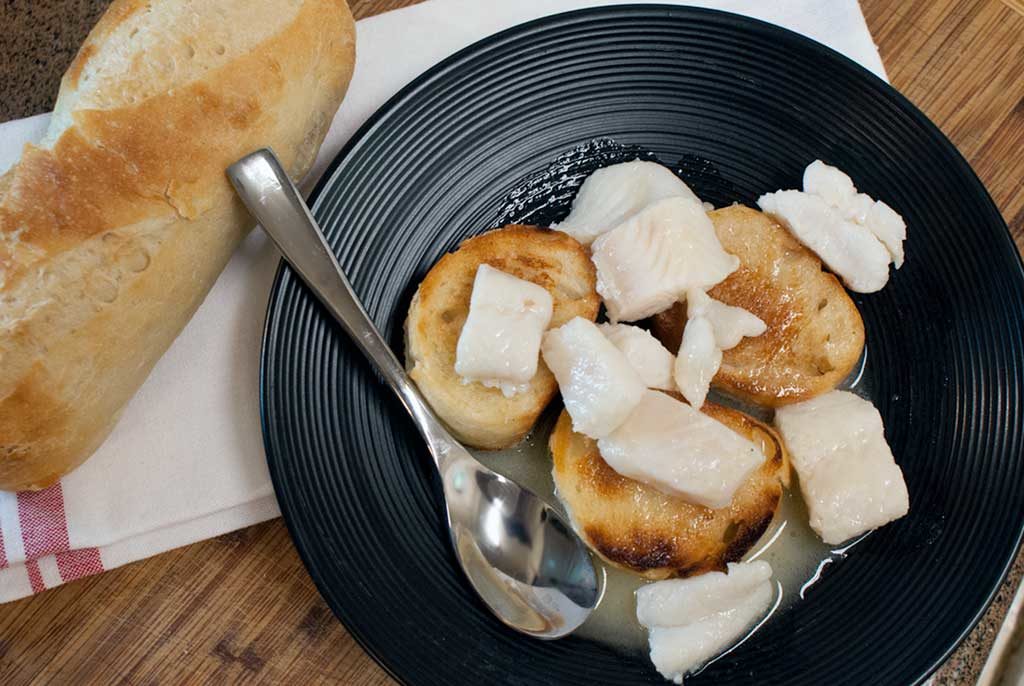 Before I get to the recipe, I'd like to share the video that inspired it. This comes from Townsends, a YouTube channel dedicated to historical recreations and recipes. It's well worth your time, so much so that I went down a rabbit hole while going to get the link when I realized there were a few new videos. It's a ton of fun and I highly recommend it.
Here's the original video for "Boiled trout"
I think my version does credit to Mrs. Washington, and to Mr. Townsend. I hope you agree.
And now the printable poached whitefish in butter & white wine sauce (A.K.A. "Boiled Trout")
Yield:

4 servings
Poached Whitefish in Butter & White Wine Sauce (A.K.A. "Boiled Trout")
Simple can be deceivingly delicious, and this dish is proof of that. 7 ingredients is all it takes to make what is probably the best poached whitefish you'll ever try. A sure hit with anyone who loves seafood.
Ingredients
2 whitefish fillets, about 1/3 pound Any whitefish will do, including cod, swai, tilapia, trout, milkfish, etc.
1/2 of a baguette or other crusty loaf of bread, cut into 1/2 inch rounds.
1 Tablespoon butter, for toasting bread
1/2 cup butter, for sauce
1 cup white wine
1 2-inch knob of ginger, peeled and sliced or grated.
2-4 sprigs fresh rosemary
Salt, to taste
Instructions
Instructions
Slice bread into rounds. Butter liberally and toast in a heavy skillet over medium heat until well browned on both sides. Set aside.
Cut whitefish into approximately 1-inch pieces.
Melt butter in the same skillet used for the toast. Add white wine, rosemary and ginger. Bring to a boil. season to taste with salt.
Remove ginger (if sliced) and rosemary. Remove from heat and baste the fish with the sauce until just cooked through. (About 2 minutes.)
Lay a few rounds of toast in the bottom of a bowl. Spoon over a generous amount of fish and sauce. Garnish with fresh rosemary if desired. Serve immediately.
Share and Enjoy!
Notes
Cooking times for the fish will vary depending on the thickness of your whitefish fillets. Just baste gently until the fish is opaque. If necessary, return the pan to low heat while you baste your fish, but take care not to boil it.
Nutrition Information:
Yield:
4
Serving Size:
4 servings
Amount Per Serving:
Calories:

1476
Total Fat:

55g
Saturated Fat:

22g
Trans Fat:

1g
Unsaturated Fat:

26g
Cholesterol:

314mg
Sodium:

1956mg
Carbohydrates:

122g
Fiber:

7g
Sugar:

15g
Protein:

107g
What I would have done differently:
Yeah. About that. Nothing.
This recipe is about as simple as it gets but it's also as amazing as anything you'll find in a great restaurant. The fish is perfectly cooked, tender, and so full of flavor that I have a hard time describing it without resorting to words like foodgasm.
It may not look like much, but it's everything you could want in a main dish and more. Seriously, just look at this!
Show a little love, people!
As always, I love you guys. You're the reason I've been fortunate enough to do this for 10 years. I don't know where I'd be without you. I also love sharing new recipes and tips with you. I hope you found this useful, or funny, or both.
If you did, please take a second to share this recipe on your various social media platforms.
Please, drop us a comment and leave a rating on the recipe. We love to hear from you.
Until Next time,
Food is love. Share and enjoy.