"This post is part of a social shopper marketing insight campaign with Pollinate Media Group®, Birds Eye®, and Tyson® but all my opinions are my own. #pmedia #FastFreshFilling http://my-disclosur.es/OBsstV"
It' Summer. For the kids, that means time to relax, play games or hang out with friends. It's a time for staying up late and sleeping in. Summer is about letting go of the pressures of school life and just having the chance to express the children that they are inside.
Yeah. That must be freakin' nice.
Parents view the whole summer thing a little differently.From a grown-up perspective summer means little ones are under foot all day. Usually along with a few other pairs of little feet as well, since friends come and go constantly. It means adjusting the schedule to avoid waking sleeping teens and dealing with a seemingly never ending onslaught of "Mom, can I have a snack?", "Mom,I really need a new…", "Mom, can I get a ride to…", "MOOOOOOOOM!"
(Substitute dad in the above barrage in my case, since I happen to be the one who works from home.)
Summer for adults is busy. Usually twice as busy as ay other time in the year. And to top that off, it's hot and humid. And everyone still wants dinner. A hot dinner. One with a bit of flair, especially when said work-at-home dad happens to be a food blogger.
It's enough to make me crazy.
It's this time of year that I turn to my popcorn maker microwave.
There was a time that I never would have thought of making a full meal in a microwave. The only foods you could find in the store were brimming with preservatives or mystery ingredients that I'm really not comfortable feeding my family. Ever.
Luckily that's not the case any longer. A quick trip to your local Walmart and a few pantry items is all it takes to put a satisfying meal on the table in under 20 minutes. Without having to crank the AC higher (Or die of heat stroke.) My go to in this department is Tyson® chicken and Birds Eye® vegetables. Honestly, I always have at least one package of the veggies in the freezer, because you never know when a craving for broccoli will hit.
So what did I go with? For this meal, I grabbed a pack of Bird's Eye Steamfresh® protein blends Asian style (to go with the miso glaze chicken.) These veggies are perfect for a side and come with added protein to help fill you up and keep you moving. Sounds like a winner so far. For the chicken we simple used Tyson Grilled and Ready® chicken breast fillets. Because they're chicken, plain and simple. So You can use 'em for anything you'd use chicken for.
Makes sense, right?
Both products are exactly what they say they are on the package. Just read the ingredients. You'll see things like boneless "white meat chicken" and "broccoli, carrots, wild rice, soy beans". What you won't see is a list of fillers or mystery ingredients that you couldn't pronounce without a degree in food foolishness. That makes me happy.
Of course as a cook I like to add my spin on things that come out of my kitchen, but when you have simple ingredients to start with, that's not a problem. With just a few little additions, the two packages of ready-to-go convenience food below became a full, wholesome dinner.
First, since I knew I was going to do a miso glaze, I whipped it up really quick. Just add a clove of minced garlic to a little miso and a splash of mirin and mix well. I decided I wanted some green onions to top everything off with, so I chopped that, too.
After looking over the packages, it was obvious that my choice of veggies was going to take the longest to cook in our little antique nuker, so In it went while I looked after the chicken.
See. It's just chicken. Nothing odd-looking about these little guys. I'd guess about 3.5 ounces a piece. The particular variety in question here is Tyson Grilled and Ready@ chicken breast fillets, but you could use strips or chunks for this just as easily.
Take a little of that miso glaze you whipped up a minute ago and spread it on the chicken. (Not as thick as pictured below. Go easier on it! This turned out a little strong and we had to scrape some off. That's wasteful and we don't want that.)
When the veggies are done, toss the chicken in the microwave and follow the directions. (Just leave the veggies in the bag. They'll still be plenty warm when the chicken is done, trust me.)
OK, now open the veggies. drop in a bowl and stir to make sure the sauce covers everything evenly. Then Add the veggies and the chicken to the plate, sprinkle with green onions, and enjoy. You're done!
Yep, you just made microwave miso glazed chicken. In about 4 minutes. Not too shabby.
OK, the proper recipe.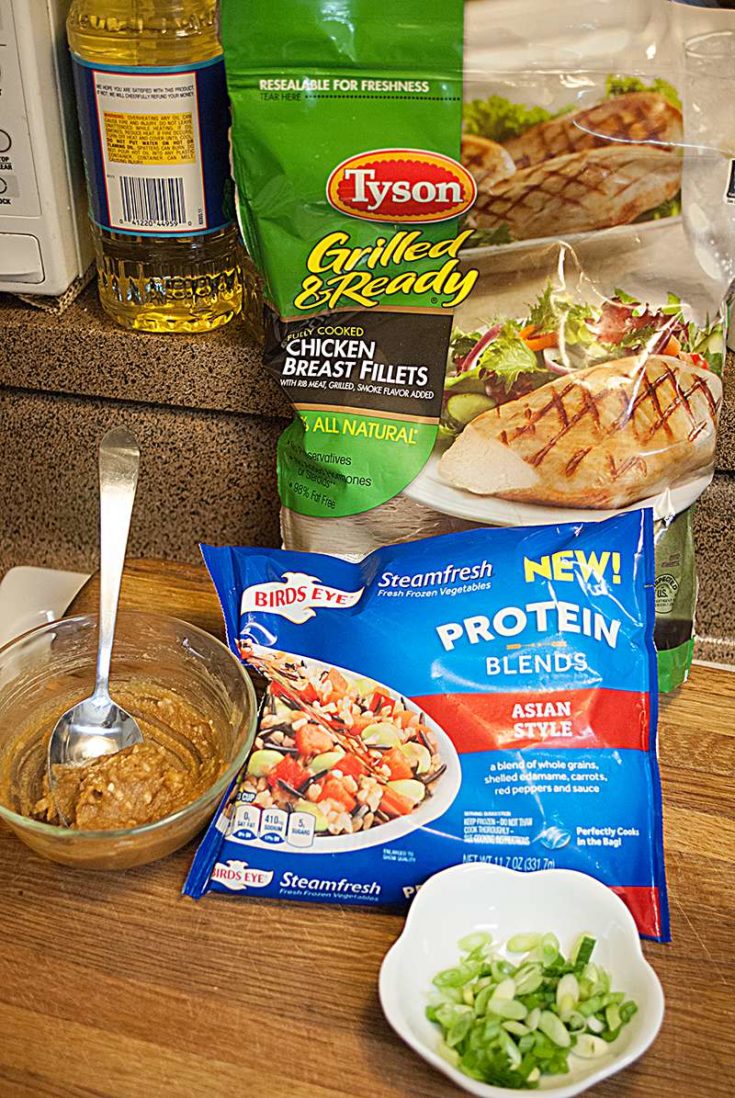 Yield: 2 servings
Microwave Miso Glazed Chicken and Vegetables
Prep Time: 5 minutes

Cook Time: 12 minutes

Total Time: 17 minutes

Can you throw together a great dinner using just the ingredients you have lying around the house and have it on the table in under 20 minutes? Yes you can. This microwave miso glazed chicken and vegetables doesn't skimp on flavor, takes almost no time or effort, and won't heat up your house in the summer!
Ingredients
1 Tablespoons Miso paste
1 teaspoon mirin
1 clove garlic, minced
2 green onions, chopped
1 (11.7 ounce) package Birds Eye Protein Blends Asian Style
2 Tyson Grilled and Ready Chicken Breast Fillets
Instructions
Mix the miso, mirin and garlic in a small bowl, Set aside. Chop the green onions and set aside.
Cook the vegetables on a microwave safe plate according to the package directions. Set aside.
Coat chicken breast fillets with miso paste mixture and cook according to the package directions.
Plate, top with green onions and serve.
Nutrition Information:
Yield:
2
Serving Size:
1
Amount Per Serving: Calories: 167Total Fat: 3gSaturated Fat: 1gTrans Fat: 0gUnsaturated Fat: 1gCholesterol: 44mgSodium: 383mgCarbohydrates: 6gFiber: 1gSugar: 2gProtein: 29g
What I would have done differently:
In the end, this chicken is freaking awesome. I wasn't sure I could pull off a microwave miso glazed chicken that would taste half as good as a traditional roasted version, but it really does work well. Just go easy on the miso or you'll end up having to remove some at the end, because it'll end up too salty.
That's it for today guys. I hope we've managed to inspire you to take another look at the freezer section of your local store and check out some of the new offerings. You'll find a whole slew of healthier options in there now, and you might just save yourself some time on a busy summer night with a little help from a steamer bag.
Do you have a healthy go-to microwave recipe? We'd love to hear it if you do. Drop us a line in the comments, on Facebook or on Twitter.