Are you looking for a way to take your taste buds on a trip to the Caribbean? If so, we've got the perfect dish for you. This curry is full of deep, rich flavors and complex notes that will make you think someone slaved for hours to get it just right. (You don't have to tell anyone that it's super-simple to make.)
This was an insane hit here in Uncle Jerry's Kitchen. Even the resident teen and pre-teen asked for seconds, which is a shock in itself. It really is that good. If you have ever loved a curry, you absolutely must try this one, and soon.
Very soon
But this meal has a bit of a back story. You see, I hadn't planned to make this at all. The original plan was to make up a batch of Cabrito Barbacoa (slow cooked spicy shredded goat), but half of the goat I'd purchased had gone bad. Despite the fact that I pride myself on being able to just get in there and wing it, I have to admit that after having already planned this meal out, I was at a bit of a loss.
I rushed to twitter and called out to Hank Shaw for some advice, and this is what we came up with. Yes, Hank is really that nice of a guy. And… Even if we don't like to admit it, even the best of us seat of our pants cooks can benefit from the inspiration from others.
If you can't find goat in your area, you can definitely substitute lamb, though goat has a much more intense flavor. Take a look around to see if there's a specialty food market locally. Good choices would be a Hispanic or Caribbean food shop, but other specialty shops might have goat as well. Give them a call and ask if they have goat. You'll be glad you did!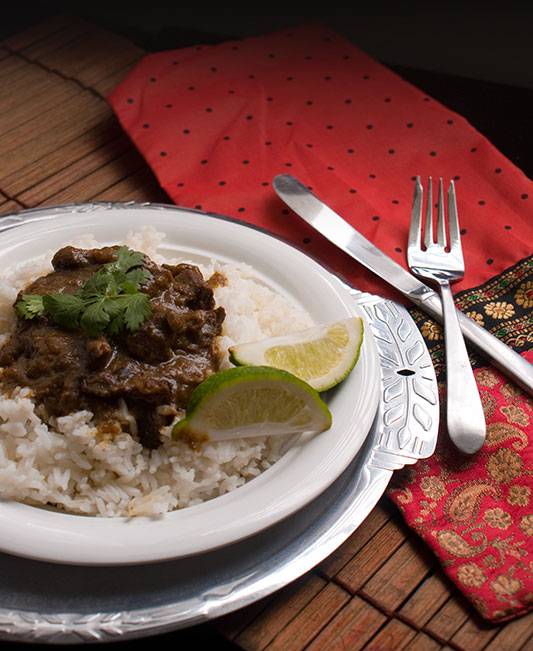 Yield: 8 servings
Jamaican Curried Kid (Goat Curry)
Prep Time: 10 minutes

Cook Time: 2 hours

Total Time: 2 hours 10 minutes
Ingredients
2 tbsp. cooking oil or lard
1 pound boneless goat, mutton or lamb, cut in 1 inch cubes
2 large onions, peeled and finely sliced
2 tsp ground allspice
1 tsp ground cayenne pepper (If you like it really hot.)
2 cups vegetable or chicken stock
1 Tbsp red wine vinegar
1 Tbsp curry powder (or more, if you like)
Salt and pepper to taste
1 bay leaf
1 Tbsp chipotle pepper sauce
Cooked white rice
Cilantro and lime as garnish (Optional, for color and a bit of zing)
Instructions
Brown meat quickly in oil. Remove then cook onion in oil until soft but not brown. Stir in curry powder allspice and cayenne (if desired). Cook, stirring constantly until the curry begins to brown a bit, then stir in stock, vinegar, salt and pepper.
Return meat to pan. Cover, reduce heat and simmer over low heat for about 2 hours. Add bay leaf about 30 minutes before the end of cooking time. Just before serving, stir in chipotle sauce.
Serve surrounded by rice. Garnish with cilantro and lime wedges, if desired.
Share and enjoy!
Nutrition Information:
Yield:
8
Serving Size:
1
Amount Per Serving: Calories: 259Total Fat: 12gSaturated Fat: 3gTrans Fat: 0gUnsaturated Fat: 8gCholesterol: 66mgSodium: 204mgCarbohydrates: 14gFiber: 2gSugar: 3gProtein: 23g


What I would have done differently had I thought of it at the time:
This was an over the top family hit. I doubt I'll be changing this up all that much, though I would have preferred using a Madras curry powder had I had some on hand, or perhaps some Garam Masala, which I also didn't have the ingredients for at the time.
Links to other recipes like this: