The grilled cheese sandwich is without doubt one of the greatest comfort foods, but there's no reason you can't jazz it up a bit. Imagine that same sandwich on homemade bread and packed with the sharp bite of sautéed bell peppers and the sweetness of lightly browned onions. It's a staggering difference that still pairs well with a good bowl of tomato basil soup.
Of course there's no reason not to up the ante on the cheese if you want to. The sandwich pictured here uses mild cheddar because it's what we had on hand, but a good sharp cheddar, gouda or provolone would make fine additions as well. You could even mix and match several cheeses for a one of a kind combination of flavors.
While you're customizing, if you'd like a little more zing, use a poblano pepper in place of the bell pepper. You could even use a jalapeño if you're not afraid of a good bit of bite. There really is no wrong way to make grilled cheese. It's a sandwich so versatile that whole cookbooks have been devoted to it. (We'll list some below.)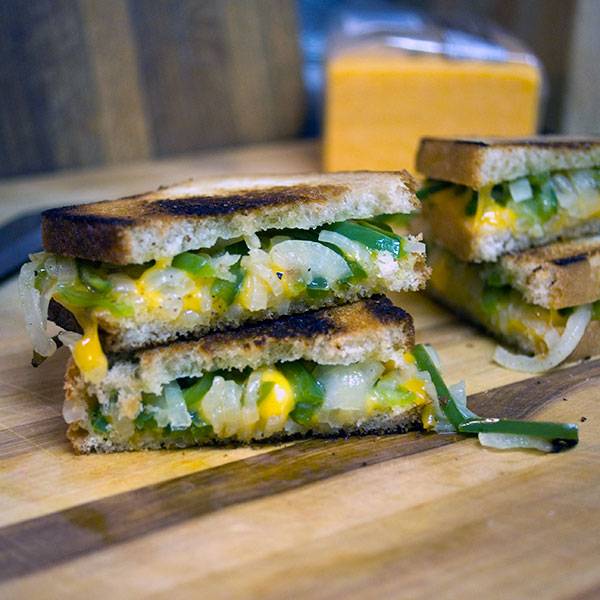 Add a little boost to a comfort food classic. It's one I guarantee will make you swoon. If the aroma from the kitchen doesn't get the family running for the table, nothing will. This is a quick and easy way to add something really special to something that everyone is already familiar with.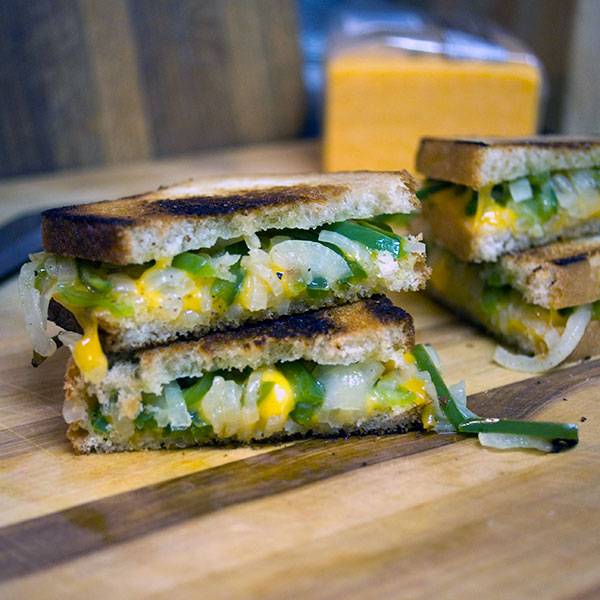 Yield: 4 sevings
Grilled Cheese with Sautéed Onions and Bell Pepper
Prep Time: 5 minutes

Cook Time: 10 minutes

Total Time: 15 minutes
Ingredients
1 large onion, sliced.
1 large bell pepper, cut in strips
6 Tablespoons butter, divided
8 slices bread. (Homemade is best, but use whatever you like your grilled cheese on)
4 slices mild cheddar cheese, or enough to completely cover 4 of the bread slices
Salt and pepper to taste
Instructions
In a large skillet over medium heat, cook onion and pepper with 2 Tablespoons butter, stirring often, until onion is translucent and peppers have softened. (About 6 minutes.)
Meanwhile, heat your griddle.
Lay out 4 slices of bread and place 1/4 of onion mixture on each. Top with cheese and remaining 4 slices of bread. Cook on a well buttered griddle until bread it well toasted and cheese is melted. (About 2 minutes per side.)
Share and enjoy!
Nutrition Information:
Yield:
4
Serving Size:
1
Amount Per Serving: Calories: 530Total Fat: 30gSaturated Fat: 17gTrans Fat: 1gUnsaturated Fat: 10gCholesterol: 73mgSodium: 842mgCarbohydrates: 51gFiber: 3gSugar: 8gProtein: 15g


What I would have done differently had I thought of it at the time:
I think maybe shredding the cheese and adding a little on the bottom and the top of the peppers and onions would make these hold together a bit better, and I'm going to give that a shot next time. Aside from that, these were simply awesome!
As I mentioned, there have been a variety of books written about all the ways you can jazz up a grilled cheese sandwich. Here's a list of just a few of them:
And of course, my fellow food bloggers also have very creative ways of serving up a grilled cheese sandwich. Here are a few you're sure to love: